Highly Recommended New Movies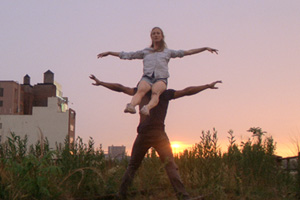 *** NY Export: Opus Jazz (Factory 25) — The brainchild of New York City Ballet dancers Ellen Bar and Sean Suozzi, NY Export: Opus Jazz is a dazzling modern retelling of acclaimed choreographer Jerome Robbins's 1958 ballet—moodily scored by Robert Prince—which stands as a more boldly abstract companion piece to Robbins's more widely heralded, and narrative driven, West Side Story. In updating Robbins's "ballet in sneakers" for modern dancers in modern times, Bar and Suozzi have transposed this spectacle to the streets of New York City. By doing this, not only have they made a convincing argument for their increasingly marginalized art form; more impressively, they have paid tribute to their source master by proving that, fifty years later, his work is as vital and robust as ever. Read the rest of my deservedly gushing review, then buy it on DVD
.
*** Best Worst Movie (New Video Group) — Best Worst Movie gleefully solves mystery after mystery about the train-wreck of glory that is Troll 2. But for those viewers who are encountering it without any prior knowledge, it is worthy viewing nonetheless, as it explains how an under-the-radar work of pop garbage can become a genuinely world-renowned cultural phenomenon. It's also an unexpectedly poignant portrait of a kind, sweet man—George Hardy—who is easily one of the most deserving accidental superstars that the cinema has produced. Read the rest of my nerdily lengthy essay about Best Worst Movie and Troll 2, then buy Best Worst Movie on DVD
.
New Movies Worth A Home Video Spin
The Extra Man (Magnolia Pictures) — There's a reason Shari Springer Berman and Robert Pulcini's big-screen adaptation of Jonathan Ames's novel has earned the unofficial crown of 2010's Primary Opening Night Choice Of Film Festivals Everywhere. It's a smart charmer that tells its story with a heavy measure of pizazz. Kevin Kline delivers a typically sharp performance as an out-of-his-time New York City eccentric who takes a young man (Paul Dano) under his wing. I think the most appropriate term for this one is witty. Buy it on DVD
or Blu-ray
.
Don't Look Back (MPI Home Video) — If you've seen actress-turned-auteur Marina de Van's In My Skin, you know that homegirl has a seriously twisted vision. Which is what makes Don't Look Back so surprising. While there is certainly deviousness on display here, de Van's film plays more like a Hollywood thriller than the scuzzier film one might have been expecting. Which is fine. Just maybe not great. Still, if you're into psycho-dramas like Don't Look Now and Antichrist and Cache and enjoy looking at the faces of Sophie Marceau and Monica Bellucci, you could certainly do worse than this rent this film. Buy it on DVD
.
Highly Recommended New Old Movies
*** The Night of the Hunter (Criterion) — The only film that actor Charles Laughton directed, The Night Of The Hunter also happens to be one of the all-time muhfuggin' greats. It looks like Criterion has totally jam-packed this release, which makes it even more of an absolute must-have. Buy it on DVD
or Blu-ray
.
Modern Times (Criterion) — Buy it on DVD
or Blu-ray
.
The Complete Metropolis (Kino) — Buy it on DVD
or Blu-ray
.
Have Not Seen Yet But Want To
Barking Water (Kino/Lorber Films) — Buy it on DVD
.
The Kids Are All Right (Focus Features) — Buy it on DVD
or Blu-ray
.
Vengeance (MPI Home Video) — Buy it on DVD
.
Wild Card of the Week
The Last Airbender (Paramount) — Okay, I probably won't see this but part of me wants to be an M. Night Shyamalan completist. The other part wants to pretend this movie doesn't exist. Which will win? Buy the DVD
or 2-Disc Blu-ray/DVD Combo + Digital Copy
.
Question Of The Week
Q: What is even stupider than watching Avatar in a multiplex? A: Watching it at home. James Cameron's movie will subconsciously poison your soul. Don't watch it and definitely do not buy it on 3-Disc Extended Collector's Edition
or 3-Blu-ray Extended Collector's Edition
. Here's why.