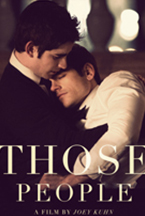 (The 2015 Seattle International Film Festival started May 14 and runs all the way until June 7. Keep an eye on HtN for several reviews like this one, the latest from filmmaker Joey Kuhn).
Unrequited love is always extremely painful. But it's arguably more so when the object of your affection does love you back. Just not in the way you would like. You hang on to a glimmer of hope, even though it's entirely possible that they aren't even capable of giving you the kind of love you need and deserve. In the case of Charlie (Jonathan Gordon) and Sebastian (Jason Ralph), the protagonists of Joey Kuhn's debut feature, Those People, the situation is even more complicated due to the intensity of their lifelong friendship and the arrival of a new love interest for Charlie at a time in Sebastian's life when he needs all the love and support he can get.
Kuhn's story plays out in his hometown of Manhattan's Upper East Side. The script is semi-autobiographical, but the themes of heartache, desire, and the sobering intrusion of adulthood are universal. Kuhn lays his characters bare, showing them at some of their most intimate and awkward moments. Charlie, a painter of portraits, is a heart-on-his-sleeve kind of guy, which makes some of his decisions extra cringe-worthy. But despite his passion, he doesn't have things figured out as much as he believes. Sebastian, the son and heir of a corrupt, recently incarcerated investment banker, tries to keep his feelings under wraps. But he has the poker face of a 5-year-old. This prompts Charlie to be at his beck and call during the most trying time of his life thus far. Because of his feelings for Sebastian, Charlie frequently misreads the situation. This proves disastrous when the two make the epically poor decision to become roommates.
Gordon and Ralph give tremendous performances. With a believable rapport and an undeniable chemistry, they even manage to eroticize scenes that are devoid of sex. But when sex is on the table, the results are equal parts tender and hot. Gordon is less convincing in his flirtations with Tim (Haaz Sleiman) but that is perhaps because his character is often going through the motions, always keeping one foot out the door in case Sebastian ever decides to come around. Tim has made his intentions toward Charlie very clear from the beginning. He loves Charlie, but he isn't going to wait forever for him to sort out his feelings.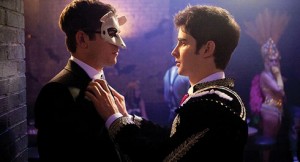 Though the characters talk about their emotions frequently, they don't always seem to have a good grasp on them, which is where Kuhn's more subtle narrative clues come in handy. The most conspicuous one is Sebastian and Charlie's shared love for the musicals of Gilbert and Sullivan, particularly The Pirates of Penzance. One of their pastimes is singing along to the wordy and measured song, "I am the Very Model of a Modern Major General." They sing as though this is something they have done hundreds of times over the course of their fifteen-year friendship. For them, it's not just a linguistic challenge, but also a way to be platonically intimate, sitting on the floor, gazing into each other's eyes across a turntable.
The cinematography by Leonardo D'Antoni is breathtaking thanks to his keen eye and vintage lenses from the 1970's. He achieves a remarkably polished look, which perfectly captures the essence of wealthy Mahattanites who appear put-together but are actually falling apart at the seams.
Those People is also a benchmark of advancement in cinema themes. It's one of the first times, in my recollection, in which a filmmaker is able to tell a story about gay men wherein the focus isn't on their sexuality. Obviously, we still have a long way to go as a society. But this truly universal tale of loving assholes, parental disillusionment, and being dragged, kicking and screaming, into adulthood, is a cinematic baby step in the right direction.
– Jessica Baxter (@TehBaxter)