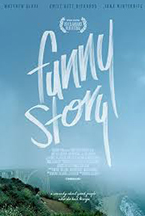 (The 24th Annual Slamdance Film Festival ran January 19-25 in Park City, UT. Hammer to Nail has you covered and guarantees more coverage than any other site. Watch us work it!)
It is curious to think of writer-director Michael Gallagher's Funny Story, premiering in the Beyond Feature category of the 2018 Slamdance Film Festival, in its relation to Woody Allen. From the opening credits, which use Allen's iconic Windsor Light Condensed font, it seems as though Gallagher wants the audience to make some sort of association with Allen. So, I would guess that it is not a mere coincidence that Gallagher's film focuses on a middle-aged male with a certain fondness for much younger women?
Considering the socio-political environment today, I really wonder how people will react to Funny Story? Firstly, how do people feel about May-September-romances in general? But, even more importantly, does the feeling change at all when it is the younger woman who instigates the "romance" with the older man? Are there any stereotypical assumptions that are made about a woman who hits on an older man? These are all layers of filters that will inform your interpretation of Funny Story.
Walter (Matthew Glave) is the middle-aged man with a proclivity for much younger women, although it could easily be argued that younger women seem woefully attracted to him. I get it. Walter is an attractive, successful, and wealthy guy with an ardent cult following, thanks to his leading role in a popular television fantasy series (it is not without a certain amount of bitter irony that Walter's real life equivalent is probably Lucy Lawless of Xena: Warrior Princess). There are some people who find success, wealth, and fame to be a turn-on, regardless of one's age. That's cool.
What might be most remarkable about Walter is that he recognizes that there is no long-term potential in May-September-romances. He seems to just be in it for the sex. This becomes overwhelmingly apparent as he attempts to break-up with his current girlfriend, Lucy (Daisye Tutor). She knows exactly what Walter is trying to do, but she quickly diffuses it by announcing that she is pregnant. Despite Walter's preference for dating women who are younger than his daughter (we'll get to that shortly), Lucy probably knows that he will stick by a pregnant lover. I'm curious, does this make you any more comfortable with Walter's judgment when it comes to sexual partners?
Okay, so let's bring Walter's daughter, Nic (Jana Winternitz), into the story. Walter feels the need to tell her that she is soon going to have a half-sibling, but they have been estranged ever since he left Nic's mother. Nic seems to especially hate that Walter is dating women who are younger than her. It has been so long since he's seen her that Walter has absolutely no idea that Nic is dating a woman. When Walter ends up in Big Sur to finally see his daughter, he is shocked, not necessarily because she is dating a woman, but by whom she is dating.
In fact, many will probably say that Walter handles Nic's revelation of her sexuality quite well. Walter seems to accept Nic for who she is. He is "cool with it" and gives two thumbs up, but there is a reason why the announcement is so awkward (and we already know why). But despite being taken aback, Walter handles things remarkably well. Things get a bit weirder when he begins asking questions about sexuality, but by then everyone is tripping on mushrooms, so it's all taken with a grain of salt.
Funny Story has a lot to say about the bonds of parenthood and marriage, as well as the trust that is inherent in those relationships. Where Funny Story probably excels the most is in its positive representation of lesbians and bisexuals. The prominence of the LGBTQ characters is remarkable, but so is the strength of the female characters in general. Despite this being a story about a middle-aged man struggling to connect with his daughter, while juggling a relentless onslaught of younger women who want to sleep with him, Funny Story features an impeccable ensemble of female characters who outshine Walter at every turn.