THAT'S A WRAP ON FANTASTIC FEST 2022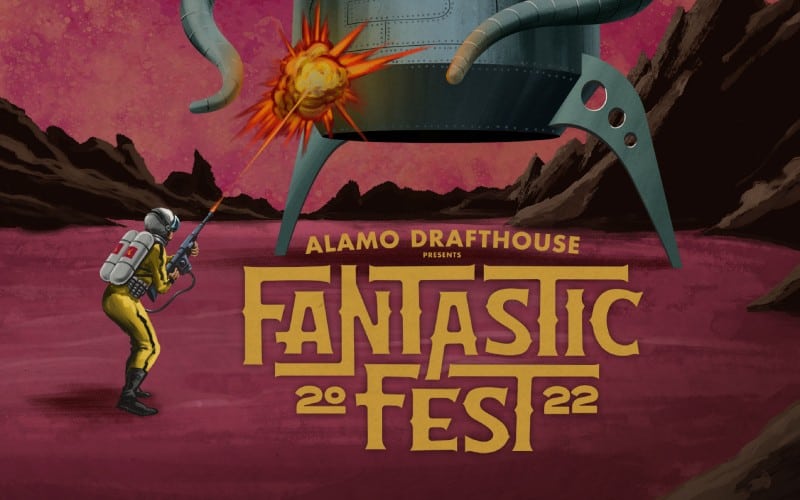 Well….it looks like everyone survived this year's Fantastic Fest (unless you were cast in the ultra-violent South Korean bloodbath, Project Wolf Hunting). The heat outside was brutal and so was the madness on screen. With audiences returning back to Austin, like its peak back in 2019, the fantastic fiends, and fanboys unity was strong yet again bracing together for the week long cataclysm leading to endless screenings, debating and of course, plenty of revelry.
Fantastic Fest kicked things off with somewhat of a questionable start with Smile, now in theaters, but certainly ended on a beaming high note with the US premiere of this year's Palme d'or winner from Cannes, Triangle of Sadness. The closing night presentation did have an unexpected guest in the scene-stealing Filipino actress, Dolly De Leon who came in from the heat or the tide, or in this case, showed up at the Drafthouse South Lamar. De Leon's Abigail, who in the second half of the film, becomes crucial to writer/director Ruben Östlund's farcical look at the uber-wealthy and the ones who cater to them, which could be categorized as a slick look at the upstairs/downstairs riff of society, or in this case, the above deck elite and the below deck stowaways or, the help. Even if all too brief, Woody Harrelson's cynical and downtrodden Captain is played to absolute perfection and one wishes he could have had a few more WTF moments, or maybe it was best, he did not overstay his welcome. Triangle of Sadness, now out in limited theatrical release, constantly throws curveballs, even when we are expecting heaters down the middle, Ostlund continues to push his spectators and critics into unknown terrain and we are happy to go along his bumpy, uncomfortable and hilarious trips.
You know what is not a hilarious trip? Writer/director Kim Hong-sun's, Project Wolf Hunting but it certainly is a bumpy and uncomfortable trip due to its rough waters and yeah, its relentless violence including non-stop headsmashing, broken limbs, and blood splatter. Also, currently out in limited release, Project Wolf Hunting might win the belt of the most violent film in the 21st Century, these eyes have seen and may continue to hold the belt for quite some time. While the driving force behind the film's loose narrative of transporting violent criminals from Manila, Philippines to Busan, could easily be called "Con Water" as most of the action takes place on a cargo ship, cruising unattended without any apologies. After a brief first act of meeting multiple characters doomed from the get-go, something even murkier and dangerous is being kept secret below, and in these genres film set-ups, you damn well know whatever is hiding beneath is a killing machine and is about to set havoc the moment the secret is discovered. Certainly not for the faint of heart, Project Wolf Hunting manages to sustain its punishing 122 minutes on screen mayhem, with enough blow by blow action and forward momentum in keeping you engaged or enraged, but one that will leave an impression best summed up as a mind-numbing, "well, that was something."
Keeping in the theme of uncomfortable viewing, Cannes winner and winning Best Director at Fantastic Fest, Ali Abassi's excellent and terrifying, Holy Spider, also could be classified as a hard-watch, but one that casts its spell early on with its duo cat and mouse entanglements between journalist Rahimi (played by Cannes Best Actress Zar Amir Ebrahimi) looking to track down a serial killer in Iran. Equally magnetic in his performance Mehdi Bajestani's, Saeed is a ruthless killer but a family man working to cleanse his city of sex workers, as his violent acts are stomach-turning adding to this true story of a killer on the loose in a city looking for angel to save them, turns its attention to an unlikely savior and one that leaves plenty to the imagination, in its harrowing departure. Holy Spider opening October 28, will stay with you now after it ends and there will be plenty of chatter the rest of the year, as one of the top (international) films of the year.
Another film served up in the lineup which was not as satisfying despite a nice platter arrangement, director Mark Mylod much-hyped with a side of disappointment, The Menu, ironically took home Fantastic Fest's Audience Award winner. Not completely a sour offering, but more of a bland appreciation The Menu, has its bite size pleasures including a top-notch score from Colin Stenson (Hereditary), and luscious cinematography by Peter Deming, Mylod's direction is aces and worthy of future portions in the cinematic universe, including more HBO's Succession episodes forthcoming, however, one could leave The Menu filling full only to realize minutes later, the empty calories consumed will leave you feeling, well not enjoying what you ate, or watched.
Cleverly in the credits, Searchlight invites you to The Menu, (opening November 18) and once its participants are on its secluded island to enjoy what seemingly could be their last meal, one wonders, why did every speaking part have to be thoroughly despicable and mean-spirited for its entire running time? Confusing dark comedy with inconceivable gimmicks, not to mention exhausting even before reaching the first course, the cast are certainly game, (Nicholas Hoult, Anya Taylor-Joy, Ralph Fiennes, Hong Chau and John Leguizamo are among the notable names and recognizable faces) although someone should have asked, why should we care why these people have attended this mysterious gathering and its cruel intentions which lie ahead? The Menu has plenty of ingredients in the kitchen to make an exceptional meal, but does disappoint quickly, becoming rotten to the core, before expiring way too soon.
One of the more delectable experiences was inhaling Italian director Luca Guadagnino's beautiful and ravishing, Bones and All, with a killer lead performance from Taylor Russell (Waves). Setting the eerie tone early with feelings of something wicked this way comes, Russell's Maren continues to bounce around the country given her cannibalistic diet and has a hard time connecting with new school friends without ruining their lives. When her father abandons her after another feeding, Maren sets across the country in search of her absent mother, when she meets Lee (Timothée Chalamet), who picks up on her "vibes." When the two realize they have similar cravings, they hit the road in search of Maren's mother, and the truth behind why she loves feeding on human flesh. Based on the young adult novel by Camille DeAngelis, Guadagnino's throwback vision, the story takes place in the 1980s, has an authentic take on familiar coming of age themes in confused and troubled youth, finding your place in the world, and the essential road trip of looking for a promising future, while leaving behind an awful past and an unconventional romance.
Russell and Chalamet are front and center and give commanding and committed performances. Others in key if minor roles include Michael Stuhlbarg, Andrew Holland, Jessica Harper, Chloe Sevigny, but not to be outdone is Mark Rylance's Sully, who turns in, not only one of the best performances of the year, but one of the most frightening screen presences in recent memory. Rylance's Sully is also searching for a companion, and makes no bones about how one should or needs to survive in this unpleasant world. Gorgeously shot by relative newcomer Arseni Khachatruan (Beginning), working again with screenwriter David Kajganich (A Bigger Splash) and featuring an acoustic strumming and picking score by Trent Reznor and Atticus Ross, Guadagnino's new flesh, or new film, leaves more to savior than his previous misfire, the unnecessary Suspiria remake. Guadagnino's, Bones and All, might be a tough film for wider audiences to swallow (releasing Nov 18), but those willing and able to try something new, should be in for a rare treat of pure exhilarating cinema. Ah…let's just call it fantastic!
Jim Brunzell III is the Festival Director of Sound Unseen Music + Film in Minneapolis, MN and Austin, TX. He is on Twitter @JimBrunzell_3 & Instagram @djguam
– Jim Brunzell III  (@JimBrunzell_3)