YOU NEVER HAD IT: AN EVENING WITH BUKOWSKI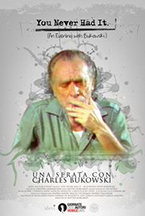 (The 2017 Slamdance Film Festival kicked off on January 20 and ran through January 26. The HtN staff repped Slamdance hard with reviews like this one, the booze laden interview doc on Charles Bukowski, You Never Had It: An Evening with Bukowski.)
If I had made a list in the early 1990s titled "Celebrities I Want to Drink With," Charles Bukowski would have been at the very top. Like a slap in the face, the title of Matteo Borgardt's documentary, You Never Had It: An Evening with Bukowski, reminds me that I never had that opportunity, and the resulting film assures me that if such an occasion did occur, I probably would have had a sublimely intoxicated time.
The found video footage comes from Italian journalist Silvia Bizio's (Borgardt's mother) garage. The box of tapes date back to an interview she conducted with Bukowski in 1981, a year before the release of Ham on Rye. Judging from the number of Italian wine bottles and perpetually filled wine glasses in You Never Had It, Bizio and her production crew must have had a grand old time with the 60-year-old writer.
Probably due to his mellow state of inebriation, Bukowski is completely at ease in front of the video cameras. He comes off as endearing, pensive, gentle, flirtatious, and surprisingly lucid – not anything like the drunk curmudgeon we might imagine from the author of Post Office. Bukowski even provides an obligatory tour of his San Pedro house during which he reveals an old photograph of a passed out Hemingway that he had purportedly vowed never to show to anyone (so keep that on the down low). As one would expect from Bukowski, he always steers his conversations with Bizio back to the topics of writing, fucking, cursing and drinking. But what else is worth talking about anyway?
You Never Had It succeeds first and foremost as a time capsule which captures an iconic American author in his natural state and habitat. This is must see footage for any Bukowski enthusiast. It might incite some jealousy (because you never drank wine with Bukowski), but you should go ahead and take this opportunity to swig a bottle of Chianti with the literary legend.
– Don Simpson (@thatdonsimpson)