SXSW PANEL RECAP: TRANS-FORMING COMEDY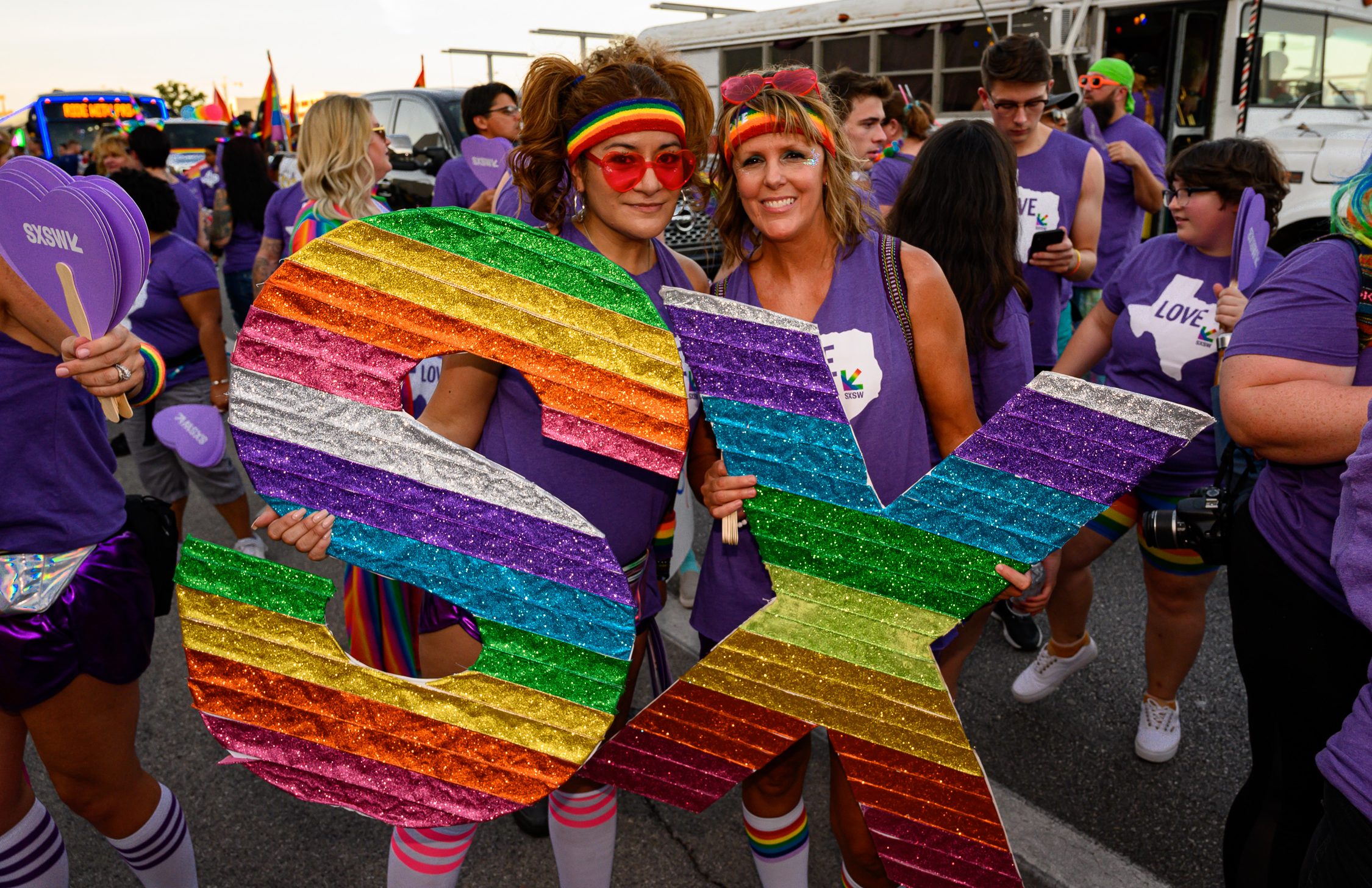 You can't tell the story of Austin, Texas's South by Southwest this year without talking about the danger that transgender kids and families are under due to Texas Governor Greg Abbott. He directed that gender-affirming care should be investigated as abuse, despite medical consensus to the contrary and no actual law passing. While a judge has temporarily blocked this, the world is watching as this dangerous precedent could be devastating to many.
Sav Rodgers, Founder and Executive Director of the Transgender Film Center and director of the upcoming documentary Chasing Chasing Amy, Alex Schmider of GLAAD and executive producer of Framing Agnes, and Zackery Alexzander Stephens with Peacock, met under a banner with the Texas flag and the words "Don't Mess with Trans Kids" during the South by Southwest festival. Their panel, TRANSforming Comedy, was a conversation centered around transgender comedy creatives in film and television. While centered around writing comedy and transgender representation in the writer's room, the three stopped to acknowledge the very loud elephant in the room (state) trying to erase trans kids existence.
They were not alone as ACLU-TX, Equality Texas, GLAAD, HRC, the Transgender Education Network of Texas (TENT) and producers of the film Mama Bears held a press event on the Texas state capitol steps denouncing Gov. Abbott's new anti-trans directives. Schmider also represented GLAAD at the Monday protest.
"We will call each and every single person to action. All of us, who are committed to creating a fully inclusive and accepting state for all trans people. We'll keep at it until trans people can safely and securely call Texas home," Schmider said on the Capitol steps.
And as Rodgers pointed out on the panel while the Transgender Film Center is nonpartisan that an attack on children is not a partisan issue and needs to be discussed. He recommended reaching out to TENT, Equality Texas, and ACLU-TX to learn how to help. Why what is happening in Texas is mentioned ties directly into the conversation on the panel. One hundred years of misrepresentation of the trans community on camera has led to fear, and punching down on the community.
"Comedy is a way to invite people in through shared laughter through a crisis," Stephens who writes for the Amber Ruffin Show (Peacock) and Our Flag Means Death (HBO Max) said. "It has to come from an authentic place as you can't tell a joke about a community without being in that community."
The message was powerful and one that allowed the attendees to reflect and engage on whose stories are told and by whom. With stereotypes often reflected in comedy, we internalize those as the "norm" and don't allow for genuine representation. Schmider later added that more Americans think they have seen a ghost than met a transgender person.
Reality? A lot more people are trans than you realize. But what you have seen on camera has reflected a negative story, a mistruth of the community repeatedly for years. Why so much legislation with intensified hatred towards the community is due in part to the media we consume. But there is hope on the horizon as Gen-Z wants real representation and doesn't tolerate punching down.
"It is institutional bullying," Schmider said. "What we laugh at says more about us as the audience than the subject of the joke."
Rodgers added that trans people have always existed but weren't able to tell their story. Something that is now shifting in media. Stephens added that there is a shift in the writer rooms with more than one nonbinary person and even more than two nonbinary writers of color. While they thought he would never see it more than once, it is likely to continue.
"Sense of humor is a form of survival," Schmider said. "When in a position of power [trans writers are] able to tell more thoughtful, more sophisticated stories. They are more nuanced and diverse and able to subtly navigate how a story is going to enter into a culture."
But it is about more than tokenism. It is not about hiring your trans writer to write only the trans stories. It is about having people in the room to write anything.
"Stop the focus on pronouns and focus on respect, the fundamental point is respect," Schmider said. "The least interesting thing about me is my gender identity."
The panel also discussed common tropes such as trans person looking into a mirror and how to move beyond the shallow visual representation. With only a short hour to discuss, the panel could not encapsulate everything about writing comedy for television and film but was a great start in a state that needs more support than ever.
Stephens ended with a call back to earlier discussion saying that ghost trans representation also matters, encapsulating the point of the panel that comedy when done well, lets us laugh upwards, not downwards.
Learn more about trans representation at GLAAD and learn about the Transgender Film Center.
– Melanie Addington (@MelAddington)