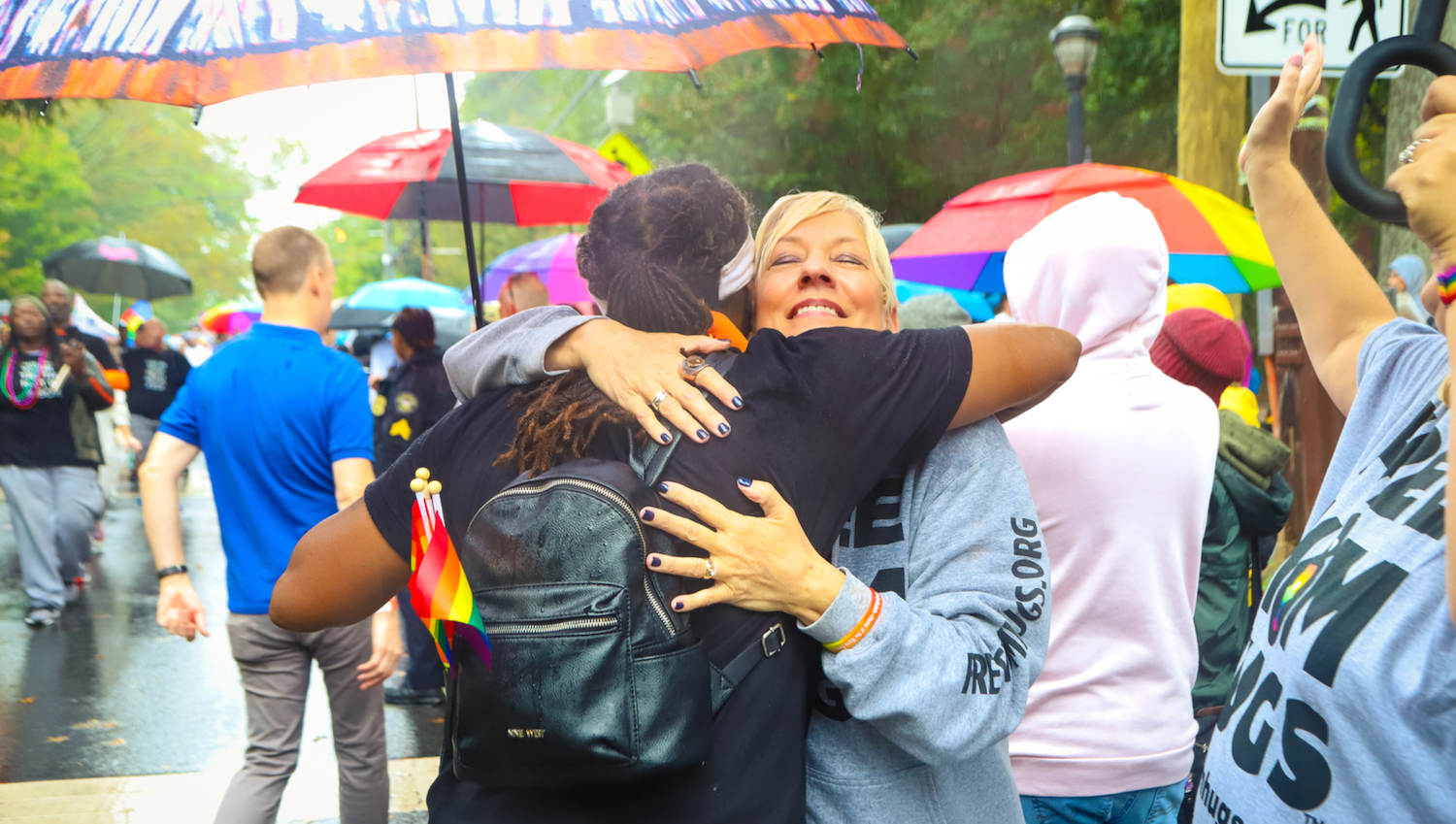 (The 2022 SXSW Film Festival ran March 11-20 in glorious Austin, Texas. Check out Chris Reed's movie review of Mama Bears. Join the conversation with HtN on our Letterboxd Page.)
I can't speak for other religions, but let's be clear about one thing: if your reaction to sexual-orientation and gender differences is to respond with hate, then you have no business calling yourself a Christian. Well, perhaps I can intuit the same for the majority of faiths, since love seems to be at the top of the cherished-values list across the globe. Whence, then, the animosity towards those who diverge from so-called normal? It's all about control. 
In Mama Bears, the first solo-directed feature documentary from filmmaker Daresha Kyi (Chavela), we learn a thing or two about the rabid way people hold on to such systems of power and repression. The title comes from the eponymous volunteer group of mothers of LGBTQ+ children. Most of them are also very religious—primarily Christian—and have found the organization after rejection from their churches. As Kimberly Shappley, mom of Kai (now Esther), a transgender girl, states it most plainly, "Do you want a dead son, or a living trans daughter?" Sadly, there are far too many folks who make the first choice.
Even more tragically, we are currently in an era of rising transphobia and pushback against the great gains in LGBTQ+ rights of the past few decades. Still, this movie gives us hope, for the protagonists we meet are deeply embedded in the same social circles as the ones on the attack. If they can look into their hearts and see a path forward that is filled with love and support, then anyone eventually can do the same.
For that is the beautiful message of Mama Bears. Take Sara Cunningham, whose gay son Parker spent the first 21 years of his life in self-abnegation as she refused to acknowledge the validity of his homosexuality. But then, when he finally took a firm stand, she cracked, learning from the stories of other parents who had lost their own children to suicide or addiction. 
Today, not only does Sara travel the country offering "free mom hugs" at Pride events to those whose own parents refuse to see them, but she also stands in for similar parents at weddings when a bride or groom wants someone by their side. Yes, she may have done real damage to Parker (which he acknowledges), but if this isn't a prolonged and meritorious penance (which Parker also acknowledges), I don't know what is.
After Kimberly and Sara, the third principal subject is Tammie Terrell Morris, a lesbian mother of two boys who only recently was able to accept her same-sex attraction and live as her true self. Her own mother, while softening her position from earlier years, still can't quite support her "choice" (as she sees it). Tammie holds out hope for change. 
Everyone highlighted is so magnificently vibrant and open-minded that it is a shock whenever we cut to a montage of right-wing rage, whether in broadcast or social-media form. It takes a lot of spite and energy to twist the positive messages of scripture into manifestos of disgust. And it takes even more resilience and generosity of spirit on the part of the Mama Bears to respond with more hugs and kisses. Something tells me love will win the day. In the meantime, I offer my own hug to all who need it.
– Christopher Llewellyn Reed (@ChrisReedFilm)
2022 SXSW Film Festival; Daresha Kyi; Mama Bears documentary movie review