THE SUMMERTIME SHOOT 'EM UP by Noah Buschel
Christopher Nolan, director of The Dark Knight Rises, released a statement after the shooting in Aurora, Colorado, that killed 12 people and wounded more than 70. This part of what Nolan had to say really stuck out to me:
"The movie theater is my home, and the idea that someone would violate that innocent and hopeful place in such an unbearably savage way is devastating to me."
Isn't this the same Christopher Nolan that has sited Michael Mann's ultra-violent crime films as a huge inspiration for his take on Batman? The same Chris Nolan who decided to go more the Sin City route of Frank Miller's Dark Knight than the original, much more kid-friendly version, created by Bob Kane and Bill Finger? So what innocence is he talking about? That innocence was violated long ago by filmmakers like him, trying to sell tickets and make money off the old American Hollywood trick—combining sex and violence. Nothing like Anne Hathaway bent over and shooting the shit out of whatever's in front of her to titillate and make more money. Maybe Nolan is The Dark Knight Rising.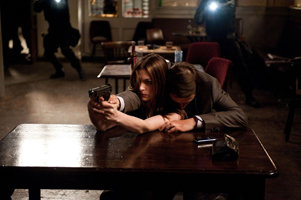 I'm not saying there are not psychotic people with guns—particularly in America—who will be inspired to cause calamity by God knows what. And there's nothing to do about those people except make firearms and ammunition far more difficult to acquire, while simultaneously continuing to refine our understanding of mental illness. That said, Nolan's statement, where he washes his hands clean of the whole matter and acts like he's making films where everyone isn't killing each other, and proclaims his cinema a place of innocence, well, that's so far-fetched as to be laughable.
There is violence in the world. So there is a place for violence in film. Of course there is. If movies didn't reflect that violence, we'd all be in even more trouble. But there's a big difference between the realistic, gut-wrenching violence of, say, Mean Streets, and the video game violence of Chris Nolan. In Nolan's Inception, on the snowy mountains, we're told it's all a dream, or some such shit, and so all the people getting killed aren't really getting killed. Regardless, the images blazing at us from the big screen show our hero picking off nameless, distant enemies who have no meaning or value—they are simply vague threats in human bodies that need to be put down. If Nolan thinks scenes like that are not part of the numbing and anesthetizing of America, he needs to think again and not take cover behind his alleged blamelessness.
When A Clockwork Orange came out in theaters, it supposedly inspired real life copycat crimes. But Kubrick, throughout his career, was interested in exploring violence—not just featuring it for its sexiness. Kubrick was really looking at it and trying to understand human nature. And if someone misunderstood his exploration, that's like Mark David Chapman quoting Holden Caulfield after shooting John Lennon. It's simply a disturbed person misunderstanding the art. That's very different than a disturbed person who is constantly inundated by images of guns taking down one person after another person after another person. These violent films are not explorations of violence. They are exploitation of violence. They are the numbing down of violence. They are effectively advertisements for the Army. They are anti-human and soul deadening.
I know there are those people who think Nolan's Batman films are full of meaning because there are some references to Wall Street and anarchist thought and blah blah blah. You'll have to excuse me if I think the only thing separating any of Nolan's trilogy from standard summer popcorn pap is Heath Ledger. And even if you are among those who feel that The Dark Knight trilogy is The Godfather of comic book films, they are still comic book films. Kids are going to these movies. They are not even rated R—too much money would be lost with an R rating. Nolan's proclivity for guns, as shown in Memento and Insomnia, should have been holstered a lot more to go with a PG-13 rating, but no.
We keep buying the summer popcorn shoot 'em up tickets, so Hollywood will keep making the summer popcorn shoot 'em up films. Why do we keep buying these tickets? I suppose it is that hope for good old-fashioned escapist entertainment. But maybe what we're learning, or what we could be learning, is that escaping real world violence with video game violence doesn't work. The video game violence will come back to the real world. And young people will shoot up the real world like they're in a dream sequence in Inception. Like none of it is real, except them, the lone hero (or villain) of their movie. That doesn't mean that movies are to be blamed for what happened in Aurora. But movies have to be factored into the equation. It was no accident that the horrible violence of Aurora took place during The Dark Knight Rises.
— Noah Buschel