ON THE FRINGE, PART FOUR: KILLER OF SHEEP (1978)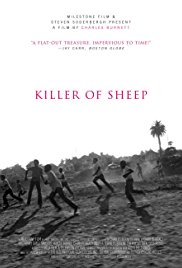 Accepting his long overdue honorary Oscar at the Academy Awards this year, the soft-spoken, wide-eyed filmmaker Charles Burnett first thanked all his friends and supporters present for their support, particularly those who were there back in the days when he "didn't have any money."
Burnett then spoke in detail about why his underground masterpiece Killer of Sheep would become his auspicious feature-film debut in 1978.
As an impassioned grad student at UCLA's film school, Burnett was admonished by faculty that he would need venture out and create something that no one had seen before. Something new. Something fresh. He needed to make something, dare Burnett say it, "anti-Hollywood." (In his speech, in this day-and-age, of course, Burnett made sure to note that things at UCLA have since changed.)
To the young Burnett vying for his Master's degree, conjuring up something "new" and "different" also meant making a movie that was not of the garden variety being shown at the school at the time which, as he confessed, dealt mostly with "Flower Children" who were exploring their sexuality in upper-crust areas like Topanga Canyon. (Some things don't change, apparently!) For Burnett, where he came from in Watts, life was about "getting a job and keeping a job." He would make movies about that lifestyle.
Wrapping up his acceptance speech, Burnett said he felt it was incumbent upon himself (along with other filmmakers of color with whom he was socializing at the time) to tell his own story. In fact, his small cadre of colleagues and he were all dedicated to formulating their own narrative in their own way to bury the distorted image of their culture that had been promulgated by Hollywood since the birth of cinema. Simply put, Burnett's goal became that of "using film as a means for social change."
Killer of Sheep would have such a resonant effect on the course of cinema history, inspiring the likes of Burnett's award presenters Ava DuVernay and Sean Baker.
Along with 2017's gritty but whimsical The Florida Project, Baker is the filmmaker behind one of the most blisteringly sincere and visionary films of recent years in American cinema, Tangerine. Killer of Sheep is such an obvious antecedent of Baker's Tangerine that both were on my list of films to discuss in this series before Burnett's award and Baker's presenting of it were announced.
As Baker so eloquently articulated in his introduction of Burnett, Killer of Sheep does not demand we as viewers feel sorry for its characters living on the fringe; but, rather, it does demand that we show them dignity and respect…and, as with Burnett himself, the film achieves this "not as a shout but as a whisper."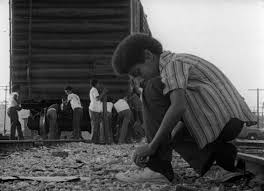 Baker points out that Killer of Sheep, itself presaged by the works of the Italian neorealists, has no three-act structure. This makes sense, Baker suggests, because (in his view) life itself does not have a three-act structure, so too neither should a film about life, especially one that is "a lyrical portrait of a community on the margins."
Killer of Sheep does present Burnett's childhood enclave of Watts, with its joys and trappings, its everyday challenges and minor triumphs. Though there is an Altman-esque aspect of the film, showing the lives of multiple "main" characters, Killer of Sheep focuses for the most part on hardworking and thoughtful Stan and his family: the kids playing in the street, Stan's wife keeping everything in order as though to the manner born, and Stan himself working grueling hours at a slaughterhouse while trying not to break down physically, mentally or spiritually.
The film appropriately advances by way of episodic, often unresolved slice-of-life vignettes. A comedic and well-known scene involving a star-crossed purchase of a car engine is one example of the gimlet-eyed perspective Burnett dispatches on the most routine and mundane events in the daily lives of his characters, some of whom don't even receive a name, such as Stan's wife.
These characters are so authentic in the representation of simply "the man," "the wife," "the kids," "the friends," "the uncle", that Burnett chose – as he often would throughout his predominantly off-the-grid career – to employ first-time or non-actors,( including his own child Angela, who portrays Stan's daughter) for the majority of his cast.
Originally studying electronics on his way to becoming an engineer, Burnett soon became disenchanted with the field, namely after he noticed those he knew in the industry were not very funny or interesting. Watching movies became a strong passion for Burnett, he began wondering how they were made, and eventually he decided to go into the (at the time; natch) "dirt-cheap" film program at UCLA.
In a 2007 interview, Burnett revealed he became especially enamored with the study of documentaries while at UCLA, saying "… when people would talk about fiction films, you never heard them talk about the importance of treating the subject in a human way. Being honest and respectful…it made me look at films differently."
He would go on to produce Killer of Sheep as more or less an autobiographical meditation of his own life growing up in Watts, and never expected the project would be seen outside of academic/activist circles. (As with compatriot film The Exiles, it would take nearly three decades for there to be a mainstream release of Killer in Sheep.)
"Many of us were getting into film to create our own narratives, to counter what Hollywood offered," Burnett reaffirmed, adding it was never his intention to "romanticize things with regard to the working class." Hence, the intrinsic component of the film's non-plot of a sort that has "no thread that moves it, just the things that happen as you continue trying to eke out a life."
Burnett gracefully accomplishes this task without relegating the material or characters to the easy, trendy pabulum that makes for condescending preachiness. The characters of the film simply are who they are – take 'em or leave 'em. And if the viewer does happen to take away a positive, constructive message, to boot…well, so much the better.
Scenes are as clearly inspired by compassionate and playful Charlie Chaplin films (noticeably City Lights and The Kid) as they are by such clear precursors as Raisin in the Sun, the works of Ralph Ellison, James Baldwin and August Wilson (with whom Burnett spoke before Wilson's passing).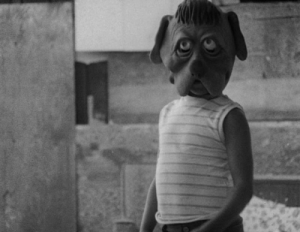 Throughout much of Killer of Sheep's duration, Burnett's camera is controlled but shaky – standing its ground even on precarious footing. The viewer is there and present…yet almost always moving around, often pulling back, as though observing some moments from the window of a passing car or from the seat of a cruising bicycle.
We as viewer are frequently departing, at times overstepping the line between mere observer and unwelcome voyeur. These instances onscreen are happening, but as we outsiders probably can't fully comprehend them, we move on. Such camera movements are in many ways an indictment, pronouncing the notion that there are those who so often flee these areas; they may peek in briefly, but then abandon those who are left inside, those who are more-or-less ataxiac.
And yet we are at the same time so very compelled by Burnett's images that are raw, but also just as frequently "lyrical," as Baker commented. Even the most authentic moments have a sense of aesthetic affinity with painters and photographers, notably Ralph Eugene Meatyard and Diane Arbus.
Having shot the film intermittently over the course of four years of long weekends on a shoestring budget of $10,000 (mostly from grants), Burnett constructs such real yet painterly moments not in spiteof his lack of resources, but because of it. Burnett puts this lack to good use, engendering something consistently DIY but well-crafted; in a word: resourceful.
Killer of Sheep is one of those truly singular, seemingly kismetic films that could not be "remade" in contemporary terms with a higher budget and more resources. Such a pyrrhic enterprise would, frankly, be a hypocritical travesty on par with, say, remaking The Battle of Algiers or the majestically confounding third act of Stanley Kubrick's 2001: A Space Odyssey.
Just look at what happened the many times the Powers That Be tried the same with The Texas Chainsaw Massacre or The Blair Witch Project. Part of what made the original television series Lost in Space such a cult classic was its lack of effects etc. endemic to its primordial production period; its big-budget modern reboots are simply a matter of the producers of these projects missing the point.
Imagine if a high-profile filmmaker were to remake one of Ed Wood's movies or The Room, all of which were products of their very lack.
This is what made and makes certain films quintessential, genuine representations of their time, space and culture.
As perhaps naively pragmatic (not having been on set during production) or Bob Ross-esque as it may seem, it's worth proposing that in such films, there are no "mistakes." Killer of Sheep and its ilk, then, are indeed "perfect" artifacts of their liberated moment, not despite their "imperfections" (as gauged by the wholly unreliable perspective of our own myopic, contemporary epoch) but because of them.
They are no less "problematic" as far as artistic value as are Anton Webern's atonality, van Gogh's maddeningly layered brushstrokes, breathtakingly spontaneous(-seeming) Dogme 95 works such as Thomas Vinterberg's Festen, Lars von Trier's Idioterne or Julien Donkey-Boy (made by Harmony Korine, who has referred to his own algorithm of aesthetics as "mistakism") … or the "incompleteness" of so much of Cezanne's paintings and posthumous projects in modern times such as Elliott Smith's From a Basement on the Hill and David Foster Wallace's Pale King.
As Jackson Pollock once put it: "I do not use the 'accident,' because I deny the 'accident.'" It is the same praxis put to use by late Pollock acolyte Stan Brakhage, who repudiated his avant-garde cinematic works being universally championed as "experimental."
I'm certainly not the only one to admire the pataphysical magic of so-called "mistakes."
Considering the power and complexity of such a seemingly simple picture, there is a sad irony that Killer of Sheep (regardless of high kudos granted at high-profile events like the Berlin and Toronto International Film Festivals) would not be able to gain wide release due to licensing issues resulting from the nearly 25 songs Burnett used as a means of instilling a musical portrait of the history of African-American culture, from older jazz and blues by the likes of Louis Armstrong, to the newer funk of Earth Wind & Fire.
It would take three decades for the film to be restored, licensing paid for and its limited release set in late 2007 with the support of Steven Soderbergh and other fans of the picture. In the process, the film was inducted into the United States National Film Registry (1990). It has since been honored in multiple ways, and was called the 26th greatest film ever made by the BBC, as of 2015.
With his honorary Oscar, meanwhile, Burnett and Killer of Sheep are now consecrated in the eyes of the wider world as pioneering forces leading the way for such recent portraits of African-American culture on the fringe as Precious, Moonlight and Denzel Washington's own masterful August Wilson adaptation and period piece, Fences.
Though it can be said these later films have the advantage of a contemporary polish and stylization that worked wonders for them, Burnett seems even today to prefer his cinéma vérité-inspired, minimalist aesthetic. He has in fact lamented that the sui generis "art film" sensibilities that do give a film such as Killer of Sheep a unique, singular vision and – thus –a stark integrity, this austere quality can be harder to deal with for a progressively profit-obsessed industry.
With more money and resources, Burnett worries, comes more fingers in the pie, often belonging to people who are not interested in such non-commercial notions as "integrity" and "vision": "The problem's just that you can't do the film you want to," Burnett says. "With money comes however many compromises, and you need to constantly put things in terms that money people understand."
It's worth considering that it was at the same time of Killer of Sheep's initial exhibitions that the there was a nascent schism between the "authentic" sensibility that underpinned the films of the late sixties and seventies, and the super-slick, glossy, fantastical blockbusters that would rule the box offices (and production priorities at the studios) for at least two decades thereafter.
Consider: The same year Killer of Sheep was first shown was both the year that Woody Allen's extremely intimate, honest and wry masterwork Annie Hall swept the Academy Awards for Best Picture, Director and Screenplay…right on the heels of 1977's Star Wars and 1975's Jaws, both films that would announce to Hollywood, filmmakers, investors and audiences alike that the ethos of the late sixties and seventies that wrought such lumpen works as Killer of Sheep would precipitously be replaced by billion-dollar industry merchandising deals, the rise of special effects and explosive bombast onscreen as well as in ubiquitous marketing ploys.
Before Killer of Sheep saw that bright light of the mainstream day thirty years later, its earliest effulgent spark would help to usher in a clarion call against the dying of what was so very human and true about films of its extraordinary era.
It would be in the early eighties that a new branch of independently-minded filmmakers would make their way into theaters and the rising publicity network of "zines" and other underground media; and they would be less resisting the wave of blockbuster spectaculars taking over the industry as they would be boldly establishing something entirely their own and, as Burnett had aspired toward, different, new and most certainly "anti-Hollywood."
What jazz and Beat had been in the 1950s and early 1960s, punk/hip-hop and No Wave filmmaking would demarcate the early eighties independent film scene with such films as next week's 1980 Jim Jarmusch debut, Permanent Vacation.
MATHEW KLICKSTEIN is (for the time being) a Boulder-based writer/filmmaker who recently completed and has been touring his documentary on 80s/90s TV icon Marc Summers, On Your Marc, to be widely-released soon. His next book, Springfield Confidential: Jokes, Secrets, and Outright Lies from a Lifetime Writing for The Simpsons (co-written with lifetime series writer/producer Mike Reiss, foreword by Judd Apatow), will be released through Harper Collins this June. You can keep up with his regular shenanigans at www.MathewKlickstein.com.