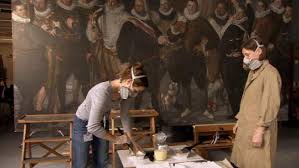 "A process in which no one wants to take a risk is too Dutch for me," laments one of the embattled Spanish co-architects in Oeke Hoogendijk's The New Rijksmuseum, a 2013 doc I caught up with over the holidays. The film follows the epic bureaucratic struggles inherent in reimagining one of Amsterdam's most beloved buildings, home to works by every master Dutchie from Rembrandt to Vermeer. Artfully choreographed with fluid cinematography and deft editing enhanced via a classical score, Hoogendijk's film regrettably keeps its cast of characters – from the longtime (older white male) director of the Rijksmuseum to its curators and the government's decision makers – at a cool arm's length.
Brushing only the surface through straightforward interviews lacking in any investigative probing, alternated with images of hardhat construction and standard pieces from the museum's collection, the filmmaker takes us on a journey that at times becomes frustratingly myopic. In lieu of getting to know any of the players – so that we're as emotionally invested in them as they are in their museum – we often get dry boardroom facts. (This includes Hoogendijk documenting a contracting bid gone wrong because, well, there's only one bidder. Of course, this is not so surprising in a country content with one major grocery store chain – as the Dutch prize consensus over competition.)
Indeed, any societal context that might broaden our understanding of why Amsterdam is such a "democratic madhouse," as the Rijksmuseum's impatient new director refers to his city, is never broached. Ultimately, The New Rijksmuseum feels like an engaging, multi-part TV series (that doesn't really get going until its second half) for a European arts channel. Surely it will be of interest to Dutch art lovers needing a behind the scenes peek at the decade-long process for the museum's renovation to be realized. But the doc's play-it-safe filmmaking process, in which no one wants to take a risk, is just too Dutch for me.
Back on these shores, and following an infuriatingly undemocratic battle, is Don Argott's suspenseful The Art of the Steal. As I noted in my 2010 review, the doc "which delves deeply into the government and corporate takeover of a beloved private institution, the Barnes Foundation, by the city of Philadelphia and the Pew Charitable Trusts among other "charitable" organizations—is propaganda at its finest."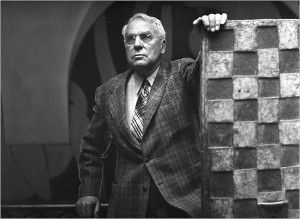 "The film follows the gripping saga of the art collection of the visionary Albert C. Barnes, who had the foresight to buy up the best of the best by iconoclasts Van Gogh, Picasso, Cezanne and Matisse among other masters while the rest of the stuffy art world turned up its collective nose. In turn, Barnes gave the finger to the rarefied museum establishment by founding a school in Merion, Pennsylvania where the artworks—now estimated to be worth $25 billion—would hang above the faculty and students with limited hours open to the public. This didn't sit too well with Barnes's arch-nemeses, the Annenberg family, and the rest of Philly's notoriously corrupt power brokers." The Art of the Steal remains must-see viewing for anyone who ever thought museums boring.
Though eight years before The Art of the Steal hit theaters, another museum flick delighted cinephiles right from its (Cannes) debut – master Russian director Alexander Sokurov's unconventional, coulda-been-a-gimmick (the entire piece filmed in a single 96-minute Steadicam shot!) Russian Ark. (Sokurov also made 2015's Francofonia – a history of the Louvre during Nazi occupation – which unfortunately feels unfinished, seemingly a minor work in the director's otherwise risk-taking canon.) Employing the Winter Palace of the Russian State Hermitage Museum as its grand location, Russian Ark features a wandering ghost in the lead role. This otherworldly narrator takes us on a journey through the onetime residence of monarchs – and through three centuries of Russian history – as he encounters figures both real and imagined. Every bit as madcap and spectacular as it sounds.
Finally, a more straightforward narrative approach is presented in Jem Cohen's intoxicating Museum Hours (2012). A drama set in Vienna's Kunsthistorisches Museum, the film centers on a guard named Johann (Bobby Sommer, in a touching performance) who befriends a Canadian visitor, Anne (played by Canadian singer-songwriter Mary Margaret O'Hara), in Vienna to look after a comatose cousin in the local hospital. Eventually Johann becomes both tour guide and helpmate, with the two strangers forming a deep and unlikely friendship.
And just as thrilling as the film's hi-def digital video and super-16 cinematography is Museum Hours's poetically simple storyline – which allows for its protagonists to become emotionally involved with a purity (Johann is gay so any sexual ulterior motives are rendered null) rarely seen onscreen. Cohen, a longtime experimental filmmaker and chronicler of punk (Instrument, Benjamin Smoke) has upended the conventional once again.
– Lauren Wissot