MOVIES ON BIG SCREENS – December 4, 2009
NEW YORK CITY:
Even if no new films were opening at the IFC Center this weekend, it would still be the talk of the town, as Mr. Vanco, Mr. Dew, Mr. Wells, and the rest of the crew are finally unleashing their fancy new five-screen set-up on us ever-hungry cinephiles. Hooray! But that's not even the most worthwhile reason to visit that fine establishment this weekend, for it just so happens that two of the best documentaries of 2009 are making their theatrical bows. I don't just recommend that you schedule a double-header of John Maringouin's Big River Man and Darius Marder's Loot. I order it!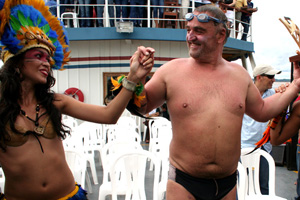 Big River Man — Slovenian endurance swimmer Martin Strel is like a real-life version of a character Werner Herzog might have pitched to Walt Disney in the '70s. After having conquered the Mississippi, the Danube, and the Yangtze rivers in order to call attention to the world's pollution problem, Strel decided to test the deadly waters of the Amazon. In collaboration with Strel's son Borut, who co-produced and narrates this truly wild ride, filmmaker John Maringouin (Running Stumbled) was there to capture the mounting insanity, which starts humorously enough, but gradually devolves into a modern-day Heart of Darkness as not just Strel, but everyone on the journey, succumbs to the Amazon's powerful mind-and-body-altering forces of nature. Though Strel's true purpose becomes more ambiguous as the film wears on, Big River Man gains in power for that very reason. What is this man really fighting against? Perhaps even he doesn't know, but the mere fact that he's fighting in such a preposterously insane way sets an oddly compelling example for the rest of us.
Loot — Darius Marder's Loot isn't just proof that truth is stranger than fiction; in this case, it is infinitely richer than the very best of fiction. Marder turns his camera on Lance, a small-time treasure hunter who has been chasing a big score his whole life. When he hears about two separate World War II veterans, Darrel and Andrew, who claim to know of pots of gold at the end of the rainbow, he sees this as his ticket to glory. Unfortunately, Lance's literal excavation sparks an emotional excavation into both Darrel and Andrew's troubled pasts, which turns out to provide a haunting parallel with Lance's own family situation. Thinking about Loot too deeply makes one's head spin, for it doesn't seem possible that one filmmaker could happen upon a story so profoundly layered. Loot has the emotional gravity of Steinbeck and the narrative flair of the Coen Brothers, yet it is anything but fiction. It devastates on a multitude of levels, and is best experienced with as little pre-viewing knowledge as possible. See this movie.
Just a few blocks away at the Film Forum, you can still catch up with Frederick Wiseman's latest towering achievement, La Danse: The Paris Opera Ballet. Obviously the last word in that title has a lot to do with its popularity, but it's so nice to live in a town where a two-hour-and-forty-minute documentary by an American nonfiction master about a refined art form has become a multi-week smash. Take that, Twilight: New Moon and The Blind Side!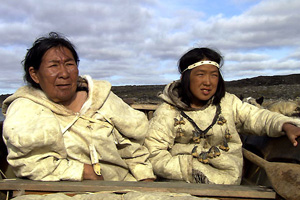 On Wednesday, another quiet little gem opened at the Film Forum. The final installment in the Arnait Video Collective's Inuit trilogy that began with 2001's The Fast Runner (Atanarjuat) and 2006's The Journals of Knud Rasmussen, Before Tomorrow tells a poetic tale of survival in 1840, as a wise grandmother, Ningiuq (Madeline Piujuq Ivalu), her longtime friend Kutuujuk (Mary Qulitalik), and her eager grandson Maniq (Paul-Dylan Ivalu) leave their community behind to prepare and store the winter's catch in a cave on a remote island. As the days wear on, they begin to endure more grueling hardships, culminating in a crushing revelation when they eventually return home. Although co-directed by the elder Ivalu and Marie-Helene Cousineau, Before Tomorrow retains the same digitally-photographed grace of executive producers Norman Cohn and Zacharias Kunuk. Many have spoken about the distracting pop music soundtrack by Kate and Anna McGarrigle that bookends the film, but I didn't have that problem. It all worked for me. Especially the lived-in, emotional performance of Madeline Piujuq Ivalu, who deserves an Oscar nomination for her heartbreaking work.
SAN FRANCISCO: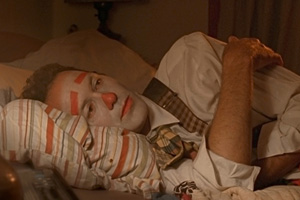 Just to show that we know how to get bi-coastal, I wanted to point all of you Northern Californians in the direction of San Francisco's Roxie Theater, where Frazer Bradshaw's Everything Strange and New is opening alongside Emily and Sarah Kunstler's engrossing portrait of their controversial father William Kunstler: Disturbing the Universe. Bradshaw was just nominated for two Gotham Awards, including Best Film Not Playing At A Theater Near You, and though he didn't win that trophy, he's certainly the first nominee to have a public, week-long theatrical run, so he shouldn't feel too bad about it. Everything Strange And New establishes Bradshaw as a unique voice in the American independent landscape, a writer/director/cinematographer who uses the tools at his disposal to make a viewer feel his character's state of numb confusion. It's a daring achievement.
— Michael Tully