CATCHER IN THE RYE, THE MOVIE
I was going to see a friend's play called In The Wake at The Public. The other play going on was called Gatz—an unlikely sensation of a play where a bunch of actors read The Great Gatsby in its entirety. It went on for eight hours or something. The audience was on their break and they got free dinners for being such good sports. As they started going back in, you could see some of them thinking about making a run for it. And you could see a reluctant Tobey Maguire, dutifully returning to his seat.
"What's Spiderman doing here?" I asked a pal of mine who worked at The Public.
"Oh, believe me—it ain't by fucking choice. His movie director's making 'im come. He made DiCaprio come too the other night. But Leo left at the half. Couldn't soldier up. I have lot more respect for Spiderman now."
"What's the movie they're doing?" I asked.
"The Great Gatsby, numb nuts. Fuck, you thick. DiCaprio is Gatsby and Maguire is Nick. Carey Mulligan is Daisy, but I ain't seen her here yet."
"That's a bad Daisy, no? Carey Mulligan? That's like Mia Farrow bad. Don't they know Rachel McAdams?"
"But DiCaprio trumps Redford. A lot better than fucking Redford for Jay Gatsby."
"True. Who's directing?"
"That fucking guy who makes all those shitty colorful ADD. movies. Baz."
"Baz Luhrman?"
"Yeah, that motherfucker. He's never made a good fucking movie in his life." I nodded in agreement. We drank water and watched smokers come in from the cold.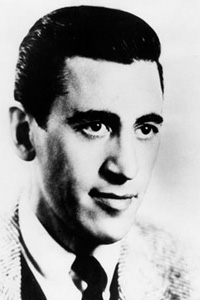 It's February now. The anniversary of J.D. Salinger's death was less than a week ago. Salinger was a big fan of F. Scott Fitzgerald. But unlike Fitzgerald, Salinger never had to suffer the indignities of writing for the studios. The extent of Salinger's dealings with movies was in 1949, when a young J.D. let Sam Goldwyn turn his short story "Uncle Wiggily in Connecticut" into a terrible film called My Foolish Heart. After that… well, I heard Salinger loved watching Hitchcock films from his own private projector and film library. His son Matthew became a solid working actor—so there were plenty of trips to the theater. But when producers or directors came calling, he said no to all comers. Billy Wilder. Elia Kazan. Steven Spielberg. Harvey Weinstein. They all tried. No. (Would Spielberg have added a sentimental cemetery scene where old Holden visits Jane Gallagher's grave?)
Salinger wrote this about a Catcher Movie:
I keep saying this and nobody seems to agree, but "The Catcher in the Rye" is a very novelistic novel. There are readymade "scenes" — only a fool would deny that — but, for me, the weight of the book is in the narrator's voice, the non-stop peculiarities of it, his personal, extremely discriminating attitude to his reader-listener, his asides about gasoline rainbows in street puddles, his philosophy or way of looking at cowhide suitcases and empty toothpaste cartons – in a word, his thoughts. He can't legitimately be separated from his own first-person technique. True, if the separation is forcibly made, there is enough material left over for something called an Exciting (or maybe just Interesting) Evening in the Theater. But I find that idea if not odious, at least odious enough to keep me from selling the rights.
John Cusack once said that the only regret he had was getting too old to play Holden Caulfield. Hey, at least he got the watered down Cameron Crowe version: Lloyd Dobler. Here's what Salinger said about the prospect of actors playing Holden:
Not to mention, God help us all, the immeasurably risky business of using actors. Have you ever seen a child actress sitting crosslegged on a bed and looking right? I'm sure not. And Holden Caulfield himself, in my undoubtedly super-biassed opinion, is essentially unactable. A Sensitive, Intelligent, Talented Young Actor in a Reversible Coat wouldn't nearly be enough. It would take someone with X to bring it off, and no very young man even if he has X quite knows what to do with it. And, I might add, I don't think any director can tell him.
J.D. Salinger was 91 years old when he died. And he never changed his mind. He never came out and did the Letterman show or chuckled with Larry King, or got drunk with Charlie Rose. And he never let anyone make movies of his work. Thomas Pynchon, that other "recluse" of literature, just allowed P.T. Anderson to go to town on his latest book, Inherent Vice. That made me kinda sad. And was I the only one a little blue to see Cormac McCarthy at the Oscars for No Country For Old Men? Even if he was with that cute little boy who looked like he mighta been the boy that the boy in The Road was based on. It's childish and silly to hope that novelists won't ever end up in tuxedos sitting next to Oprah or Bradley Cooper. But one can wish, no? Wish that Richard Ford doesn't show up on the Golden Globes red carpet wearing Tom Ford. Wish that George Saunders never meets Danny Boyle. Ah, but the odds are against those kinda wishes—'cause the odds are money. At least one can take comfort that the poets are safe. You know Hollywood—they just wanna tell "great stories!" So Franz Wright, God bless you, goodnight, you're out of harm's way.
There have been other writers who realized that the camera would steal the soul of their book. They say that when Fellini came to America to get the movie rights to The Teachings of Don Juan, Carlos Castaneda haunted Fellini, played mind tricks on him, had spirits rearrange his hotel room furniture. Fellini hurriedly left America. He left with his life, under a cloud of crows—the rights no longer seeming so important.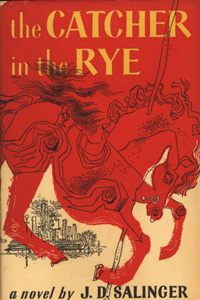 Salinger wasn't being overprotective. He was right. No one could play Holden Caulfield. If you wanna watch Holden Caulfield, watch The 400 Blows. That's as close as it gets. Little Antoine Doinel in his checkered coat, walking the streets alone at night.
In a world where it seems like no one cares enough not to sell out—a world so full of deadening sarcasm and irony that "selling out" itself has become a hokey term—J.D. Salinger never did. Not a smidgen. One can chalk it up to another time, another way of thinking. One can perhaps see little relevance to now. But what's really changed? We're still in the war business. And we still got this thing called movies—which, for the most part, contrary to their left-wing reputation, are in the business of making us feel good about war. Good about the U.S.A. Good about violence. They tell us we exist separately—that we're all independent heroes—but of course they just make us feel more isolated and more alone. Mostly they're simply there to make us forget, to distract, to numb, to weaken. That way, the money stays where the money stays. And poor kids keep dying for old oil guys. And everyone's too tired to get out on the streets and protest because they've been watching Dexter all weekend and have no idea what blood means when they see it in the newspaper in the morning. I mean we've all seen it all now, but with dead eyes. Nancy Grace, if I ever meet you, I'm going to kiss you inside your ear.
And one thing that won't ever change: Hollywood won't ever have an imagination or new ideas. They'll keep mining the classics, fucking up the classics. James Franco is gonna direct As I Lay Dying for his sophomore feature. And star in it too. Why? I mean, write your own original screenplay, Franco. As I Lay Dying has already been perfectly manifested. It's like trying to do a music album of Pollock's paintings. And please don't tell me that sales are gonna go up for the book. Faulkner don't need no movies, he's doing fine.
There have been a couple exceptions where great books turn into great movies. Probably the number one is To Kill A Mockingbird. When the door flings open and Robert Duvall is introduced to movie audiences as Boo Radley—what can you say? That movie has the same magic as the book. It's like they were made under one spell. But 99.9 percent of the time, the films don't do nearly justice to a great book.
Maybe Salinger, for all these years, was just trying to honor Holden. Maybe that's why he didn't go in for the world of fame and gain. Didn't get suckered by bright lights. Because after all, we know Holden would have been whispering in his ear, the second he shook hands with Justin Bieber, "What a phony!"
I do wanna thank Mr. Salinger for never letting his books become movies. I've imagined Seymour Glass so many times. I walked through Central Park as Holden a hundred times back in high school—my hat backwards, smoking a cigarette, trying not to go crazy. And Franny and Zooey—I know what they look like and how they sound. And Buddy, always up late with me when I'm writing. Because the greatest movie that will ever be, is the movie of our mind. Salinger knew that as well as anyone. And he protected his mind. And in doing that, he protected our mind too.
— Noah Buschel