"The Talkies" With Guy Maddin Tonight in Minnesota
No offense to Minnesota, but it comes as a welcome surprise to learn that with both BAMcinemaFEST and Silverdocs in full swing, tonight's most enticingly awesome movie event might very well be taking place at the Heights Theatre in Columbia Heights. Former Jacksonville Film Festival programmer Tim Massett has relocated his yummily awesome "The Talkies" program to that part of the country, and the latest edition features Guy Maddin vocally accompanying a 9pm screening of The Saddest Music in the World. Word on the street is that Maddin will present a live reading of his short film The Heart of the World before Saddest begins.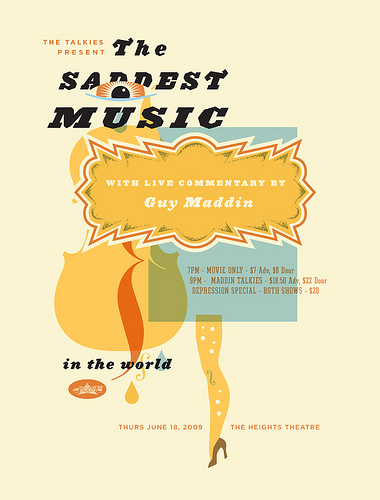 Along those lines, Massett has taken over as programmer of a new theater in Duluth that sounds like an indie film lover's dream. He sent me an email recently, which I'm including here. Attention all indie filmmakers: send Tim your films!
the cinema in duluth is opening august 14th. i would encourage anyone you may know that hasn't had so much luck obtaining distribution that they may find a home for a short theatrical run in this near mythical town, duluth mn. screeners of work (if anyone is interested) can be sent to:
Zeitgeist Arts

Attn: Tim

222 E Superior St., Suite 302

Duluth, MN 55802
— Michael Tully