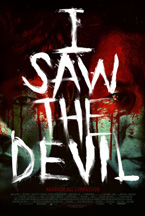 (I Saw The Devil is distributed by Magnolia Pictures and is now available on DVD
and Blu-ray. It opened theatrically in New York City and Los Angeles on Friday, March 4, 2011, before expanding across the country. Go here for play dates.)
Pretend your life-partner-to-be was just beheaded by a serial killer. Now think long and hard about you would react to that. Go ahead, really let your mind wander. Allow things to get as dark and bloody as you want. It's okay. We won't judge you. Don't feel embarrassed. Chances are there's pretty much no way in flaming hell you'll imagine anything as remotely disturbing as what director Kim Jee-woon and screenwriter Park Hoon-jong have come up with in I Saw The Devil. Particularly because for being so gory and intense, I Saw The Devil is also kinda funny and… fun? But before you call the morality police on the disturbed individuals who are responsible for this depravity, it should also be noted that for all of the graphic, shocking content on display—and there is a ton of it—this is ultimately a moral tale of the highest order. A punishing essay on the futility of revenge, I Saw The Devil might help you to change your mind about your own killer instinct to do unto others as they have done unto those you love.
Soo-hyun (Lee Byung-hun) is one of those perfect movie characters: handsome, impeccably kept, and robotically good at his secret service job. Though we meet his fiancee first, as she winds through snowy back roads where her car breaks down, it's clear from their subsequent phone call that: 1) Soo-hyun is very much in love with Ju-yeon (Oh San-ha); 2) He is a very busy man; and 3) Ju-yeon is on her way to meeting a less-than-pleasant fate on that quiet back road. Soon, our worst fears aren't just realized, they are shattered into pieces by Kyung-chul (Choi Min-sik), a bus driver/serial killer who isn't content to simply rape and kill Ju-yeon. If your seat belt wasn't strapped before this operatically staged sequence kicks into high gear, it will be.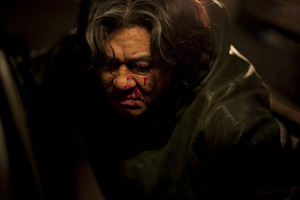 Despondent over the confrontation with Ju-yeon's severed head (quite literally at that, I'm afraid), Soo-hyun uses his training to start his own case and track down his lover's killer. Though tracking his target down is only the itty-bitty first part of the equation. One way we know I Saw The Devil isn't going to be another more traditional, generic thriller is how quickly Soo-hyun locates Kyung-chul. At this stage, you might be remembering that this film's running time is 140 minutes, and here we are at, what, the 20-minute mark? Ruh-roh.
Thus begins a game of cat-and-mouse that is equal turns fascinating, darkly humorous, and disturbingly graphic. Soo-hyun's plan—to brutalize Kyung-chul before letting him go, only to track him down again and exact more punishment, and on and on until who knows when—sounds interesting in theory. Yet in action, he has forgotten to take into account his victim's stamina and underlying evil. What happens in the meantime when Soo-hyun is hiding in the shadows and Kyung-chul is regrouping? A serial killer is a serial killer is a serial killer… Of course there's going to be more bloodshed and violence.
The longer this extended game transpires—it sounds sick to call something like this a 'game' but that is what it is—the more time we have to confront the deeper question of revenge. As exacted by Soo-hyun in a way that only adds to the pile of victims and overwhelming misery, it becomes quite clear that for as much fun as Jee-woon is having, and as disturbingly graceful as his filmmaking is, his conclusion is a somber and critical one: Revenge is impossible. It will only succeed at making you more miserable.
Making a technically virtuosic movie about revenge, on the other hand… now, that's a different story.
— Michael Tully