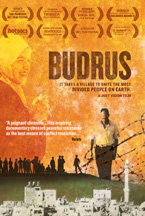 (Budrus is now available on DVD through Typecast Releasing. It had its US theatrical premiere via Balcony Booking & Releasing on Friday, October 8th, 2010, at the Quad Cinema in New York City; Friday, the 22nd at the Music Hall in Los Angeles; and Friday, the 29th at the West End Cinema in Washington, DC.)
Just Vision, the organization that executive produced Julia Bacha's latest multiple award-winning feature documentary, has a singular mission: to increase the power and legitimacy of Palestinians and Israelis working together for nonviolent solutions to the never-ending conflict in the region they share. Budrus is a powerful testament to the potential success of such a partnership, a riveting, modern-day illustration in sound and vision of just how effective nonviolent resistance can be. It is a story filled with hope about people with very little, engaged in the kind of human-scale triumph that is so much more triumphant considering what these protagonists are willing to sacrifice. These days, we are short on seeing instances of this kind of bravery and commitment captured on film, partnered with equal amounts of bravery and commitment on the part of the filmmakers documenting the story.
Bacha, an award-winning filmmaker who wrote and co-directed the feature documentary Encounter Point (2006), co-wrote and edited Control Room, and is a senior media producer and director at Just Vision, focuses on Budrus villagers Ayed Morrar and his 15-year-old daughter Iltezam. Between the two of them, they lead a passionate nonviolent protest against armed Israeli soldiers. These young men and women are members of an army that provides them with massive amounts of weaponry to fight ground wars. The Israeli government has approved the erection of a border wall that will cleave the ancient village of Budrus in two, including uprooting the olive groves the villagers and their families have tended for generations and rely upon for their meager livelihoods. The ground that would have to be razed to build this wall would even pass straight through the village's cemetery (you can believe if anyone ever tried this with a Jewish cemetery, there would hell to pay.) In fact, these soldiers are commanded to use "any force necessary."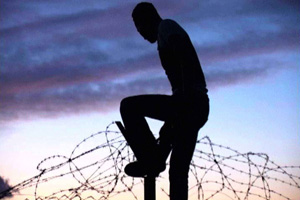 In the process of this nonviolent protest, the Morrars ally themselves with some very unlikely fellow demonstrators, including Hamas leader, Ahmed Awwad, and Israeli citizen and activist Kobi Snitz. Awwad expresses surprise about those who have come from across the border to swear their allegiance to the Palestinian cause: "We had already heard that there were some Israelis who wanted peace with the Palestinians. But these demonstrations exceeded expectations… In these marches, I saw these Israeli voices in real life; it wasn't just something I heard about." It is the first time that the younger Palestinians meet Israelis who are neither soldiers nor settlers, but compatriots railing against an injustice that affects the whole region's future.
The consistent shining light in this maelstrom is Ayed Morrar, a man of extraordinary intelligence, commitment and patience. Morrar, a Fatah leader, organized the very first "Popular Committee Against the Wall" in the West Bank by uniting every local political faction, including Hamas and Fatah, and encouraged the alignment of forces with Israelis coming to protest and protect the village. (Interestingly, Bacha has him address her camera in Hebrew in the film's opening scene.) Ayed's fiery daughter Iltezam helps launch a women's contingent and these are the individuals—the "weaker sex"—who end up on the front lines, penetrating the soldiers' blockade, standing directly in front of the bulldozers, chanting up to the young men hidden inside their gargantuan machinery that they will never back down.
On the other side of the divide, we hear from two very interesting subjects: Doron Spielman, a spokesperson for the Israeli army who does not believe that nonviolent demonstrations can make a dent in the building of the Separation Barrier. He is exceedingly good at what he does, always providing a counterpoint in a strictly official capacity, completely detached emotionally, an expertly trained representative. Yasmine Levy was sent to Budrus as a squad commander in the border police and battles directly with the women of the village who chant to her directly across their great cultural and ideological divide. She also, dispassionately, describes her experience there.
The viewer is dizzy with the sheer impact of this struggle, every moment caught on camera. We run breathlessly alongside Shai Carmeli-Pollack's omnipresent lens and there were also many other people collecting footage, including Bacha and her team. As well, there is footage from men and women who were there solely to document everything, to bear witness at great risk to their own lives. We are everywhere at once, in the relative calm of the meeting rooms where Morrar schools the villagers in the ways of nonviolent protest, to the bullet-ridden village where children have to be protected by a phalanx of adults just to get them from one side of the street to the other safely. At one point, Morrar, walking down a road talking to someone on his mobile phone says, "It's like Fallujah. Shooting everywhere."
As Gandhi and King and others like them have shown the world, it requires great emotional and spiritual courage to stand up against injustice with just your undying voice and your determined spirit. To see a modern-day version of this kind of stand, go meet the Morrars in Palestine.
— Pamela Cohn