(Note: For those in and around New York City, the Museum of Modern Art is currently exhibiting a comprehensive retrospective of Hutton's work. The 18-film series, Peter Hutton, runs from May 5th through the 26th. This series comes with Hammer to Nail's highest recommendation!)
Peter Hutton's At Sea won't be coming to your local multiplex anytime soon. It won't be coming to your local independent theater, either. Your best chance at catching this hypnotic, majestic, and graceful work is at a museum, experimental venue, or college campus. But for those lucky viewers who do manage to find their way into a screening of this or any other of Hutton's films—for the only way anyone can see them it is through the prism of a 16mm projector (according to Hutton's staunch belief in cinema as projected celluloid)—each and every one of his films is certain to enthrall.
In At Sea, Hutton takes the same patient and painterly approach to his material as he always has, producing another grand, sweeping meditation that is equal parts tone poem, cultural history lesson, and personal essay. He uses his familiar filmmaking techniques of typically static frames, uninterrupted takes, and a soundtrack of absolute silence to express his reverence and admiration for the world in which we live. Whether it's an urban locale (New York Portrait, Parts I-III), storied waterways (Two Rivers), or a forgotten city (Lodz Symphony), Hutton's thoughtful, rigorous commitment to his craft shines through.
In this particular work, which charts the life cycle of a gigantic container ship, from a South Korean shipyard to a North Atlantic sea journey to an eventual shipbreaking in Bangladesh, the journey is epic indeed. And while the climactic footage of a gigantic man-made creation being unmade by other men points towards more problematic themes of global progress and commerce, Hutton's inclusion of footage of these fascinated men innocently grinning into the camera makes it feel more exultant than sorrowful.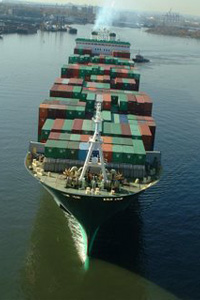 At sixty minutes, At Sea is filled with haunting imagery that is overwhelming in its beauty. The film begins with awe-inspiring shots of an indescribably huge ship dwarfing the tiny humans who have somehow brought it into existence. Later, when the ship is at sea, forward-floating footage of an endless horizon and mesmerizing ocean waves lull viewers into a state of pleasant reverie. For a moment, the ship is serving its ultimate purpose. But eventually, that purpose has run its course, and it's time for that precious life to end. While the film captures the life cycle of this massive inanimate object, it also tells us about ourselves, reminding us that we, too, have a role on this planet, and that our lives will also, one day, be gone.
What makes At Sea such a genuine marvel is Hutton's refusal to be didactic or preachy. His subtle, seemingly hands-off approach allows viewers to bring their own perspectives to the footage and to pass their own judgments or come to their own conclusions. If one is predisposed to seeing things politically, the film becomes a grand political statement. If one is more directly emotional, it is affecting in that regard. If one simply yearns for beautiful imagery and wishes to leave their intellect outside, the film succeeds on that level as well. Peter Hutton is a humanistic, vital artist whose work deserves to be seen by as wide an audience as possible.
— Michael Tully
div>