THE CURBSIDE CRITERION: THE KID
(We here at Hammer to Nail are all about true independent cinema. But we also have to tip our hat to the great films of yesteryear that continue to inspire filmmakers and cinephiles alike. This week "The Curbside Criterion" continues where HtN staff can trot out thoughts on the finest films ever made. This week Brad Cook dives into the new Blu-Ray release of The Kid, the Charlie Chaplin classic that's a sure gateway film for any budding cinephile.)
Charlie Chaplin's Tramp character is often remembered for playing the role of the buffoon, someone whose slapstick antics brought guffaws from audiences in packed theater houses. He was more than that, though, and the range of emotions the Tramp could invoke are on full display in The Kid, which marked Chaplin's first full-length feature. (Back then, "full-length" didn't mean what it does today: The Kid runs a brisk 53 minutes.)
The Roaring Twenties were underway when Chaplin released this film in 1921, but its depiction of poverty still resonated with audiences, and perhaps Chaplin was a bit ahead of his time, since The Kid would have done equally well – and adopted a different tinge – had he made it a decade later. The story involves the Tramp discovering an abandoned baby boy and adopting him. Five years later, he and the boy (played by budding child star Jackie Coogan) have developed a reliable con which involves the kid breaking windows and the Tramp getting paid to fix them. Coogan demonstrates serious acting chops here – he's more than capable of keeping pace with Chaplin.
Their scheme begins to unravel after a police officer becomes suspicious, and the Tramp is forced to fight for the child when people working for a local orphanage try to take him away. Meanwhile, the boy's mother has become a successful opera singer and searches for the child she abandoned, offering a handsome reward for his return. The owner of a flophouse where the Tramp is staying schemes to reunite the boy with his mother so he can collect the money, and the story builds to a bittersweet ending.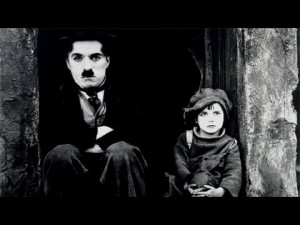 This new Blu-ray release of The Kid features a 4K digital restoration of Chaplin's 1972 version of the film, which sliced out some scenes and had an original score composed by him. It's a beautiful presentation and one I'd recommend showing to people whose idea of a silent film is a scratchy piece of crap shown at the wrong speed. The eight minutes of footage cut by Chaplin in 1972, along with the original titles, are available as bonus features on this disc. Another two-minute bonus piece shows an elderly Chaplin conducting the new score.
This platter also serves up a healthy smattering of other bonus features, starting with a new audio commentary by Chaplin scholar Charles Mayland. If you prefer commentaries that sound like something out of a film school class (I do), you'll enjoy this one. Two other new items running about 46 minutes total look at Jackie Coogan's status as one of Hollywood's first bona fide child stars and explain how Chaplin varied his camera speeds to achieve certain effects in his film.
The rest of the bonus features are of the archival variety:
An interview with Coogan that was conducted for British TV in 1980. He looks back on his time working with Chaplin.
A 1993 interview with Lita Grey Chaplin, who was married to Charlie from 1924 to 1927 and who played roles in The Kid and The Gold Rush. She talks about her professional and personal relationships with him.
A 1964 interview with Roland "Rollie" Totheroh, the cinematographer on The Kid, and a 1998 discussion with Mo Rothman, the distributor who rereleased that film as well as several of Chaplin's other films when people began to rediscover them during the second half of the 20th century.
1921 newsreel footage of Chaplin's first trip to Europe after officially moving from England to the US in 1914.
An 11-minute 1922 short called Nice and Friendly that starred Chaplin and Coogan.
Three trailers created for The Kid's 1972 rerelease.
Criterion has also included their obligatory printed materials, which in this case is a fold-out with an essay by film historian and University of Chicago professor Tom Gunning.
– Brad Cook (@BradCWriter)