THE CURBSIDE CRITERION: THE FISHER KING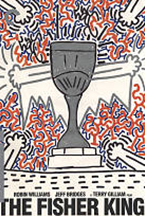 (We here at Hammer to Nail are all about true independent cinema. But we also have to tip our hat to the great films of yesteryear that continue to inspire filmmakers and cinephiles alike. This week we debut a new addition to the site, "The Curbside Criterion" where HtN staff can trot out thoughts on the finest films ever made. This week Brad Cook dives into the new BluRay release of Terry Gilliams The Fisher King.)
The Fisher King may not be as well-regarded as some of director Terry Gilliam's other works simply because it doesn't feature the kind of wildly inventive story world found in Brazil, Time Bandits, and similar films, but the humanity at the heart of the story is the same. It's a tale that wraps a neat bow on the narrative at the end, unlike many of Gilliam's other movies, but this isn't a story that calls for an ambiguous or even downer of an ending.
The Fisher King is about two broken men who connect with each other amidst New York City's sea of humanity. They were destined to do so, though, since their pasts intersect with each other. Jack Lucas (Jeff Bridges) is a shock jock known for blunt comments to his callers, but when one of them shoots up a restaurant after being on his show, he spirals into a depression that suspends his career and finds him working in a video store owned by his girlfriend. Parry (Robin Williams) is a homeless man seeking the Holy Grail, but he was a college professor named Henry before his life was turned upside down by that radio show caller's actions.
Jack's depression leads him to attempt suicide one night, but when a couple of assholes attack him, Parry and other homeless men intervene and save him. Jack initially dismisses Parry as a crazy person, but when he learns Parry's background and discovers the connection between them, he sets out to help Parry as a way to redeem the pain he had earlier caused. Jack discovers that this isn't a simple transaction, however, and in the end he needs to truly make amends by retrieving the Grail for Parry.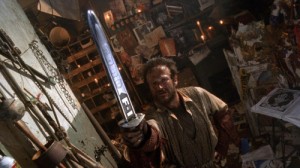 The Fisher King features some of Gilliam's trademark visuals, such as a red knight who menaces Parry in a way similar to the samurai in Brazil, but Richard LaGravenese's script features many earnestly dramatic scenes devoid of the quirky scenery Gilliam is known for. Instead, the director shoots those scenes straight and lets Bridges, Williams, and the others carry the drama, often placing his camera uncomfortably close to them to highlight the awkward moments. This is 1991 New York City with some Arthurian elements thrown into the mix, not an alternative universe full of odd gadgets and strange costumes, and that's okay – Not every Gilliam movie needs to be a kinetic free-for-all.
This Blu-ray release from Criterion features a healthy amount of bonus features old and new. The stuff ported from the earlier Criterion releases leads off with a 1991 audio commentary starring Gilliam, who talks about everything from technical matters to how he approached the story. He also provides optional commentaries for six deleted scenes totaling about 13 minutes. The late Robin Williams appears in a 20-minute interview from 2006; it's a typically amusing interview with the actor, serving to remind us how much we lost when he passed away.
Gilliam, Bridges, LaGravenese, and others appear in some new interviews for this release, starting with The Tale of the Fisher King, a 43-minute look back on the movie, including its themes, the visuals, and more. Bridges also appears in two other new pieces: in one, he looks at the photos he shot during filming, and in another he recalls how he worked with an acting coach to become a smarmy shock jock.
A final new featurette covers the creation of the red knight and the challenges faced while filming those scenes. (How much of that would have been created with computers today? Probably a lot.) Five trailers and a poster with an essay by film critic Bilge Ebiri round out this release.
– Brad Cook (@BradCWriter)