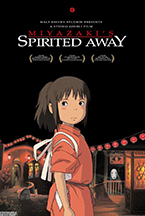 (It's hard to believe Hiro Miyazaki's classic film Spirited Away came out 14 years ago. It's imagery and tone are still so vital today. Also hard to believe is that the film has never been released on Blu-Ray until now.)
If you've never experienced one of Hayao Miyazaki's movies, Spirited Away isn't a bad place to start. It's the story of a young girl, Chihiro, who's moving to a new home and who, like many young girls in such a situation, isn't happy about it. When she and her parents come across a place that seems like an abandoned amusement park, the adults are turned into gluttonous pigs and Chihiro finds herself pulled into a fantasy world she must navigate if she wants to restore her life to normal.
Chihiro discovers that a witch named Yubaba was behind her parents' transformation, and she takes a job in the shrill-voiced woman's bath house, where she must clean the wide variety of spirits who arrive each evening. A boy named Haku befriends her, as does Lin, who toils alongside her every night. Chihiro has exchanged her identity for her job, and she is now known as Sen; Haku advises her not to forget her old name, or she will be lost in the spirit world forever, as he was.
Chihiro/Sen's journey through the spirit world is one full of odd creatures, surprising revelations, and a large dose of character development for a young girl who quickly discovers that she is more resourceful than she knows. Miyazaki says in the bonus features that he based the girl on the daughter of a friend, and as someone who has a daughter who just turned 13, I can attest that he has captured the nuances of that stage in a girl's life.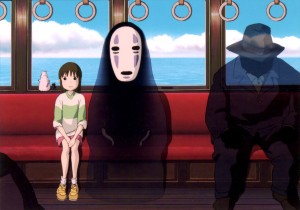 The bonus features on this new Blu-ray disc were all ported over from the original DVD release. That's great, but it's a shame Disney didn't commission some new supplemental features that take a look back on a classic film from a position of 14 years of hindsight. What's here is worth watching, though. Pixar's John Lasseter serves up his usual gushing introduction, and "Behind the Microphone" covers the process of replacing the Japanese voices with American ones for release in the U.S., while "The Art of Spirited Away" offers a cursory look at the film's rich design.
Both of those pieces are brief and have a bit of an EPK feel to them, but Disney has also included the original Nippon television special, which clocks in at over 40 minutes. For Miyazaki fans, it's a nice in-depth look at the making of the film from start to finish, with plenty of footage of the Studio Ghibli staff hard at work. The original Japanese storyboards, as well as the original Japanese trailers and TV spots, are also included.
There's also a DVD that includes just the movie.
– Brad Cook (@BradCWriter)