THE CURBSIDE CRITERION: GHOST WORLD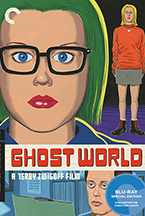 (We here at Hammer to Nail are all about true independent cinema. But we also have to tip our hat to the great films of yesteryear that continue to inspire filmmakers and cinephiles alike. This week, our "The Curbside Criterion" continues where HtN staff can trot out thoughts on the finest films ever made. Today Brad Cook explores the new Criterion Blu-Ray release of Terry Zwigoff's indispensable Ghost World. )
Ghost World is a movie about major life transitions. Its main characters, Enid (Thora Birch) and Becky (Scarlett Johansson), have graduated from high school but find little to occupy their time other than mocking people who don't understand their "too cool for the world" attitude. However, where Enid doesn't seem quite ready to move on from her angst-ridden teen years, Becky has begun to grow up a bit and wants to start living in the real world.
As the tension builds in their relationship, they find a new target to mock: a loner named Seymour (Steve Buscemi), who collects old jazz records. Enid soon finds that Seymour isn't such a bad guy after all and encourages him to call Dana, a woman who responded to his personal ad. However, the two also share an attraction, despite the 15 or so years that separate them.
As Enid tries to figure out what she wants to do with herself, and whether she's ready to move in with Becky, Seymour struggles with his feelings toward Enid and Dana. Those parallel storylines careen toward a not-so-neat-and-tidy conclusion. Birch notes in an interview on this new Criterion Blu-ray disc that Ghost World can be seen as a coming-of-age story in reverse, with Enid refusing to grow up and change (the same could be said for Seymour). Viewed through that lens, the ending makes sense.
In a larger context, Ghost World serves as a marker for other transitions. It helped Johansson's career begin to take off (I've always been "meh" toward her, but to each their own). It was made before the Internet became truly ubiquitous and 9/11 dramatically reshaped our lives, so it's a bit of a relic in that way. And it, along with the early Spider-Man and X-Men movies, showed that Hollywood could produce some good comic book adaptations.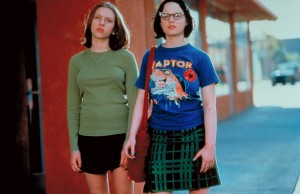 This new Criterion Blu-ray, which features a new digital transfer supervised by director Terry Zwigoff, helps put the movie within those contexts. A new commentary track with Zwigoff, Ghost World comic book creator Daniel Clowes, and producer Lianne Halfon looks back on the making of the movie and offers plenty of interesting information. For example, MGM tried to talk them out of using Johansson, thus proving that the old adage "No one in Hollywood knows anything" still endures.
The trio also address the origin of the footage from the Bollywood film Gumnaam, which plays during the opening of Ghost World. The full scene that Zwigoff drew from is presented here in its entirety, with an optional commentary by an unknown Indian commentator. (I'm not sure why she's not credited on the disc.) We also get about 9.5 minutes of deleted and extended scenes, along with the theatrical trailer and Art as Dialogue, which includes 41 minutes of new interviews with Birch, Johansson, and Illeana Douglas. The three actresses look back on their roles and where they were at that point in their lives, as well as what it was like working with Zwigoff and Clowes, who was on the set a lot.
The usual printed materials include an excerpt featuring Enid and Becky from Clowes' Eightball comic book , as well as a booklet with essays by film critic Howard Hampton and Zwigoff, who talks about the music used in the movie.
This release is a worthy upgrade from the 2002 MGM DVD. The featurette on that disc wasn't ported over, but I don't think it's really missed. The deleted scenes section on that disc has been expanded on this one, and there was no commentary on the Gumnaam footage that was included on the earlier release.