EDGE OF HEAVEN, THE
Culture Blurs
Leave a Reply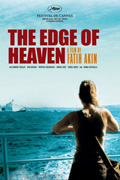 Fatih Akin's follow-up to his punk-infused jolt of cinematic adrenaline Head On is an ambitiously woven multi-character tale of personal dislocation and unexpected connection in a Europe whose cultural lines continue to blur. As in Head On, Akin sets his sights on the German and Turkish cultures into which he was born, but this time he greatly expands his narrative horizons, focusing on six central characters instead of just two. While this set-up has the potential to feel forced and overly manipulated in its execution—hello, screenwriter, what clever coincidences you have contrived!—Akin avoids this dangerous predicament by resisting the temptation to tie his threads into one tidy knot. Yet rather than feeling unresolved, the film nonetheless reaches a state of grand fulfillment. The Edge of Heaven is another wondrous creation from one of the world's most versatile writer-directors.
While it is evident that Akin has a multitude of purposes with The Edge of Heaven, it appears that his overriding goal is to capture the fractured spirit of modern Europe, a place where displaced individuals grapple with their heritage while coming to terms with their newfound existences in non-native lands. To do this, he builds a sprawling narrative in which six individuals—three parent-sibling pairs, to be more exact—come into dramatic contact with one another (even if they don't always meet face-to-face). This allows Akin to address not only the rapidly shifting cultural dynamics spawned by the European Union's flattening of many borders, it enables him to the tackle another, perhaps more elusive, problem: the generation gap. One of these on their own would make for a complicated enough personal dilemma; together, they make it almost impossible to navigate. It's no wonder these characters feel lonely, confused, and displaced.
Akin uses the risky technique of a circular narrative to tell his story, but it proves to be an apt choice this time around, for it accurately reflects the strange feeling of familiar disorientation that these characters feel. When they are home, they still aren't home. Yet they are home. Akin's shifting of time, and repeating of certain scenes, helps to keep viewers from becoming too grounded, even when they're recognizing situations that have already occurred. This is no mere exercise in style or screenwriterly prowess, however. It is an effective way to force viewers to see the world through the characters' disconnected eyes. He goes so far as to separate the film into three subtitled sections, another literary device that pays off and contributes to the tone of unsettled familiarity. We know what's coming. We just don't know how it's coming.
Where Akin is at his most clever is in his crafting of the near-miss situations between those characters who never actually come into contact with one another. That some of them don't ever meet is what makes his script so extraordinary. Normally, a film that goes to such masterful lengths to set up characters in this way would demand a neatly congealed denouement, but The Edge of Heaven doesn't give us these Hollywood unions (these days, even Indieville tends to suffer from the same measured cutesiness). Yes, certain characters form strong bonds with one another, but we never get the exchanges we're expecting. Akin gets close, however, by spiking his film with moments of fleeting misconnection, on the highway, at the airport, in a classroom, and even on a bulletin board. By the time the film ends, on an image that implies resolution rather than realizes it, we understand that Akin never intended to directly connect all of the dots. Somehow, we are all the more grateful and appreciative for this.
No matter how good a script is, one needs accomplished actors to fully deliver on its promise. With this cast, Akin has gone six-for-six. Most notable is Hanna Schygulla, who is unforgettable as a mother trying to forge a connection with her daughter. She doesn't have to say anything to flood viewers with emotion. It's one of the finest supporting performances in recent memory. Turkish hero Tuncel Kurtiz is sympathetic as a brutish, but loving, father. But it isn't just the older actors who deliver. Nurgul Yesilcay and Patrycia Ziolkowska are particularly exceptional, for their characters' relationship is the most difficult to portray without resorting to cliché. Yet they create a wholly convincing relationship that is about love, first and foremost, not lesbianism or cross-cultural taboo shattering.
In addition to many other things, The Edge of Heaven is about that murky distinction between chance and fate, how these seemingly contradictory concepts are constantly jutting up against one another. Which brings us to the film's central theme: diametric opposites learning to live together in a rapidly developing Europe. Whether culturally, generationally, geographically, or historically, it cannot be denied: The Continent It Is A-Changin'. In his younger days, Akin would almost certainly have produced a more confrontational and bitter indictment of this early 21st Century European predicament, but with age has come a greater understanding. Fatih Akin isn't extolling or condemning this new world he lives in. He's simply trying to understand it.
— Michael Tully
(Visit the film's UK website to watch the trailer.)
Leave a Reply