108 CUCHILLO DE PALO
Family Secrets Under The Iron Fist In Paraguay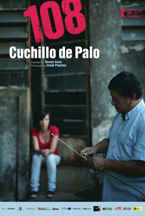 (108 Cuchillo De Palo opens theatrically in New York City for a one-week run at the Maysles Cinema on Monday, March 18, 2013. It world premiered at the Berlinale 2010 and also screened at the 2011 Los Angeles Film Festival on June 18 and 20. Visit the film's official website to learn more. NOTE: This review was first published on June 17, 2011.)
Rodolfo Costa, a middle-aged Paraguayan man, was found naked and dead on the floor of the apartment where he lived alone. His closet was empty of clothes and people said he died "of a broken heart." In her documentary 108 Cuchillo de Palo, filmmaker Renate Costa, his niece, undertakes a fascinating and painful investigation into who Rodolfo really was, a process that leads her into the cold black heart of the brutal dictatorship of Alfredo Stroessner, who ruled Paraguay from 1954 to 1989.
The film's leitmotif is Costa's series of interviews with her father, Pedro, Rodolfo's brother. He's a tangle of contradictions: warm, engaging, and somewhat childlike, but also maddeningly evasive, wielding a great arsenal of rationalizations and smokescreens, and using Catholic non-sequiturs as his final line of defense. To a question about why Rodolfo's closet was empty when he died, he replies, "I don't know if he owned many clothes…"
Costa's own memories of Rodolfo are sketchy but intriguing—he was the only one of her uncles who refused to work in the family blacksmith shop, and was therefore considered a "cuchillo de palo" (translation: "a wooden knife"—i.e., a useless object). She was forbidden from going into his home.
The film jolts into action when Costa questions her father on a rooftop, the late afternoon sun at her back and her disbelieving face on camera as he drops the bomb: he used to follow Rodolfo around and beat up his gay friends in order to "protect" him. He assures her that homosexuality is a very serious matter, and attempts to end the discussion with the words "that's how it is."
In the continuation of this shot, the psychological aftermath of the Stroessner years seems to unfold on Pedro's face: he affects a strange series of expressions, starts to say something but stops himself, looks down and smiles, then walks off camera, busying himself with some sweeping. He seems to suffer from a kind of PTSD with equal parts paranoia and embarrassment. The moral justifications of another time no longer carry much weight, and his internal struggle with his sense of guilt is apparent and disturbing.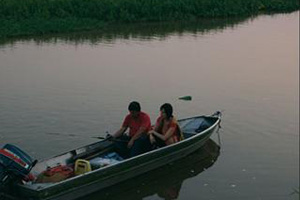 Through interviews with gay friends of her uncle, some of whom are afraid to appear on camera, Costa is able to piece together aspects of his life: his ambition to be a dancer, his relationships with men. She begins to uncover the specific horrors he endured. He was included in one of the infamous lists of homosexuals, the "108" lists (the first of which included 108 names), and was rounded up and tortured. But new mysteries and intrigues emerge. What did Rodolfo do for money, and how did he amass an enormous savings account?
Again Costa confronts her father, and accuses him of being sick. To this he violently agrees, crying out, "My mind and heart are perverse; I'm a sinner!" and then invokes the Holy Spirit to justify his attitudes, before mincingly spouting a list of Rodolfo's friends, "Enriquito, Josecito, Alfredito…" as if the very sound of their names were a good reason to beat them up.
Costa's investigation hones in on a dark, dirty secret within the Stroessner regime—a horrible, hypocritical miscarriage of justice that led to the "108" roundups. Interestingly, perhaps the most candid witness is a drag queen prostitute who points out that, while drag queens were often abused by police, they were the only members of society immune to blackmail. They were already out "to the four winds."
Costa herself cuts a powerful figure, her determined, laser-beam stare demanding nothing short of the full truth. She shows how Paraguay, despite becoming democratic and more accepting, hasn't made a clean break with its violent past like Chile or Argentina; civil rights are still exercised with great caution. She masterfully weaves together the personal and the political, and eventually finds a few simple but powerful words that sum up the need for her father and his generation to come to terms with their personal responsibility for colluding with the government, but also for her own generation's need to find understanding, compassion and forgiveness.
—Paul Sbrizzi