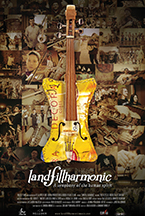 (Landfill Harmonic follows the Recycled Orchestra of Cateura, a Paraguayan musical group that plays instruments made entirely out of garbage. The film is available now via Film Rise.)
Trash is everywhere. It lines the streets … no, "lines" doesn't do it justice…it fills every possible space of land, air and water, choking out all possibility of a meaningful life. Or so it seems, at first. We are in Cateura, Paraguay, barely 10 kilometers away from the capital, Asuncion, yet light years from any sense of urban planning. Perhaps, in fact, Cateura is the result of planning policies that only take the needs of the urban population to heart, the rest of the country be damned. The Paraguay River, once clean and full, now but trickles through the desolate suburb, home to the country's main landfill, which is so big that the line of demarcation between homes and dump is meaningless. And yet, somewhere in the midst of all that garbage, we hear a few notes of music, rising above the rubbish, proving that beauty and hope do, in fact, exist here.
A number of years ago, an environmental technician named Favio Chavez came to Cateura to work on a recycling initiative, which ultimately failed. He, however, stayed, having found a different vocation. A musician, he was struck by an idea while wandering through the refuse, that bits and pieces of garbage could be fashioned into items of use to the residents. Working closely with a local craftsman, he made musical instruments out of the trash, eventually assembling enough to supply a mini-orchestra, consisting of the neighborhood youth, which he trained, himself. Discarded x-rays became drumheads; oil cans became the bodies of cellos; and so on in a remarkable display of inventive reclamation. Chavez, now the town's sole music teacher, led his merry band of amateur players, which slowly improved, until, in 2011, they gave their first concert. In the age of YouTube, it wasn't long until the word spread, bringing attention and, soon, invitations to travel, including from metal bands Megadeth and Metallica (to understand how that happened, you'll have to watch the movie). It's a truly inspirational story. If art can flourish amidst literal garbage – indeed, be fashioned from it – then anything is possible.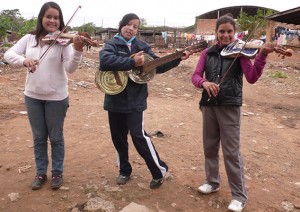 To be fair to the residents of Cateura, before Chavez arrived, they made do, as human beings make do everywhere, regardless of circumstance. As we meet each family, we see how much they value work and education. The will to succeed lies side by side with the will to survive. Still, the opportunities provided by the recycled orchestra – or "landfill harmonic" – allow the kids to see the world beyond the garbage, opening up even greater possibilities. A truly moving moment comes when they visit Brazil, seeing the ocean for the first time (and what's a little sewage in the water, when your whole town is filth); of such affecting scenes is the entire movie made. Documentary filmmakers Brad Allgood (El Canto de Bosawas) and Graham Townsley (Fields of Demeter) sometimes push the sentimentality too far – and use a few too many montages for my taste – but they have nonetheless created a powerful testament to the human spirit that is as heartwarming and uplifting to the viewer as the orchestra is to the residents of Cateura. Sugary schmaltz and all, it deserves to be seen and cheered.
– Christopher Llewellyn Reed (@ChrisReedFilm)