A Conversation With Azazel Jacobs (TERRI)
In his excellent review of Azazel Jacobs' Terri, Cullen Gallagher writes: Coming after the superb cinematic hat trick of Nobody Needs To Know (2003), The GoodTimesKid (2005) and Momma's Man (2008), Azazel Jacobs' Terri (2011) re-confirms the director's status as one of American Independent Cinema's leading visionaries and most heartfelt voices. As daring as it is endearing, Terri butts heads with the clichés that have plagued high school movies for generations, and Jacobs manages to tell a story that will resonate with viewers without resorting to cloying truisms. Finely crafted and frequently hilarious, Terri has already performed well at both Sundance and SXSW, and is poised to be one of the standout independent features of the year.
He's right. Terri is indeed something special. On the heels of his biggest theatrical release yet, I sat down with Jacobs—Hammer to Nail's first two-time interviewee!—to discuss his refreshingly honest film.
[NOTE: The beginning part of our discussion regarding reading negative reviews wasn't part of the original interview plan but I started recording it and have decided to include it here, as I think Jacobs has some funny and insightful things to say.]
Azazel Jacobs: I downloaded some add-on that has parental controls and entered into it, you know, "google + Azazel," everything is just blocked. I'll read the things that I read, things will come my way. Publicists will send me stuff, but the reality is that I don't wanna get to that place where it doesn't matter. I don't wanna get hardened. I think part of my strength as a filmmaker is that I don't get hardened [by negative criticism].
Hammer to Nail: Our producer's rep/attorney George Rush's brother plays in the NFL and he told me that the first time his brother heard really negative, dismissive criticism of him, the next game he had like ten tackles. It drove him into a furious state to play incredibly well. I'm not sure what the cinematic equivalent of that would be, though.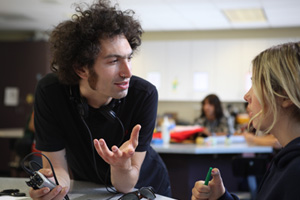 AJ: I've been in a really good mood this past week. It could be the fact that I'm excited about this movie, I love talking about it, but I can tell you that I definitely have been in a good mood since blocking all that shit. Dude, it's depressing hearing some guy say, "Damn, this movie is so slow, it's just like Cyrus." Shit where you're just like, What? "This is exactly like a Wes Anderson movie" or something. You're like, "What is wrong with you? Have you only ever seen a Wes Anderson film?" [HTN laughs] And you can't argue. Very early on, my dad said, "Unless you're gonna physically attack them, don't answer. 'Cause that's the only answer that there is." You can't win, man. You can't write back. "Listen, as the filmmaker, I'd like to say you were wrong on three points!"
H2N: Any time a filmmaker does that, it becomes the viral sensation of that afternoon. I've seen it happen and you're like, "Oh, man, just let… it… go."
AJ: I've never seen a filmmaker come off good. Ever.
H2N: You obviously understand where that instinct comes from, but a lot of these writers aren't thinking things through before they pass judgment.

AJ: If they can't give me the respect to put pants on when they're reviewing my film, then I don't need to give them the respect of reading what they write.
H2N: Okay, let's get off that pointlessness and onto the task at hand. I wanted to first congratulate you, as you are officially the first two-time Hammer to Nail conversation subject! The circle is complete. That was right before Momma's Man was about to get released. Which ties into something I would love to talk about, as it appears that I might also be graduating to a bigger budget next time around.
AJ: And bigger pay. A lot more money.
H2N: More important friends.
AJ: Bigger home and better friends. New life.
H2N: You don't even go to the location where Momma's Man was shot anymore.
AJ: No, no, no. Different parents. [H2N laughs]
H2N: Since this production was so much bigger, were there any new directorial panics that you hadn't had before?
AJ: Absolutely. I mean, I felt that Momma's Man went well, and so there was a very strong urge to repeat myself, to go into another story that was in a familiar vein. But I knew that ultimately that would wind up being really boring for me. These films take as long as they do, so to go to a place I'd already been would've been a waste of time and it would've been unfulfilling. So there was a conscious decision after Momma's Man of my wanting to tell somebody else's story. And then I found somebody else's story with Pat's [Patrick Dewitt] writing. Then the fear became, "How do I make this personal? How is this gonna be mine? What can I do with this that will be different than the screenplay?" And at the same time never make it about "look at this director's choice and that director's choice," which is not the type of work that I'm inspired by.
H2N: And what was it? What was the in? Can you pinpoint something or was it a broader feeling?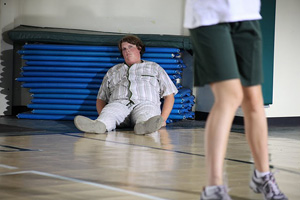 AJ: A lot of it had to do with faith, but, just knowing how these things evolve, the fact that I felt so close to what Pat had written was a testament to what this film could be. The other movies that I like and was using for inspiration, those that had given me the images of what small towns and small town schools are like, were pushing me forward and saying, "There's something here." That there are still ways to tell coming-of-age stories in interesting and new ways. But I'd say the biggest time when I felt like "I know exactly where I am right now" was when we found Uncle James' place, which is very much like we found my parents' place in California! It was the first door that we knocked on when we were scouting locations, and it opens up and here's another place just like my folks' that has been very lived in. On one side people could say it's crazy, but on the other side—the way that I see it—is this is a home that has been inhabited by someone who's enjoyed life, who has surrounded themselves with things that they play with and that inspire them. It felt very familiar. It's the beginning of the movie. The movie starts off there, and it was the bridge in.
H2N: What's so great about John C. Reilly is that he can turn a two-dimensional cartoon character into a hilariously, sweetly, and achingly real human. Did most of your directing of him happen before the actual production so that you could maybe be more hands off and focus on the kids during the shoot itself? Or was there a constant dialogue throughout?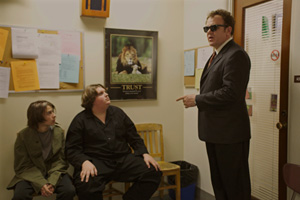 AJ: I think there was a constant dialogue, but I definitely knew that because John is so good at bringing that depth, what I thought would work really well was that Pat's script created the space for him to do that. We weren't rushing into things. There was enough time for him to make Fitzgerald even more well rounded than words could do. And I found out very quickly too, being on set, that how I worked with John had a lot to do with how I worked with Jacob. They were responding to each other and they were sticking with the lines, but if I pushed John this way, it would have an effect on Jacob, and vice versa. You could start molding the world into the situations that you want by just pushing a lever on each of them. Saying "a little bit more this" and it would have an effect and start balancing out that way.
H2N: Jacob is someone who is clearly a young buck—he just turned 21 a week or so ago!—and hasn't been doing this for a long time, but he is nonetheless a really sharp person with a great intuition. Did you grasp that right away?
AJ: I knew at the first audition. It took more to convince me, because he was bigger than the Terri that I imagined, and I needed to see him work with this Chad and that Heather and ultimately I needed to see how he worked with John, and even after that I still wasn't completely sold. I brought him over to my house and put him in my bathtub and made him wear pajamas while we walked around, because of what you're talking about. That confidence scared me! It worried me, like how could a kid like this exist? At the same time, that was the most striking and the thing that made me keep going back to him, the fact that Jacob is inherently somebody who knows himself. Then, ultimately I started realizing this was how to handle the whole pajama thing, which would be very easy to just become a quirky detail, or a main detail of the film. Which it's not. The fact that Terri has the confidence to wear pajamas because, what else? Why not? It takes strength to do that. And I felt like I could utilize that, and it helps the film ultimately.
H2N: So it sounds like you had a healthy amount of rehearsal time?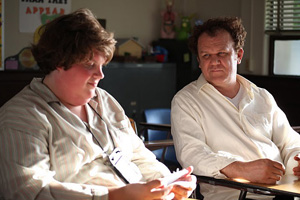 AJ: I've never been somebody that's had a lot of rehearsal time. It hasn't been something I've aspired to. I'm not sure what you do in that rehearsal room. I'm casting people on their ability mostly, and then I think that once the sets are there, the camera and everything, that they're all gonna have an effect and each day we're gonna work really hard. Most of the rehearsing came through the auditions, the fact that I was able to keep calling Jacob back and back and back, and keep trying him with this person or that person, and getting a better sense of who he was and what I'd be asking from him. So I was able to audition for a long time. For months, before the money came in, Nicole Arbusto and Joy Dixon signed on. We knew it was gonna take a long time to find kids, and I was able to start months and months early. That was when the rehearsal happened. So even with people that ultimately didn't get cast, I still learned what story I was planning on telling.
H2N: With the classroom stuff and all the kids, it seems like you were working with younger kids than you ever had and on a larger scale than you ever had, right?
AJ: Yeah. I've never had a Second AD and I've never had a script supervisor taking charge of and helping me with all these things. I've never had my mind completely given to just directing. It was such an incredible luxury to go over to Techia [Espositio, script supervisor], "Did he walk into that door kind of slow?" I tried to stay by Toby [Datum, cinematographer], I tried my best to stay away from the monitor, and I just tried to trust what people were doing and watch how people were coming out of rooms, where kids were coming from, and I'd say something like, "Maybe we could have some more kids over here." When I watch those scenes in the movie, it was really important to me that the budget didn't affect the story. I wanted it to be correct. I wasn't being a tyrant, but I knew that hallway needed to feel like a hallway. This was one of those movies that wouldn't work the way The GoodTimesKid did, where you say "an empty bar" and it's an empty bar 'cause we're watching a movie.
H2N: In a different way, but still getting at what you're talking about in the sense of establishing a sense of genuine reality, there is the all-night-in-the-shed scene, which I'm ready to sign off on as an instant classic. That is obviously such a hugely important scene in just about every way, but you managed to let it breathe so that when the sun came up the next morning, it felt like we had been in that shed with them all night. Was this always such an important scene?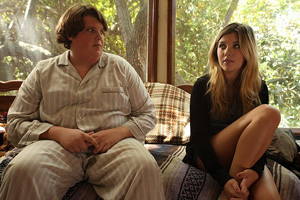 AJ: There are a lot of reasons why I made this film, but that was the biggest. When I read the material and I thought about getting to that room, it was the thing that scared me the most. And I felt like, okay, somebody could argue with me and say, "I've seen this scene, and that scene is a little like that, and it's all charted territory where it's coming down to this night to remember," but I don't know of a movie that has a scene like that, that feels that way. I feel like when I got there on set and when I get there watching the movie now that we go someplace I haven't seen before.
H2N: Was it written that long, in the ratio of that scene versus the rest of the screenplay?
AJ: Yeah. It was a lot of pages, and we made sure to shoot that last. I wanted to shoot it when the kids knew me and knew each other. It was a very, very closed set, and I had all the time I needed. I had a lot of time to spend down there. It worried me the most. There are lines where people are saying what they're feeling, and being aided with the ability to do that through their age and through being fucked up on drugs and alcohol. And it's very risky for me to think of how an actor is gonna deliver this in a believable way, and for this to feel true. For it to not only feel like a party, but for it to have all the elements that these nights have, including the threat of things going horribly wrong at any moment.
H2N: Did you refine it a lot in the edit or did it pretty much come to life as it was assembled?
AJ: No, there was a lot of refining in both stages. In the shooting things get shifted, how you move people around. I studied The Servant a bunch and I really loved how people moved and moved around the camera. And I love being stuck in rooms. That's the thing about Momma's Man and a lot of the films that I've done; I like being stuck in a room. Suddenly, I was on home terrain in a certain way. How can I keep things constantly shifting and evolving in an interesting way? It still got shaped through the edit and figuring out how to make this feel like real life and real time. But there are certain lines where I was like, "How is she gonna say this thing that she says?" She says, "It feels nice to be wanted." When I read that in the script I was like there are eight billion ways to say this wrong and there's one way to say it correctly and for me she did it. And I saw it on set. I said, "Okay, we have this, we have a movie here."
H2N: For me, what makes the movie so great is that if you picture this script and this project going through the studio system, it loses everything that makes it so special. Especially that scene.
AJ: What you're saying is absolutely true and I think it's a testament more than anything to the full team that made this film. That the producers, the investors, the distributor did not put pressure on me to change that scene and allowed it to exist in real life, to feel the way that it does. If there's anything that we can take advantage of with limited budgets and limited means, we might as well have freedom of speech here and try to say exactly what we mean. For me, that that scene is being delivered to theaters as is, is a really great testament to the people I've surrounded myself with.
— Michael Tully
One Response to "A Conversation With Azazel Jacobs (TERRI)"
Happencamper Says:
July 8th, 2011 at 3:36 pm

terri is great movie.  this has been great summer for films.  w.herzog cave, buck, winterbottom's trip, gibney's magic trip, tree of life, terri, midnight in paris.  even fast and furious was good.
Leave a Reply