AFI FEST 2014 PREVIEW
(AFI FEST 2014 runs November 6th -13th. Visit the festival's official website for more information.)
AFI Fest has established itself as L.A.'s premier window on what's happening in serious auteur cinema. This year, there will be big-name, Oscar-contender Gala screenings including P.T. Anderson's Thomas Pynchon adaptation Inherent Vice starring Joaquin Phoenix; The Homesman, directed by and starring Tommy Lee Jones; and Bennett Miller's Foxcatcher, starring Steve Carell and Channing Tatum. But if you're me, you're just as excited about the brilliant new work from around the world that's been tearing up the festival circuit and will be showing for the first time in Hollywood. I'm really looking forward to Peter Strickland's The Duke of Burgundy, which looks like a deliciously wild ride into a complex world of domination and submission. I also can't wait to see Wild Tales, Damián Szifrón's collection of black-humor vignettes produced by Pedro and Agustín Almodóvar. Here's a small sampler of favorites amongst what I did get a chance to preview.
DOCUMENTARY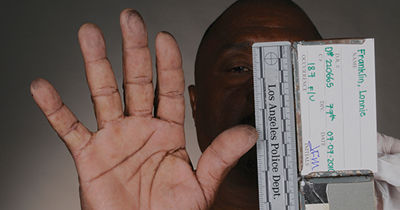 Tales of the Grim Sleeper — The latest from Nick Broomfield is a shocking look at the everyday horrors that befall a neglected community. The so-called Grim Sleeper started murdering young women in South Central Los Angeles in the mid-1980s, but the LAPD made no meaningful effort to investigate or warn the community for over 20 years. Broomfield strikes gold when he meets Pam, a hilariously outspoken and streetwise retired prostitute who jumps in to help him with his investigation. Together they dig deep to find the people who met the killer or were affected by the murders—to reveal the truth behind the grotesquely self-serving press conference held by the mayor and police chief to congratulate themselves on finally arresting Lonnie Franklin in 2010.
NARRATIVE (kinda)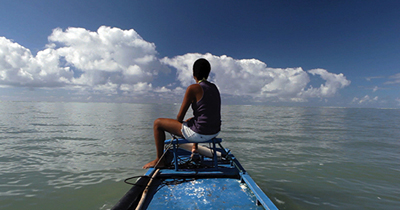 August Winds — Billed as a narrative feature, but seemingly woven to a large extent from documentary elements, director Gabriel Mascaro's new film at first drops you into an idyllic tropical world: a beautiful young couple cavorts in and on blue waters and then with each other, in the back of an open truck on a bed of coconuts. But the waters are also a place of menace and death: on a dive, the young man finds a skull with a gold tooth, and then a rotting human corpse washes ashore. Mascaro's largely wordless film is full of stunning imagery—the young girl brushing her decrepit grandmother's blindingly white hair; the young man polishing the skull—that vividly illustrates the cycle of life and death in a seemingly mythical and haunted part of the world.
NARRATIVES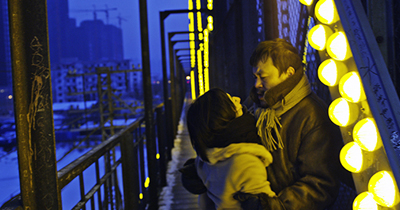 Black Coal, Thin Ice — Human body parts are turning up in coal depots across China; an investigation links each of the victims to Wu Zhizhen (an inspired Gwei Lun Mei), a quiet, intense woman working at a dry cleaners. Liao Fan turns in a spectacularly sensitive and muscular performance as Zhang, the cop who loses it after a brutal shoot-out, but comes back determined to unravel the mystery even as he's falling for Wu. It's a classic femme fatale story, but Wu is no vamp—she's a simple woman caught up in desperate circumstances. Director Diao Yinan has a knack for creating powerful, lyrical imagery—including extensive sequences on ice and surreal, explosive finale—in a way that feels seamless and completely organic to the story. Winner of the Golden Bear at the 2014 Berlinale.
Self Made — An Israeli performance artist becomes confused and forgetful when her bed collapses and she hits her head; meanwhile, a young Palestinian woman with her head in the clouds takes screws home from her job at "Etaca" (a fictionalized IKEA). Shira Geffen's second feature explores the Israeli-Palestinian conflict indirectly, setting her characters and story free in a highly imaginative cinematic world. She underplays the politics, finding dark humor in the small cruelties and humiliations endured by her characters—in particular a series of attempted Skype chats that get all mixed up with Etaca ads and porn.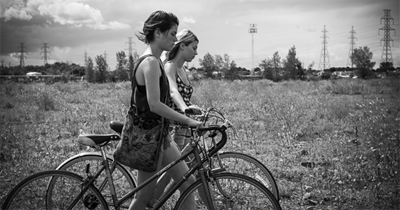 Tu Dors, Nicole — Nicole, a directionless young woman, is left alone with her older brother in the summertime in their parents large, very suburban home. She hangs out with her best friend while her brother rehearses with his rock band in the living room. There seems to be little at stake, but Nicole's world—her job, her dreams, her friendship and a potential romance—gradually begin to crumble around her. Director Stéphane Lafleur has crafted a truly lovely little film, unhurried and understated but full of dry humor rooted in raw humanity. He effortlessly captures the pace and atmosphere of a lollygagging summer—sometimes straying into the surreal—in beautifully composed, gently melancholy black-and-white.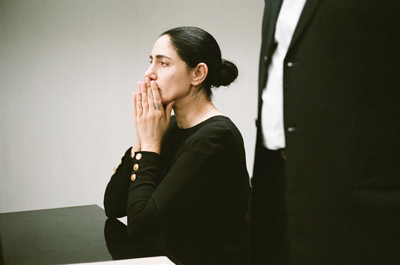 Gett, the Trial of Viviane Amsalem — Israeli law gives rabbinical courts jurisdiction over marital law, and on its most immediate level this story of a woman trying to divorce her husband over the course of years is shocking and infuriating in its portrayal of the system's sexist bias and general unfairness. But the film goes way beyond that polemic, its brilliant script and performances drilling deep into the characters and finding a richness and complexity of motivation in each of them. Directors Ronit and Shlomi Elkabetz do wonders in a bare and cramped location, employing a minimalist aesthetic of stark, powerful compositions.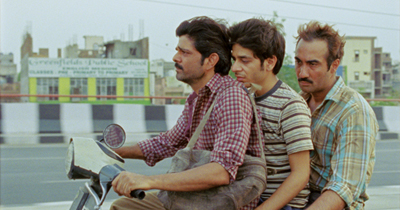 Titli — Set in Delhi, India, Titli follows a young man whose name translates as "butterfly" as he tries to get away from his family and their carjacking business. These people don't use guns—they use clubs and hammers and their bare hands to beat the shit out of their victims and each other. There's not a trace of Bollywood sugar in director Kany Behl's vision of a corrupt and merciless world; it's beautifully performed—particularly by childlike, soulful newcomer Shashank Arora in the title role—and represents an exciting new direction in Indian cinema.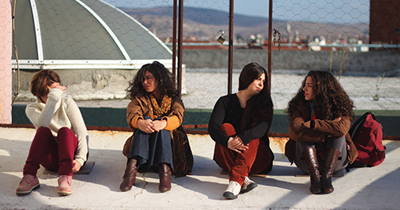 The Blue Wave — First-time directors Zeynep Dadak and Merve Kayan have crafted a real gem—an effortless, low key group portrait of Turkish teenage girls exhibiting the same kind of magical thinking and reckless behavior, alternating with sudden, fearful hesitation, as teens anywhere in the world. Lead character Deniz (a beautifully pitched performance by Ayris Alpetkin) becomes consumed with a crush on a school counselor. Her mother entrusts her with a painting, and when it gets damaged at a party it becomes a tangible burden of responsibility that she's not ready or able to take on. Dadak and Kayan understand the girls and their relationships from the inside out and achieve an uncanny, near-documentary feel, allowing events to unfold at their own pace, building to dramatic climaxes without ever pushing for them.
— Paul Sbrizzi
Leave a Reply