That's a Wrap on Wind-Up Fest, 2015
Over the weekend I spent the days sheltered inside the loving arms of various theaters spread across North Adams and Williamstown Massachusetts in chilly, snow flurrying, New England. Documentary film is the main entry point for the Wind-Up Festival but at its heart it is a festival about the larger umbrella this genre falls under: nonfiction form. The fest showcased sensory storytelling of all kinds while engaging in deep discussions with those crafting these stories. Directors, dancers, cartoonists, archivists, musicologists, musicians, radio DJs and more opened up about the decisions behind their work and the driving forces that motivate them to dedicate themselves to molding stories for others to experience. The visions of reality that were displayed at Wind-Up were wildly different from one another but the kineticism of ideas moved across every single moment of the fest; on stage, on screen and even extending out into the enraptured audiences.
Both shorts programs were beautifully packed with progressive film, taking the audience to the edge of experimental but pulling back just enough to keep everyone engaged. The shorts were interspersed with live performances most notably raconteur David Rees & director Penny Lane. Lane premiered a clip from her forthcoming film NUTS! Her presentation peeled back the layers of personal myth that the subject of her film (think snake oil salesman but replace snake oil with goat testicles and invasive medical procedure) built around himself and her role as a filmmaker embedded in these myths. Her piece ended with a perfect warning of modern belief systems, urging the audience to never stop questioning the source of information, a sentiment that couldn't be more relevant to the condition of now. David Rees somehow convinced me to get him a martini, up, with a twist after only knowing him for about a half hour. It was an open bar, but still… He is one persuasive dude, who I fear might become a cult leader if his TV show (Going Deep With David Rees) doesn't work out. One part charlatan, two parts professor with a mix of disappointed dad thrown in for laughs, Rees exhaustively researches obscure topics and is more than willing to explain to you everything you are ignorant of on the subject at hand. If you ever want to learn how to fold the perfect paper airplane I am now Rees-qualified to teach you!
I've long been a fan of Don Herzfeldt and his jagged little stick figures, the crude lines that move within minimal fields, spurts of vibrant, hazy video dotting the barren landscape. It is a style that shouldn't work but does thanks to the clever, thought provoking, hilarious writing that holds it all together. Herzfeldt's World of Tomorrow played as part of Wind-Up's Variety Show gently inviting the unsuspecting audience into his alternate reality. A little girl named Emily meets her future-clone self, an encounter that deeply- yet humorously- cuts into the existential fears of every living human. The Polish short Object by Paulina Skibińska (which played as part of Saturday's Short & Sweet Program) was a blue and white plane of ice and sky, dotted with bundled figures passing through. An underwater diver encounters mysteries of the deep – whether of the actual watery seascape under the ice, or of his mind we will never know. There was something about the atmosphere this film created that made one lean in, hoping to understand the unknown in a chilling, beautiful way. When Object ended I was left with a slight anxiousness but also a sort of calming resolve: it is okay not to know the answers, it is the exploration that is life. Jessica Bardsley's The Blazing World was one that really struck me too. It is a montage of Winona Ryder in her various roles (actress, shoplifter, interviewee), security footage, old film clips of perfectly poised little girls, and what seemed like vintage anti-shoplifting videos. All of these pieces cohere through text telling a very intimate story about the hidden interiors and expectations of a young woman, presumably – but not necessarily – the director. Bardsley so perfectly captures womanhood; the secrets of who we are supposed to be, who we pretend to be and who we actually are as dictated by an archive of women portrayed on camera.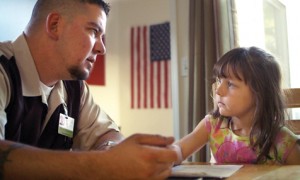 Paul Sturtz, Artistic Director of Wind-Up, called the film Of Men and War a "shattering" experience in his introduction, which is exactly right. The film is a look at posttraumatic stress disorder as it runs rampant through returning American servicemen. After the film the director, Laurent Becue-Renard, discussed his feeling on storytelling and recovery, the need for someone's trauma – however true or imagined – to be validated by others in order for them to move past it. He believes documentary film is an act of creative healing for victims, that by making a sharable narrative the victim's experiences are acknowledged as real. Oddly enough, this idea of one using stories in order to be heard was also echoed in the conversation between cartoonists Liana Finck and Bruce Eric Kaplan following the screening of the New Yorker cartoon doc Very Semi-Serious.
Both Finck and BEK seemed to agree that their cartoons are a way for them to be noticed, forcing moments of pause and reflection by others about their own ideas, as if to bear witness to nonfiction artforms allows the subject- and creator- to exist. The Radio 1-2-3 program acted in this way too, sharing lives through poetry, dance, radio, and podcasts. Renegade radio host Scott Carrier (Home of the Brave) shared his non-traditional interviews, followed by the makers of the podcast Love + Radio that played the sculpted words of an absent, real life character. Our visions of these figures were sonically shaped by the producers to reveal the lives of others while also revealing our own perceptions, oftentimes shattering ideas – about ourselves and the characters – in revelatory ways. Dancers MonicaBill Barnes and Anna Basspresented a stunning piece of active poetry performed to an interview between Ira Glass and Donald Hall. The dancers glided atop a kitchen table, the slightest movement weighted with emotion, a visible absence filled the room as Hall's recorded voice recited an elegy to his late wife, fellow poet Jane Kenyon. Listening to radio with a concert hall full of strangers was an experience that made me feel like I was acting out the past. I imagined the entire audience in the huge, futuristic '62 Center drawn in close to the sound system as if in a livingroom, united by the soundwaves of another life. Wind-Up continually reinforced the Joan Didion idiom, "We tell ourselves stories in order to live," and inherent in this notion is the fact that listening can sustain life as well.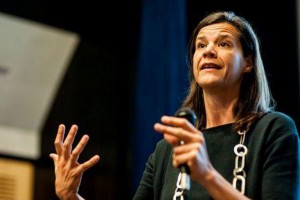 And it is this need to take pause and listen that I think filmmaker/cinematographer Kirsten Johnson (Citizenfour, Pray the Devil Back to Hell) so eloquently embodied in her brunch-time presentation that took place in a beautiful chapel-esque hall on the campus of Williams College. It is hard to try to distill her brilliant, sweeping talk about her time behind the camera into this recap but I think the thing that I walked away with is a hope, a hope in filmmaking and in humanity. The thoughtfulness in her work is exactly the reason I have dedicated myself to following film: to encourage audiences to look, wonder, empathize and ultimately to create the world in which we should all want to live in together. Wind-Up is an event that truly embodies nonfiction storytelling by allowing us to momentarily see the world through the expressions of others and internalize these moments for the greater good. Being a part of the first year of the Wind-Up Fest experiment was downright inspiring, I can only touch on its scope here (others include Uncertain, Breaking The Monster, a visualization of whale songs, and the living, dancing spirit of Rock N Roll that are The Seratones). This festival is a home for stories, in whatever form they take on, full of care, detail and hope for the future generations of storytellers and, by extension, life itself.
– Donna K. (@TeamDonnaK)