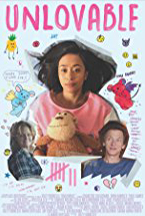 (The 2018 SXSW Film Festival kicked off March 9 and ran all the way through to March 17. Hammer to Nail has a slew of reviews and interviews coming in hot and heavy so keep your dial tuned to HtN!)
We first meet Joy (Charlene deGuzman) in the moments leading up to her suicide attempt. You see, contrary to her name, Joy has given up on trying to be happy. She has been riddled with a personality that has extremely high expectations when it comes to love. Joy believes that she can never be loved enough, which essentially has made her unlovable. The constant disappointment and frustration leads to binge drinking, which then leads to random hook-ups. Because of her lifestyle, Joy can't seem to keep a job, boyfriend, or home. She can't even do suicide right.
Joy decides that it is time to enter a 12-step program for sex and love addiction. She convinces another recovering addict, Maddie (Melissa Leo), to be her sponsor. Maddie subsequently lets the recently homeless Joy move into the guesthouse behind the house of Maddie's grandmother (Ellen Geer). There are just two ground rules: Joy must promise to remain sober without sexual activity for 30 days and not bother Maddie's brother, their grandmother's caretaker, Jim (John Hawkes).
Recovery is a very difficult road for Joy, who stumbles and fails multiple times; but she continues to adjust her mindset to where she can eventually pick herself up and hop back on that horse. It's also really no surprise that Joy ends up befriending Jim. Thankfully, this is the only truly predictable plot turn in Suzi Yoonessi's Unlovable.
It's actually an integral part to Joy's recovery that she spend some time with Jim and their friendship is beneficial to him as well. The two of them make beautiful indie-rock music together, a process that provides both of them with some much needed confidence. The experience also helps both of them work on the psychological quirks that have made it so difficult for them to function comfortably in society.
Based on Charlene deGuzman's real life experiences, Unlovable seems remarkably realistic despite the seemingly exaggerated humor. At first glance, Unlovable seems like it should be a rom-com, but everything about it functions [quite thankfully!] in stark opposition to the genre. Joy is certainly not the typical rom-com lead, just as Jim isn't the stereotypical character to play opposite the lead. Joy is a fully-formed and incredibly complex female character (a rarity of the genre) whose actions just happen to be unbelievably hilarious. Instead of stepping in to save the directionless female in distress, Jim is mostly a passive observer, helping Joy by supporting her, not by telling her what to do. It is also very clear that Jim needs just as much support as Joy. Because of Yoonessi's unique approach, we are left wondering whether we will be offered a traditional happy and/or redemptive conclusion.
– Don Simpson (@thatdonsimpson)