True/False Film Fest Wrap Up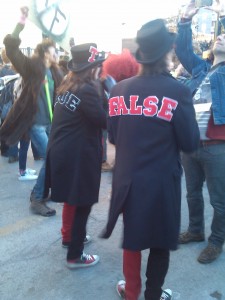 Making the twelve hour drive from Austin, Texas, through rain, sleet and blowing snow to attend the 12th annual True/False Film Fest in Columbia, Missouri was a messy dark long drive, but we arrived on time and safe despite the shaggy conditions (which cannot be said for folks attending from the east coast, with flights being delayed and cancelled and some filmmakers not getting in town until Friday evening or canceling all together). Once out of the car and walking on asphalt, it became more apparent than ever strolling down Broadway and 9th Street (the main thoroughfare of T/F) toward the main box office to retrieve my press credentials, that T/F has become a distinguished and vital early stop on the U.S. film festival circuit (for industry and filmmakers, which 95% of the filmmakers attended, but more importantly, the city of Columbia) and a film festival with more imagination and energy, than I have seen in my sixteen years in attending film festivals. Festival co-directors, or co-conspirators as they are listed in the festival program, David Wilson and Paul Sturtz, (along with programmer, Chris Boeckmann) have again managed to snag top-tier documentary titles from over the past year (selections from Cannes, IDFA, Telluride and Sundance) as well as Heaven Knows What, a narrative hewing closer to the doc form by brothers and co-directors Benny and Joshua Safdie, paving the way for a terrific slate of upcoming films audiences can look forward to seeing in 2015.
The T/F team assembled another tight crew of local supporters (Governor Jay Nixon and First Lady Georganne Nixon were present to introduce co-director Robert Gordon and Morgan Neville's doc about William J. Buckley Jr. and Gore Vidal, Best of Enemies) along with filmmakers traveling from all over the world to invade the University of Missouri campus. The town of Columbia really brings the fest to life with its legion of volunteers (I believe I heard Wilson say there were 927!), the ever-engaging "Q" Queens holding court and keeping the peace with hundreds of non-ticket holders hoping to get into sold-out shows, and venue captains securing a complicit state of mind in handing the four day festival of film screenings, music, panels, campfire stories, a fun-run, a documentary game show called "Gimme Truth!", a weird wake-up breakfast, and the "March March" parade filled with people dressed in costumes, a marching band, posted signs expressing their true love toward T/F and excitement of being a part of this intoxicating creative wave.
The first screening of T/F (also, serving as the closing night selection) How to Change the World is an informative and balanced documentary on the beginnings of Greenpeace. Directed by Jerry Rothwell, who noted the film was 18 seconds shorter than the Sundance cut meaning it was a "new premiere," set the mood of T/F, offering an educational and entertaining film from the get go. Started in 1969 by a group of Vancouver Canadian hippies, Buddhists, journalists, scientists, and many others, the group organized a protest by sailing from the Canadian western coast to stop the United States Atomic Energy Commission from testing a nuclear explosion on the Amchitka Island in Alaska, which President Nixon approved. While they were unsuccessful, they accrued plenty of media coverage, and later began campaigns aimed at saving the whales and seals (in one funny sequence, actress Brigitte Bardot met with the crew to help bring awareness to their cause). Through incredible 16mm archival footage the group filmed and told from many of the original key crew members, including the journals of Robert "Bob" Hunter, a former Vancouver Sun reporter who quit his job to be a full-time activist (he died in 2005) which was told through voiceover by actor Barry Pepper, the group lead the charge in what would become a worldwide love/hate organization years later. Rothwell, and editor Jim Smith who won a Best Editing award at Sundance, bring a spectacular and moving story of courage and resilience. The film is never preachy but is a helluva of history lesson and one surprisingly, rarely brought to the big screen.
Among the highlighted curiosities at T/F is seeing one of the "secret" color-coded screenings and I did manage to see two of them, however, the best way to sum up what I saw can be put to rest by a quote by Lenny Leonard from The Simpsons, "It's a Secret."
HBO Documentary Films, a T/F sponsor, also had some of the highest profiled films screening at the festival. Having seen British director Nick Broomfield's Tales From the Grim Sleeper prior to T/F, it was one not only one of the best documentaries at T/F, it was one of my favorite films of 2014.
The three other docs to screen included the on-going true crime series, The Jinx: The Life and Deaths of Robert Durst by Oscar nominated directed Andrew Jarecki (Capturing the Freidmans) and Oscar-winner Alex Gibney's (Taxi to the Dark Side) highly anticipated Scientology doc, Going Clear: Scientology and the Prison of Belief. Based off Lawrence Wright's 2013 best-seller the film was as completely cuckoo bananas as I imagined it would be showing a deeper and shadier look into the world of Scientology (featuring archival videos and interviews, with their biggest members, John Travolta and Tom Cruise) and its "religion" by its founder L. Ron Hubbard along with current church leader David Miscavige. Upon spending hundreds and thousands of dollars to join, feeding into the church's ever expanding bankroll, supporters would go through a process of speaking their innermost thoughts and fears, or "auditing," working toward a labeled chart or getting closer to "going clear" and somehow moving closer to their purpose. Some of the best interview fodder came from former member, Oscar winning writer/director Paul Haggis (Crash), who was in the church for around 35 years but left after the church supported Proposition 8, the ban on gay marriage in California (Haggis has two gay daughters). Looking back on his time in the church, Haggis recognized it was a cult, but only after he left in 2009.
Oscar-nominated director Brett Morgen's (On the Ropes) thrilling and heartbreaking rock doc, Kurt Cobain: Montage of Heck, covered a vast life account on iconic and legendary Seattle grunge rockers Nirvana, focusing on its brilliant and tortured artist, singer/songwriter/guitarist, Kurt Cobain. The film is filled with exceptional home footage videos of Cobain as a toddler to his last days, animation sequences, and intimate interviews with family and friends, including Nirvana bass player, Krist Novoselic, and Cobain's wife, rocker Courtney Love. There's also audio recordings taken from Cobain's journals, which Morgen had complete access too. KC: MOH is a remarkable journey into the mind and music of an incredible artist gone to soon, and any Gen X'er (myself included) remembers the impact Cobain and Nirvana had on the music world 25 years ago, and looking back today, whose music and lyrics still influences an entire new generation.
There was plenty to celebrate over the weekend in discovering new, up and comers as well as veteran filmmakers returning with new films, but it would be a dishonor to the filmmaking community (American and worldwide) not to recognize one of the true pioneers of independent filmmaking, narrative or documentary, who passed while at T/F in Albert Maysles at the age of 88. Maysles, along with his brother David (who died in 1987), are historic figures in documentary filmmaking and responsible for some of the greatest American documentaries in film history, Salesman (1968), the Rolling Stones doc, Gimme Shelter (1970), and Grey Gardens (1975), which ironically, opened at New York's Film Forum last weekend in a new restoration was also the highest grossing film per average theater screen bringing in over $13k on one screen. Another attraction at T/F is "The Great Wall," an outdoor screen dedicated to looping films of celebrated filmmakers. Last year, there were numerous film screenings by another pioneering filmmaker, Les Blank, who passed away in 2013, and his films were projected on the side of a wall right across the street from the Missouri Theater. This year, some of the films on "The Great Wall" were by Swedish Oscar-winner Malik Bendjelloul (Searching For Sugar Man) in a loving tribute to another great soul, taken from us far too soon. I will be the first to say, I hope "The Great Wall" honors not only Albert (a gifted cinematographer as well) but also the Maysles brothers for the 2016 T/F edition.
Looking back on T/F, only a few days since I have been home, former editor and current contributor of HTN, Michael Tully, wrote in 2012 he had heard about the "Kool-Aid" stance of others (critics and audiences, alike) reporting on how great T/F was. In the article he said, "I am happy to report that I have chugged the True/False Kool-Aid and, by golly, is it delicious." Even Deadspin, Paste Magazine and Screen International critic Tim Grierson last week, titled his article, "Drink The Kool-Aid: Why True False is Our Best Little Film Festival," which had me in stitches as I have never heard this reference once in my two years of attending. But I can say, if people are starting to drink the T/F Kool-Aid, truth be told (or, "Gimme Truth!"), I'm swimming in it.
– Jim Brunzell III