TRIBECA FILM FESTIVAL '14: JESSE KLEIN'S WRAP-UP
Another great year at the Tribeca Film Festival! There were so many great films showcased, here are some thoughts on a few.
As with the SXSW Narrative competition this year, Tribeca's selections proved decidedly New York heavy. In this Keith Miller's second feature Five Star, Miller takes fact and enhances it with fictional elements to build a world all its own. James "Primo" Grant and John Diaz play "themselves" in a heightened reality where handshakes can mean anything, where you have everything to lose within the breath of a conversation.
Primo displays a vulnerability, a brokenness, uncommon to the role of gang leader; it's his flirting with corruption, when, how and why he steps over that line, that keeps John, and the audience, engaged and on his side. Primo knows he does bad things and will one day face the consequences; his past choices have decided his future ones for him. Here, even the king is a pawn.
John Diaz performs as all teenagers do, chest puffed out, the sun glinting off his mouthful of braces, trying to impress anyone who will listen. Diaz's naïve bravado makes it too clear that each gut split second decision defines who he is all anew. Miller shows these two people as the furious, loving, violent, heartbroken people that they are.
Sometimes, when everything is a shade of grey, there's no halfway, all you can do is stand your ground, you decide what's black and white.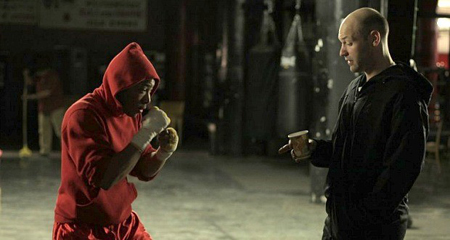 Glass Chin (Noah Buschel, 87m)
Some people always lose and Bud Gordon refuses to be one of them. In Noah Buschel's Glass Chin, ambition and trust are rewarded with deceit and betrayal. The more Gordon strives to succeed, the worse things become.
Gordon (Corey Stoll), a retired boxer with the titular chin, trains a young contender Kid Sunshine when an old business acquaintance, J.J. Cook (Billy Crudup) offers a new opportunity. Crudup's sheer evil basks in his cool smile, delighting in the prospect of another mark. Gordon sees only greener pastures and pounces on the chance to change his circumstances for him and his girlfriend Ellen (Marin Ireland). Buschel's tone is slightly foreboding though never heavy-handed; he lets the story play out, the characters speak for themselves, trying to angle their way out of oblivion.
The fates go against him; he was a puppet all along. Left with the decision of guilt or self-annihilation, Gordon has but one choice.
Gabriel seethes, writhes, pulses at the rate of the main character that gives it its name. Gabriel (Rory Culkin) is a young man alive with possibility, a person who feels everything, perhaps a little too keenly. He leaves somewhere, somewhere he was forced to stay, and is let out, and all he wants to do is find a girl named Alice.
Culkin is in nearly every frame and owns each and every one of them. Writer/director Lou Howe and Culkin have together created a person riddled in contradictions, too naïve yet too wise, a tenderness shown only through cruelty, a need to be loved by the world he hates. It is unclear what is "wrong" with him which makes it all the more baffling, and tragic, that he cannot get out from the rock that's crushing him. Gabriel's cage is his head and it's all he can do to not cut himself open to see if it will help.
Each supporting role—the doting mother (Deirdre O'Connell), the mystified/angry/loving older brother (David Call)—are etched just as finely, but Gabriel commands attention, he'll simply die if he doesn't get it. If he just gets to Alice, it'll all make sense. Isn't it pretty to think so.
Summer of Blood (Onur Tukel, 86m)
The self-deprecating loser walks a fine line in asking its audience, who should hate me more, you or me. In Onur Tukel's vampire romantic existential extravaganza, Tukel leads with a resounding "you," as any introspection or self-reflection is out of the question.
To his credit, he pulls it off. Tukel as Eric offends every person he comes across starting with his girlfriend and working down from there. He steals a co-worker's picture and masturbates in the office bathroom, falsely accuses his boss of sexual harassment, and finally cheats on his wife hours after getting married.
Tukel blends genres with ease, shifting multiple times often within a scene. A vampire orgy turns into an undergraduate conference when Tukel's requests are questioned for their misogyny. His response is part psychobabble, part slapstick pornography.
Beneath all the spattered blood is Eric, alone, embittered and lost. His refusal to settle down plagues him and what really lies at this film's heart are the small steps he begins to take toward eternity.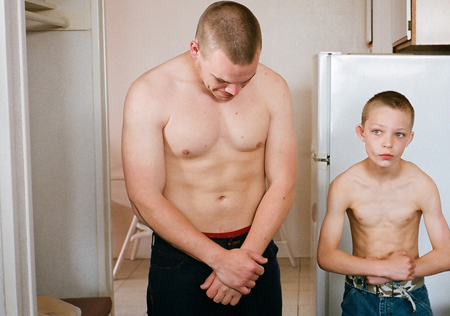 Young Bodies Heal Quickly (Andrew T. Betzer, 104m)
Somewhere between a nightmare and a seizure lies Young Bodies Heal Quickly, Andrew T. Betzer's cracked out buddy movie that follows a couple of doomed kids. Shot on a crackling 16mm by Sean Price Williams, the film looks like it spends its duration unsuccessfully trying to crawl out of its own skin.
A young man and young teen go on the run and amble around, leaving cars by the side of the road, doing some work here and there, making friends and enemies at the same time. Nothing seems to matter too much, they don't seem bothered by anything; unless they're in immediate bodily harm, it's really no big deal.
A man brings them to a Vietnam recreation and there the roles take over, latent grudges come to the surface, everyone sees who they really are. Despite the grudges, the violence fake and real, they come to know that they're all in it together.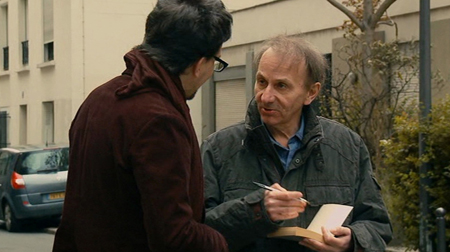 The Kidnapping of Michel Houellebecq (Guillaume Nicloux, 97m)
French author Michel Houellebecq is the most widely read author in France and yet his public persona is entirely misconstrued, created by the French press, describing a man who does not exist. In this bizarrely satisfying docu-fiction, director Guillaume Nicloux set out to redefine Houellebecq's presence in the French landscape and succeeds in creating an entirely different picture altogether.
Houellebecq plays himself, a mid 50s solitary man living in a nondescript high-rise. In the first scene, there is a lengthy discussion about which color to paint the kitchen walls setting the tone for a slice of life feel, bordering on monotony. Nicloux expertly walks this line until Houellebecq is perfunctorily put into a trunk and carried off to the French countryside.
There, he encounters his captors who are nothing if not congenial. He spends the remainder of the film in handcuffs, shackled to the bed, yelling out for more wine. He learns some mixed martial arts, even engages the services of a young prostitute from the country, all with a feeling that rarely waivers or moves past a mild bemusement. Perhaps Nicloux is subtly nudging us—who are the captors when the prisoner is steeped in riches?
— Jesse Klein