Treefort Music & Film Fest Wrap-Up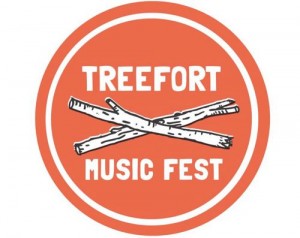 (The Treefort Music Fest is an annual event that takes place in Boise, Idaho. In addition to excellent music, comedy, beer and yoga, the festival is also an up and coming showcase for small budget, indie films. Our own Brandon Harris was in attendance and offers up this report.)
On March 25-29, Boise, Idaho played host to the Treefort Music Festival. An upstart that is the brainchild of local musician Eric Gilbert and a small coterie of Boise residents, it gives you everything you want from SXSW (great movies, bands, venues, food) with none of the bullshit (long lines, unmanageably crowded streets, celebrities behind velvet ropes). Gilbert and Co., as detailed in this N+1 piece on Boise, thought the town's vibrant local music scene needed a broader national stage while looking for an excuse to invite some of the nation's most exciting musical acts to southern Idaho. What began as a quaint experiment has grown into a regionally and nationally recognized multi-pronged event in three short years.
The Treefort Music Festival is, well, not just a music festival—there are sidebars for yoga and performance art, literary storytelling and beer. I was there to see the movies. In it's second year the Treefort Film Festival, programmed by Ben Morgan and Ian Clark, has matured into a well-attended, seemingly autonomous event. Morgan and Clark spearhead the Eastern Oregon Film Festival, which has become one of the country's most inspired small showcases for true indie cinema. Working in a bigger city with a bigger canvas, they brought local audiences a wealth of artisanal and micro budget filmmaking that likely won't find commercial distribution in a place like The Flicks, Boise's handsome three screen art house throatier that played host to the festival over Treefort weekend. The festival, which for its first two and a half days was held in a giant tent, christened "Camp Modern", that was on the music festival's walking path to spur greater attendance, seems poised to grown even more in years to come.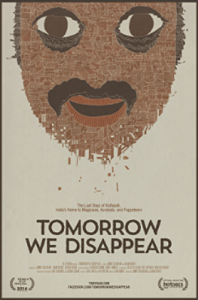 The festival opened with a screening of Adam M. Weber and Jimmy Goldblum's Tomorrow We Disappear, a sumptuously photographed doc about Kathputli, an Indian colony for acrobats, magicians and puppeteers that is facing relocation after the government decided to level the property to develop the land for an entirely different class of individuals. While it is a rousing aesthetic experience and the portraits of various artists who will be potentially uprooted are often quite touching, the movie doesn't delve into the murky waters of India's caste system, or the mechanics of how such "imminent domain"cases are made by the Indian government or the nuts and bolts details of what communal resistance the residents of Kathputli. Which is fine I suppose, but that's where the action is; this feels likes a project about exotic people of color made by white westerners who might be missing the forest for the trees. Still the movie provides a resonant experience thanks to the fine lensing, Dan Romer's typically buoyant score and some of the breathtaking acts on display, such as a young, dexterous woman who can remove pin from the ground with her eyelids.
The following night the festival unfurled Scott Cummings' Buffalo Juggalos. By turns harrowing and funny, wistful and crass, its an experimental documentary that takes as its subjects, various residents of Buffalo, New York who also happen to be Juggalos. For the uninformed, by Juggalo I mean someone who dresses and paints their face like the members of the Detroit, Michigan based rap duo Insane Clown Posse. A close knit community of such people exists in many of America's under examined corners, such as Bison City, but Cummings isn't interested in a traditional verite or talking heads/archival portrait. He has nothing to exposit for you, no subculture to backhandedly compliment while the subtle reprimands pile up in the margins. His film shows various Juggalos staring right back at the lens while they carry out essential life tasks or simply do batshit crazy stuff—from nursing a baby to eating pussy in a hot tub, smoking bowls in pristine woodlands to breaking into cars on the outskirts of downtown Buffalo, each shot, most of which are still tableaus, is almost a film unto itself. Shot by the remarkable Nandan Rao (Green, The International Sign of Choking), Buffalo Juggalos is thirty-minutes of guttural delight.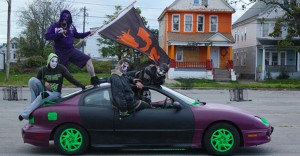 In it's third and fourth day, as the film fest transitioned from "Camp Modern"to The Flicks, the festival played host to a pair of films starring the Kentucker Audley, who is quickly becoming one of indie cinema's most expressively taciturn leading men. In both Alison Bagnall's Funny Bunny and Charles Poekel's Christmas, Again, Audley plays a man on the outskirts who has a peculiar vocation. In Bagnall's film his Gene goes door to door trying to raise awareness about the childhood obesity epidemic where as in Poekel's his character sells Christmas trees. Both films eventually focus on the potential for romance that the Audley character stumbles upon with vulnerable, emotionally damaged women, who may prove a balm to his own broken heart; for Audley characters in 2015, there is always past heartbreak.
While Christmas, Again proceeds in drab colors and wintery, nighttime miasmas within the stereotypically rough hewn 16mm cinematography of Sean Price Williams, Ashley Connor's colorful, highly saturated HD palette for Funny Bunny gives the films a warmth that proves to be an bulwark against its darker thematic revelations of child abuse and neglect. As Audley's obesity awareness raiser finds himself drawn toward a pair of plucky, damaged rich kids played by Joslyn Jensen and Olly Alexander (who's character Titty has the hardest to forget name you'll encounter in indie film all year) forgive me for never feeling like things were going to end particularly poorly for any of these people. While neither film is particularly powered by a propulsive forward moving plot, Christmas, Again manages to convey the ennui of being alone during the holiday season as few films have. It'd make a great double feature with the other great Christmas tree salesmen movie of the era, the director's cut of Phil Morrison All is Bright (aka Almost Christmas, aka Lucky Dog), another one of those movies that would have been great had they just left the director alone.
– Brandon Harris @BrandonMH