Last year, I had such a damn fine time attending my first ever Toronto International Film Festival that I promised myself I'd return in 2010. But there's this thing called Life, you see, which sometimes gets in the way of promises. Thanks, Life, for turning me into a backtracking liar.
But the show must go on. After scrolling through this year's lineup from A-Z in order to make a list of movies I really want to see, I was overwhelmed by the (potential) wealth of riches on display. That list would be too long, frankly. So instead, I offer you a glimpse at four TIFF entries that I have already caught—two of which are world premieres—and all of which I'd recommend to varying degrees.
I will be posting a full review of Pink Saris next week, but to get your TIFF fix, please be sure to visit HTN contributor Tom Hall's The Back Row Manifesto daily for reviews and other musings (and follow him on Twitter at @BRM).
HIGHEST RECOMMENDATION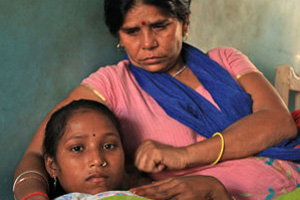 Pink Saris (Kim Longinotto, UK, 96m) — The beauty of sitting down to watch a new Kim Longinotto film is that even if you don't have any idea what it's about, you can trust that it's going to deliver. Her latest, Pink Saris, is no exception. Sampat Pal Devi is the founder and leader of the gulabi gang (aka, Pink Gang) in Uttar Pradesh, India. Having suffered through her own abusive childhood and forced into an adolescent marriage at the age of 12, Sampat gradually found the strength and courage to reinvent herself as a crusader for women's rights. These days, armed with nothing but her will and determination, Sampat storms into any situation and demands justice where justice is due. Equal parts Divorce Iranian Style and Rough Aunties, Pink Saris is another emotionally gripping document of the rampant, bone-deep misogyny that continues to plague our planet. Yet by choosing to focus her constant attention on strong-willed female subjects who are determined to affect change in their communities, Longinotto manages to provide a breath of hope—or, in the case of Pink Saris, a thin gasp of it at the very least. (Last Year's Cousin: Presumed Guilty)
SOLID RECOMMENDATIONS
At Ellen's Age (Pia Marais, Germany, 95m) — Is Pia Marais psychic? I dare you to watch the first 30 minutes of At Ellen's Age and not think of this year's most memorable act of working class revolt by JetBlue flight attendant Steven Slater. Which isn't a bad thing, by any means. If anything, this connection to reality helps to ground Marais's daring premise, which finds Jeanne Balibar's Ellen on an unexpected quest to find meaning and/or purpose and/or direction in her life. It's best left unrevealed here just where that quest takes her, but suffice to say, it won't be anywhere you might have thought. At Ellen's Age is a strange modern spin on the mid-life crisis drama that feels all the more honest because of it's head-scratching unpredictability. (Last Year's Cousins: White Material, Hadewijch)
Windfall (Laura Israel, USA, 83m) — After the gut punch of Josh Fox's GasLand, it was completely natural for a less informed viewer (i.e., me) to think that maybe wind turbines were in fact the cleanest, safest, greenest energy option left available to us; but here comes Laura Israel's Windfall to blow that theory out of the room—or at least challenge it in a legitimately disturbing way. Much in the same way that Fox was sparked into making GasLand when the issue of natural gas drilling knocked on his front door, Israel was spurred into similar action when wind energy became an issue in her small upstate New York town of Meredith. As Israel and her fellow citizens began to research the situation, similar red flags began to emerge: corporate dollars, non-disclosure agreements, personal illnesses, etc. In following this situation as it develops over the course of one pivotal year, Israel focuses on those in her community who oppose these turbines. This creates an unavoidable feeling of imbalance, though Windfall never feels like a polemic. As with GasLand, Israel simply wants us naïve viewers to wake up and seek out the facts before signing our lands away to these towering powers-that-be. (Last Year's Cousin: Collapse)
TEMPERED RECOMMENDATIONS
The Housemaid (Im Sang-soo, South Korea, 107m) — I have not seen the original film upon which Im Sang-soo's is based, which frees me from the cinephilic pressure of playing the compare-and-contrast game. Suffice to say, my aesthetic predilection for South Korean cinema—the architecture, the colors, the food—pretty much guaranteed that I wouldn't be completely let down by this film. And I wasn't. Aesthetically and performance-wise, The Housemaid is quite a treat. But when it comes to the film's overriding message, that rich people can do whatever they want and the poor must suffer the consequences, I dunno. Or am I missing something? Which is why I'm pretty much split down the middle on this one. Aesthetically = yum. Thematically = kinda dumb. (Last Year's Cousin: Mother)
Heartbeats (Xavier Dolan, Canada, 102m) — Canadian wunderkind Dolan is back again, and while I admire any 21-year-old who can express himself so freely, I also find myself unable to give in to his films. After only two features, Dolan has more than defined his personal style; he's threatened to overkill it into submission. Believe me, you won't find a bigger fan of the tried-and-true trope of a-character-walking-in-slow-motion-set-to-classical-and/or pop-music than I, but this technique must be used sparingly for maximum impact. Otherwise, it's like sitting through an annoying musical—once the next song starts up you can't help but think, "Here we go again." One thing I will give Dolan full credit for: he effectively drags out the mystery with regards to the heartthrob-of-affection's sexuality, thereby legitimatizing this 21st century riff on a Jules and Jim lust triangle. The trouble is that both Dolan's character Francis and his female rival, Marie (Monia Chokri), aren't as adorable as Dolan thinks they are. That might be the quickest way to determine if Heartbeats works for you. (Last Year's Cousin: I Killed My Mother)
— Michael Tully