THIS ONE'S FOR THE LADIES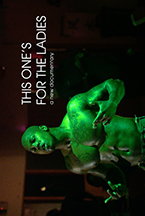 (The 2018 SXSW Film Festival kicked off March 9 and ran all the way through to March 17. Hammer to Nail has a slew of reviews and interviews coming in hot and heavy so keep your dial tuned to HtN!)
This One's for The Ladies, from director Gene Graham (The Godfather of Disco), follows a group of African-American (almost all) male strippers and their diehard fans in Newark, NJ. An exuberant, sexy and sex-filled romp of a movie, it is not without its structural issues, though the sheer energy of the filmmaking carries it past much of them. More than just a real-life, black Magic Mike, the documentary provides an in-depth look at a vibrant community of people who know what they like and know how to get it. This One's for the Ladies is for everyone (as long as you're over 18), though definitely not suitable for work (I spotted at least one shot of an unsheathed erection).
We meet a great cast characters, introduced mostly by their stripper names, including twins Rawdawg and Tyga, Satan, and Fever, as well as the lone woman of the bunch, Blaze (who, like the men, dances for women). We also get to know their admirers, with names like Poundcake and C-Pudding, as well as the two youngest women among the devotees, who go by Double Trouble (though they're pretty nice, actually). Along the way, we learn their life stories, including simple family tales as well as more fraught dramas of poverty and addiction. It's a diverse bunch of people, filling out a rich tapestry of community.
At the center of everything is the dancing, a series of carefully choreographed moves that highlight muscular bodies in all their (almost) naked glory. It's hard work, and we see the amount of preparation (exercise, rehearsal) that it takes to make it happen. The reward? Adoration, titillation, and the satisfaction of not only a job well done, but the parceling out of bliss with every gyration. The women who go to the shows – of all shapes and sizes – are there to savor every glorious minute of the experience, and that they do. If anything in this world is actually better than sex, perhaps, for them, it's the pleasure of these shows.
Unfortunately, as fun as it all is, it's also a bit of a jumble, and not always shot well, with blurry images and inconsistent color. The arc of its construction is also a little flat, with information about the characters divulged in, at times, seemingly haphazard ways. It is such a good-natured movie, about such good-natured people, however, that by the end, what criticisms one may have are muted by the jubilation on display. Now that's entertainment.
– Christopher Llewellyn Reed (@ChrisReedFilm)