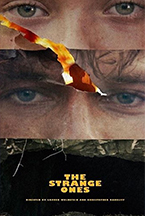 (The 2017 SXSW Film Festival opened on March 10 and ran all week until March 18. HtN has you covered and GUARANTEE more coverage than any other site! Check out this review of  The Strange Ones, the winner of a Special Jury Recognition for Best Breakthrough Performance at this year's SXSW.)
The Strange Ones just received, at the 2017 SXSW Film Festival, a Special Jury Recognition for Best Breakthrough Performance, and with good reason. Young lead actor James Freedson-Jackson (the child version of Kilgrave on Netflix's Jessica Jones) delivers a marvelous, nuanced turn as Sam, a kid whom we first meet in a fiery nightmare. He's either dreaming or recalling a tragedy – perhaps a recent one – though we can only guess at the details. His older brother, Nick – played by Alex Pettyfer (Magic Mike) – is not one for conversation, so what we get are two brooding males, on the road, running from something. Soon, however, the situation evolves in a manner thoroughly unexpected, plunging us into a dramatic ordeal far more chilling than anything we imagined from those opening flames.
Co-directed by Christopher Radcliff and Lauren Wolkstein – two of the creative forces behind last year's omnibus film Collective: Unconscious (he the editor, she one of the five directors) – The Strange Ones is an adaptation of an earlier short film (of the same title) by the same duo. It is filled with evocative, if somber, images of a bleak world in which lost souls wander in desolate anguish. It's not just Sam and Nick; there are a lot of broken people here, raising the question of just who "the strange ones" might be. And yet, as the dread inside Sam builds in intensity, we know that, whatever the meaning of the title, he, himself, is a most singular boy.
For most of the film, Radcliff and Wolkstein manage their combination of elliptical narrative and shrewd revelation of secrets with great skill, manipulating the medium of the moving image – the art of time and space – in a highly satisfying manner. Their flashbacks to past trauma heighten the tension, adding poignancy to Freedson-Jackson's already powerful expressions. Unfortunately, it doesn't quite all hold together at the very end, as the final disclosure undercuts a few too many of our earlier assumptions (very deliberately, I am sure). Still, even though this laconic, cryptic thriller may be imperfect and ultimately a little fond of its own central enigma, it is still a gripping meditation on loss and healing, thanks to the performances and the directors' keen sense of unsettling mise-en-scène.