(The 2016 SXSW Film Festival kicked off March 11 and wrapped up on the 19th. Hat tip to Michael Tully, Jesse Klein and Mike S. Ryan for their contributions but a firm handshake to our Christopher Llewellyn Reed who's coverage of the fest is some of the deepest and most thorough we've had on the site. Thanks, Chris!)
Austin-based Cinematographer Lee Daniel – perhaps best known for his collaborations with director Richard Linklater on films like Dazed and Confused, Before Sunrise and Boyhood – just won a Special Jury Recognition for Cinematography at the 2016 SXSW Festival for his work on The Seer, and it is well deserved. A movie about the destruction of America's fading heartland and traditional farming practices, The Seer owes much of its raw power to Daniel's stunning shots of Kentucky's rural landscapes and portraits of its worn-out denizens. Co-directors Laura Dunn and Jef Sewell (director and producer on The Unforeseen, which Daniel also shot) do a fine job assembling footage for this elegiac cri de cœur, but the movie really belongs to Daniel's images.
And to the voice of poet/novelist/essayist Wendell Berry, the Kentucky native whose thoughts and words lend structure to the narrative; indeed, each of the film's chapter headings come from one of his published works. Berry – with whose writings I was, sadly, unfamiliar before watching the movie – comes from many generations of farmers. After an early academic career, he returned home to his roots in the mid-1960s, bought a farm of his own, and has since devoted himself to land and literature. In the 1970s, as the United States began to push policies that would accelerate the consolidation of small family farms into agribusiness entities, Berry began to take on these seismic changes in the way we produce food and interact with the environment. His 1977 book The Unsettling of America: Culture & Agriculture remains, to this day, a well-read classic of resistance to those then-new practices that now dominate our world even more. If Berry does, in fact, deserve the appellation of "seer," it is because of his prescient analysis of what might happen to the land with the arrival of giant farming concerns.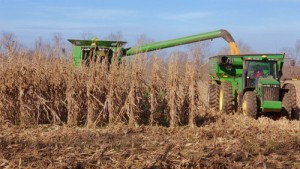 We never see much of Berry – at least, nothing recent (he is apparently camera-shy) –but we hear him speak his poems, and watch archival footage of one of his speeches. We do, however, meet members of his family, and many other displaced farmers. Their voices act in concert with his to underline the importance of his arguments. It's not all doom and gloom, fortunately, as we are left with some hope that new locavore movements may eventually provide an alternative to industrial food. It's closest documentary cousin, then, is the equally powerful – if less lyrical – 2008 documentary Food, Inc.
If the film has a weakness, it's in its uncritical appraisal of Berry's portrayal of our country's traditional values. Even those who agree that we need to reevaluate our approach to industrial farming might not see the past – particularly in the Deep South –in such a halcyon light (everyone in the film is white, it should be noted). Still, one ought to be able to separate this criticism from what works so well in the movie: the call to action to stop our rapidly increasing reliance on technology at the expense of our ties to nature. Thanks to Berry's meditations and Daniel's gorgeous shots, that nature calls out to us in a most appealing way.
– Christopher Llewellyn Reed (@ChrisReedFilm)