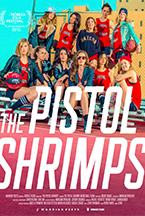 (The 2016 Seattle International Film Festival kicked off May 19 and runs for just shy of a month, until June 12. We will have coverage throughout the fest so keep your eyes tuned to HtN!)
It's no secret that women's sports are considered second tier if not downright illegitimate. Many Seattleites, for example, are still bitter about losing our SuperSonics to Oklahoma. But they're not so hard up for basketball that they'd consider attending the games of our WNBA team, the Seattle Storm. Giving some long overdue and well-deserved attention to female athletes is just one of the great aspects of Brent Hodge's latest documentary, The Pistol Shrimps.
Adult recreational sports leagues are all the rage, but usually they're for more, well, recreational sports, such as dodge ball and mini golf. The Pistol Shrimps (named for a sea creature who uses one giant claw to paralyze its enemies with a super sonic snap) are part of a women's recreational basketball league in L.A. Hodge's (I Am Chris Farley) third film follows this steadfast team of underdogs, comprised of women from various sectors of the entertainment industry, as they, for the first time, face the very real possibility of winning the division. It outlines their origins, including their floundering early seasons, and profiles select team members, interspersing their background with the story of the team's journey to the 2015 league championship.
In the athlete profiles, each woman talks about why she joined the team, and how it has positively affected her life. In a town where individual competition can eat away at you, a team sport is a kind of therapy for these women. We also get to know them in their respective industries, including Jesse Thomas (a singer-songwriter), Molly Hawkey (a comedian who hilariously edits herself into episodes of The Bachelor), Melissa Stern (a model), and the most well known member of the team, actress Aubrey Plaza (Parks and Recreation).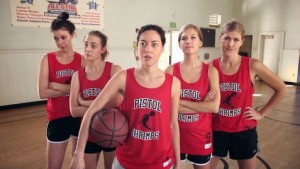 The team isn't just important to its members. They have built up a loyal fan base thanks to a game-calling podcast (Pistol Shrimps Radio) hosted by comedians, Matt Gourley and Mark McConville. The hosts don't let their lack of basketball knowledge cloud their enthusiasm, instead peppering the broadcast with pop culture references and comments about the players themselves. The Sock Guy regularly reports on the fun foot attire of the players. The sporty sections of the film are edited with ESPN-like graphics, to great effect and legitimacy. Even the game callers sound like something you would hear during a professional sporting event, albeit much funnier, and more articulate.
Despite the fact that they were all rookies to the sport, The Pistol Shrimps have been passionate about their team from the beginning, even when their record was dauntingly poor. Under the leadership of team founder, Maria Blasucci, they practiced relentlessly and eventually became a force to be reckoned with. But they would still play even without the glory. They share a tremendous sense of support and camaraderie that they simply don't find in any other sector of their lives. And they aren't the only ones who feel this way. Their league is currently maxed out at 26 teams (all with hilarious names like SheCago Bulls, Ba Dunka Dunk and Kobe/GYN). Clearly there is a huge social benefit, as well as entertainment value, to women's team sports, despite what the patriarchy would have you believe.
– Jessica Baxter (@tehBaxter)