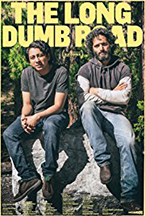 (The longest-running film festival in the Americas, the San Francisco International Film Festival (SFFILM) ran April 4-17, 2018. Hammer to Nail has reviews coming your way!)
The Long Dumb Road resembles an update of Albert Brooks' 1985 masterpiece, Lost in America. Only instead of yuppies attempting to emulate Easy Rider, we follow a 19-year-old boy who wants to experience "the real America" before matriculating to college and manhood. Director Hannah Fidell, heretofore known for dramatic fare like A Teacher and 6 Years, joins forces with Carson Mell (Another Evil) to breathe new life into the odd couple road trip comedy.
Fresh off his sheltered suburban Austin upbringing, Nathan (Tony Revolori, The Grand Budapest Hotel) documents his trip on a 35 mm Pentax camera, operating as if his photos of dive bar patrons, abandoned buildings, and strip malls are groundbreaking works. But when his mini-van won't start, his trip changes course both figuratively and literally. His car trouble serendipitously leads to Richard (Jason Matzoukas, The League, The House), a mechanic who has just tendered his middle-fingered resignation from his employers. Richard is upbeat and friendly, albeit rough around the edges. Nathan admits that he'd hoped to meet interesting people on his trip and as Richard puts it, "I'm interesting as fuck!" So, Nathan agrees to give Richard a ride in exchange for his services.
Mantzoukas plays to his strengths as a wild card who is as endearing as he is unhinged. Richard is a sort of good-natured grifter on an extended bender. He would be the first to admit that he made a wrong turn a few decades back. He's completely earnest in his assertion that Vegas is "the perfect place to start over!" Richard's not afraid to throw a punch, but he generally leads with his heart and abhors artifice. When he learns Nathan has rented a cutesy trailer for the night, Richard laments "fake poverty bullshit." Richard has plenty of experience with real poverty, and finds nothing cute about it.
Despite his naiveté and economic privilege, Nathan is an affable protagonist. Revolori imbues the character with the well-meaning hipster reserve of a young Michael Cera. You can see the suppressed glee in his eyes whenever he gets to tell people he's shooting with a real film camera.
Their differences are never more on display than when they're on the subject of movies. Richard's favorite is, The Fast and the Furious: Tokyo Drift. He's gleefully surprised to learn that there are five subsequent installments of the series, some of which feature The Rock ("The wrestler?!"). Nathan's favorite movie is, of course, The Graduate. Richard has never heard of it.
The unlikely companions encounter several colorful characters on the road, including Richard's high school girlfriend (Casey Wilson), a grizzled park ranger (Pamela Reed), and a domesticated ex-con (Ron Livingston). They also find a pair of conveniently age-matched sisters (Taissa Farmiga and Grace Gummer) who seem too good to be true. Fidell's openness to improvisation yields an impressive monologue by Reed, and plenty of hilarious road banter between the leads.
Fidell keeps her story, based on a friend's real-life experience, grounded in reality. For Nathan and Richard, their time together isn't going to alter the course of their lives, but it will be an indelible experience nonetheless. It's the perfect amount of character building for a young man on his way to college, and a little validation for an unwitting drifter. Hopefully The Long Dumb Road will also finally bring Mantzoukas the leading man roles he has long deserved.
– Jessica Baxter (@tehBaxter)