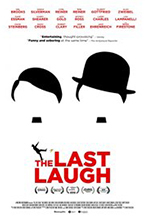 (The Annapolis Film Festival kicked off March 30 and wrapped up April 2. Here's some coverage from the fest…)
No, Ferne Pearlstein's latest film, The Last Laugh, is not a remake of F.W. Murnau's classic 1924 German masterpiece, but rather a documentary about the intersection of Jewish comedy and the Holocaust, and whether the practitioners of the former are allowed to use the latter as fodder. With such luminaries as Mel Brooks, Judy Gold, Gilbert Gottfried, Carl Reiner, his son Rob Reiner, Harry Shearer, Sarah Silverman and more, the movie takes us on a journey through the history of 20th-century Jewish humor and its role in helping Jews survive and thrive through difficult times. As the opening title card, using a quote by the German writer Heinrich Mann, declares, "Whosoever has cried enough, laughs." Pearlstein (Sumo East and West) makes sure to include a discussion of the tragedy that then permits the comedy, embarking on a deep exploration of the freedom engendered by farce and satire.
What better way to begin, then, but with an image of an ice-skating Hitler, followed almost immediately by shots of barbed wire? Those, in essence, are the two poles of the story: respect for the cataclysm of the Shoah; ridicule for its perpetrators. What is permitted in pursuit of a good joke? Most of the comedians profiled agree that the most important criterion is that the joke be funny, and all agree that humor was the one thing that Nazis were incapable of grasping. As we find ourselves, today, in a world ever-more obsessed with new forms of nationalism, that is an important lesson to consider. Fight absolute power by embracing your inner court jester.
We don't only meet humorists, however, but survivors of the camps, as well. Robert Clary (Louis LeBeau on the 1960s TV series Hogan's Heroes) is both. At one point, he sits down with Renee Firestone, an elegant great-grandmother and retired fashion designer, who made it through Auschwitz alive, though she lost the rest of her family. Her story, to which we return again and again – it serves as the spine of the more serious section of the movie – lends the interviews and archival footage an urgent sense of purpose, and when we then travel to Las Vegas for a Holocaust Survivors' convention, the dramatic stakes are raised even more. Some discuss how gallows humor gave them the will to live, while others refuse to even consider the possibility of laughter in the camps. This back and forth mirrors the thought processes of the comics, infusing the film with layers of complex meaning that ground the discussions in genuine truths, the whole transcending mere metaphysics. Pearlstein asks the big questions, and sometimes the answer is a tear, sometimes a laugh, and always profound.
– Christopher Llewellyn Reed (@ChrisReedFilm)