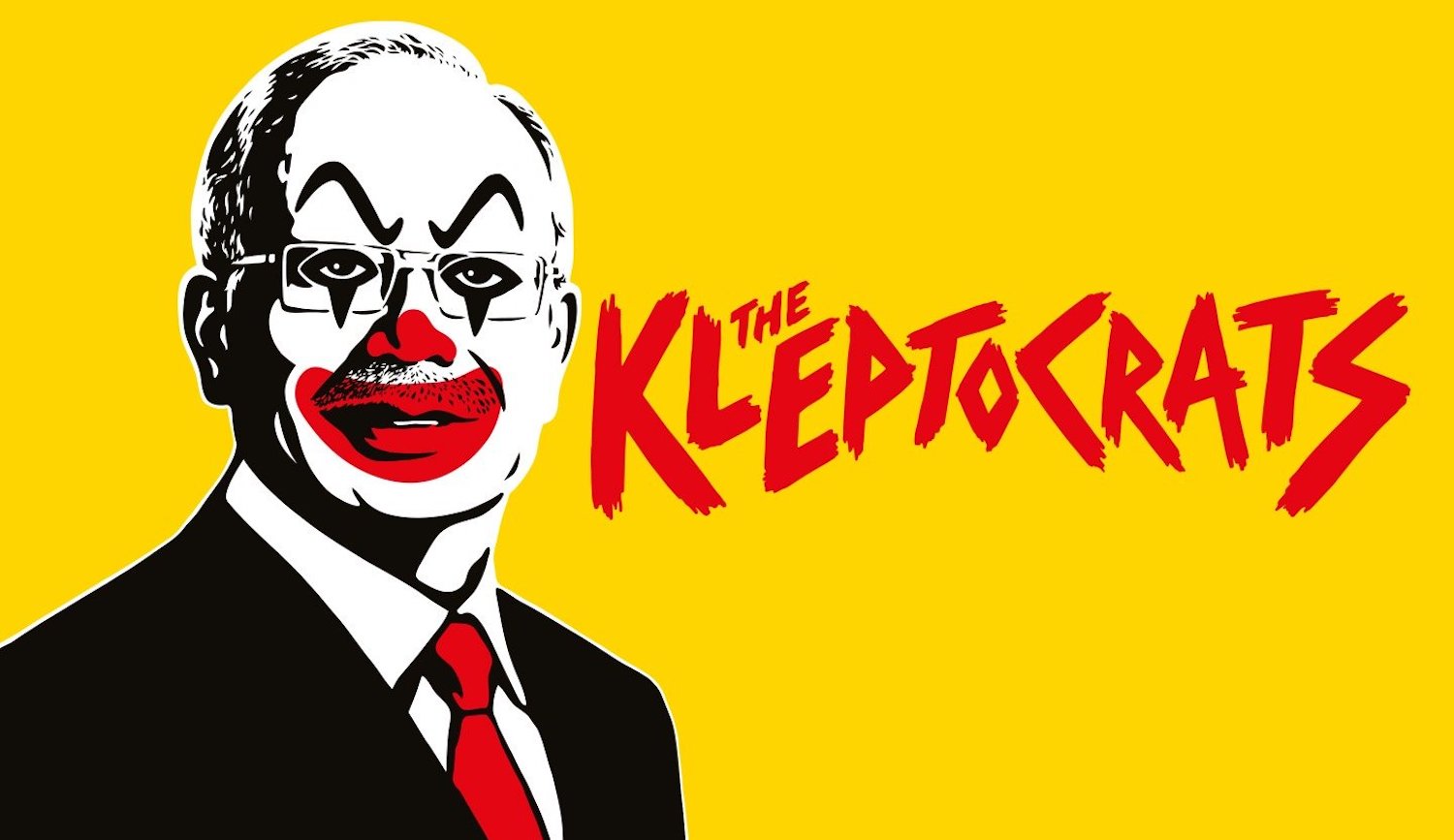 (The 9th annual DOC NYC ran November 8-15 in New York City. Lead Critic Chris Reed was there so stay tuned for his review and interviews. Like what you see here on Hammer to Nail? Why not pay just $1.00 per month to help keep us going?)
The Kleptocrats– from directors Sam Hobkinson (Treasures from the Wreck of the Unbelievable) and Havana Marking (Smash & Grab: The Story of the Pink Panthers) – manages, for most of its 84 minutes, to tell a nearly unbelievable documentary tale with jaunty verve and panache, almost belying the awful crimes uncovered within. No flattening of its final dramatic arc can lessen our horror at the chutzpah on display. Imagine a government setting up an investment fund from taxpayer revenues and then using said monies for the personal enrichment of the leader. That could never happen here, right?
Well, the story may be centered in Malaysia, but the United States bears at least some responsibility for allowing it to happen. We begin with a party, a big one. It's the 2011 Cannes Film Festival and a new production company, Red Granite, is making a splash with stars like Jamie Foxx, along with scantily clad hostesses, at a gala in its own name. Two years later, and Red Granite is back making even bigger waves as the entity behind Martin Scorsese's Oscar-nominated The Wolf of Wall Street, a movie about a man of shady ethics taking other people's money and laundering it, to make himself wealthy, through opaque international deals, defrauding his investors in the process. Funny thing about the film: in a stunning example of art imitating life, it was financed in virtually the same way.
We meet all the players, early and often, from the mysterious Malaysian playboy banker Jho Low to his childhood pal, Riza Aziz, to Aziz's stepfather, Najib Razak, who just happens to be the Prime Minister of Malaysia. It turns out that the high life led by Low – to salacious excerpts of which we are treated now and then – is funded almost entirely by the taxes of hard-working Malaysians. In a scheme so audacious that it couldn't possibly be true, though it is, Low and Aziz set up a system of money laundering to allow the elite of their country to revel in treasures not their own. When news of this starts to leak, thanks to the brave work of Malaysian journalists and opposition politicians, some of whom face criminal prosecution from the officials they investigate, the United States, even under Obama, is slow to act, since Malaysia is a partner in our fight against terrorism. You know: realpolitik.
Eventually, however, the boom does drop, and Najib Razak loses the next election (and is now on trial, himself), though Jho Low remains at large. Meanwhile, the people of Malaysia are left holding the bag. At least the world got an entertaining three-hour movie about greed and Leonardo DiCaprio got an Oscar nomination out of it, though. To be fair, not everyone peripherally or directly involved knew where the money was coming from, though the filmmakers make clear that no one was asking, either. It's a mess, though fortunately this movie about the events is not. By the end, however, I suffered fatigue from the strain of keeping up with the details, but perhaps there was no other way to tell the story. If we think of it like a hangover after a long night out, we know it will pass. Unless there's a sequel (and there so frequently is…).
– Christopher Llewellyn Reed (@ChrisReedFilm)
Like what you see here on Hammer to Nail? Why not pay just $1.00 per month via Patreon to help keep us going?