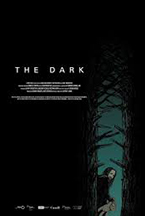 (The 2018 Tribeca Film Festival ran April 18-29 in Manhattan, NY. Hammer to Nail has all sorts of coverage coming your way so stay tuned…)
From first-time feature director Justin P. Lange comes The Dark, an often compelling, sometimes silly, adaptation of a 2013 short film of the same name. With a story and a visual palette that recall the 2008 Scandinavian vampire thriller Let the Right One In – though without its sublime greatness – the movie offers an ambitious horror-based framework that remains effective, up to a point, even as the script and performances falter. There are many foul and twisted charms to savor throughout, thanks to solid cinematography, fine editing and an engaging turn from lead actress Nadia Alexander.
Alexander (Nadine on Netflix's Seven Seconds) plays Mina, a young girl done very wrong by her mother's boyfriend. It takes a while to learn her sad tale, however, as we begin, in medias res, with Josef, a criminal on the run, whose nefarious actions lead him, quite literally, down the wrong path. This aging felon takes refuge in a section of forest known as the "Devil's Den," figuring its reputation for hauntings will keep people away. It turns out that reputation is well-earned, as he learns when he meets Mina. She is no longer human, but a vengeful, undead monster. The encounter does not go well for our miscreant.
But there is more to Mina than a yen for human flesh, as we discover when she finds Josef's payload in the back of his car. There lies a damaged young boy, in whom she sees a reflection of her own trauma. Instead of eating him, she decides to help, though recovering her own sense of right and wrong is difficult. It's tough to come back from the grave and play the hero.
So far, so good, though beyond Alexander the actors are uneven. It's later that some of the excessive violence seems unnecessary, more like a perceived requirement of the genre than anything motivated from within the characters. I was impressed by many of the more subtle sequences, however, especially in the first half. Despite its inconsistencies, then, there is still a lot to recommend, and I look forward to seeing more from Lange in the future.
– Christopher Llewellyn Reed (@ChrisReedFilm)