THE BLOOD IS AT THE DOORSTEP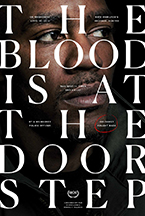 (The 2017 SXSW Film Festival opened on March 10 and runs all week until March 18. HtN has you covered and GUARANTEE more coverage than any other site! Check out this review of The Blood is at the Doorstep, Erik Ljung's feature documentary debut that offers an even-handed look at police violence.)
Shootings of unarmed African-American men by police are, sadly, so frequent in the United States that they almost blend together in one big wave of civil-rights injustice. Almost. Every single human being wounded or killed is very much an individual, deserving of the respect and consideration due to all of us. Sometimes, however, it can be difficult to separate these individuals from the mounting pile of statistics. Fortunately, there are movies like The Blood is at the Doorstep, the feature-documentary debut of director Erik Ljung, to remind us of the unique details of just one recent case, that of Dontre Hamilton, shot 14 times in Milwaukee on April 30, 2014. The specificity of his story – and that of his surviving family members – leads to profound truths about the rising tide of police violence against the disenfranchised that we must, as a nation, confront and reverse, lest we slide further away from our status as the land of the free.
In her 1973 short story, "The Ones Who Walk Away from Omelas," author Ursula K. Le Guin imagines a seeming utopia where people live without pain or misery. At the end of the tale, we learn that the harmony enjoyed by the majority is purchased at the cost of one lonely child's eternal torment. Some residents refuse to accept the deal and walk away, preferring to exist in a world where they will suffer their own sorrows, rather than live a false happiness. The United States of America, with its marvelous constitution in which basic liberties for all citizens are explicitly laid out, is a country built, in part, on the backs of African slaves, and we will never fully escape this legacy until we admit the enduring racial inequities of our socio-economic system. What makes Ljung's movie so effective is the way he addresses the issues of race and police brutality in an even-handed manner that allows all sides to have a voice. Complex problems deserve complex discussions.
In addition to Dontre's brother, Nate, and mother, Maria – both passionate advocates for the truth – we also meet Ed Flynn, Milwaukee's embattled Chief of Police, who shows compassion for the family, yet refuses to acknowledge that this case is about race. Dontre suffered from schizophrenia, which Flynn maintains was the primary cause for the altercation with the officer – Chris Manney – who shot him. Others beg to differ. In the middle of the film, we also encounter the father of Michael Bell – a white kid shot by police in his own driveway in 2004 – revealing that excessive use of force is not limited to racially motivated violence. However one feels about the police, Ed Flynn speaks a genuine truth when he says, in exasperation, "It's stunning to me that there is not a social problem in America that can't be solved by more training for the police." I agree, in that it is too much to expect that police both keep the peace and solve all of society's ills. Nevertheless, as The Blood Is at the Doorstep demonstrates, real people – and by extension, all of us – suffer when we accept the status quo. We can't walk away. Instead, we must listen, learn and change.