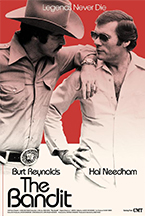 (The 2016 SXSW Film Festival kicked off March 11 and runs all the way until the 19th. We have boots on the ground and reviews coming in by the truckload so stay tuned to HtN throughout the fest!)
Quick! Say "1977 Hollywood box office" and what comes to mind? That's right: Star Wars, which was far and away the top film of the year, helping to establish the blockbuster age of movies in which we still, for better or for worse, find ourselves. Do you recall what the second film was? No? I'll help: Smokey and the Bandit. Yes, incredible as it may seem, a film about a "good old boy" and his chum running Coors beer from Texas to Georgia, outsmarting the police and wreaking havoc on the roads, beat out an array of other 1970s classics to take the #2 spot. With Burt Reynolds (Deliverance) – one of the biggest stars of that era – behind the wheel of a black Trans Am, the movie was built for speed and did exactly what it promised, offering car chases and mindless fun galore.
But that's not really the story of this infectiously entertaining new documentary from director Jesse Moss (The Overnighters), though Burt Reynolds does feature prominently throughout. Instead, The Bandit tells the tale of Hal Needham, stuntman-turned-director, whose directing debut this was, and who went on to make other films like Smokey and the Bandit II, The Cannonball Run and Stroker Ace, all variants on the same theme (and all with Reynolds, as well). Just like the men in his movies, he knew what he wanted and stuck to it. Born a sharecropper's son, Needham became a Hollywood stuntman after a stint as an army paratrooper, eventually doubling for the rising star that was Reynolds. They became fast friends, and then roommates after Needham's divorce. Theirs was an interesting relationship of parallel envy: Reynolds wished he were the tough stuntman (he actually did do some of his own stunts, early on), while Needham wished he were the sought-after celebrity. It was a true bromance before that term was coined. And when Needham wanted to become a director with his crazy idea for a chase movie, Reynolds agreed to act in it, to the mutual benefit of both.
The Bandit is a delightful portrait of deep friendship and loyalty, of the life of stuntmen, and of filmmaking, in general. Made with panache, it features an amazing array of archival footage, all of it edited in a peppy style that keeps the story moving along (much like Smokey and the Bandit). One doesn't have to be a fan of Needham's original film – I find it a bit tiresome, to be honest – to enjoy this documentary, as it serves as a wonderful record of its time. And if, indeed, you are a fan of Smokey, you'll like The Bandit all that much more.
– Christopher Llewellyn Reed (@ChrisReedFilm)