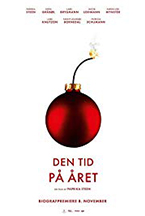 (The 2018 Toronto International Film Festival runs September 6-16 in, you guessed it, Toronto, Canada. Hammer to Nail has boots on the ground in the form of lead critic Chris Reed and Matt Delman. They're excited to bring you some amazing reviews so stay tuned!)
From Danish actress/director Paprika Steen (Silent Heart) comes That Time of Year, a riveting, bittersweet family drama set during Christmas, as a fractured clan gathers to celebrate the holiday at the home of eldest daughter Katrine (Steen, herself). Expertly directed, the film is part of an honorable cinematic tradition (think Home for the Holidays, among many others) where gatherings that many of us frequently dread are presented in heightened emotional situations, allowing the viewer a moment of blissful schadenfreude: "At least our last reunion wasn't quite as bad," we think. Steen and her fine ensemble ably demonstrate that there is life still left in the genre, thanks to a well-written script and a few plot twists that genuinely surprise. I may not want to eat at Katrine's house next year, but I enjoyed watching her own particular mess play out.
At first all seems well enough, as Katrine and husband Mads playfully prepare dinner together, clearly very much in love. An awkward phone call from estranged younger sister Patricia soon changes things. Big-hearted Katrine adds her to the invite list, sure to throw the already fraught family dynamic into eventual disarray. Not that they need Patricia to get into arguments. Katrine's parents are not only divorced, but father Poul is remarried to a much younger wife and has a new infant daughter, too (neither comes to the dinner). Katrine's sister Barbara, though a pastor (she gives the Christmas sermon), seethes with resentment towards Katrine, probably because her own spouse is a lush and her hyperactive son is unmanageable. By contrast, Katrine's own children – the teenage Maria and tween Jens-Peter – are models of careful upbringing, even if Maria is angry at Katrine for not finding time for the secret something she needs to tell her. Enter Patricia, then, to tip the scales.
She's the sibling that no one ever had time for, growing up, and as an adult has struggled to find her way. Her presence, along with a new husband and his own little girl, throws the proceedings into chaos, though not as one might imagine. What emerges is a tale as sad as it is ordinary, with consequences for more than just Christmas. Steen, as good an actress as a director, imbues Katrine with a warmth of spirit that makes her insufferable to her guilty-conscience family members but a joy to watch. Sofie Gråbøl (Sarah Lund in the original Danish version of The Killing) has the less enviable task of playing the brittle Barbara, but equally holds our attention, as does the rest of the cast. It's not all Sturm und Drang, either, as Steen and screenwriter Jakob Weis make sure there are plenty of lighter moments, though the ending is quite a brutal shocker. Whatever your own holidays are like, you should find plenty to laugh and cry at in That Time of Year. Each unhappy family is truly unhappy in its own inimitable way.*
*My apologies to Tolstoy.
– Christopher Llewellyn Reed (@ChrisReedFilm)