SXSW '14: TULLY'S WRAP-UP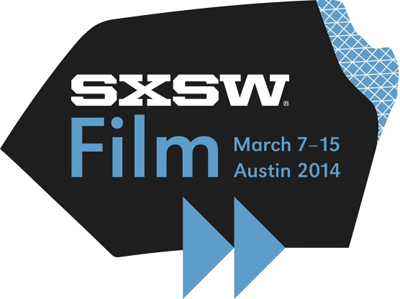 This year, my wrap-up is unofficially sponsored by AT&T, who for the past year (some said they've done this in previous years but I sure never noticed it) has been setting up little white lockers in the lobby of SXSW venues, each of which contains a multitude of cords that allows folks to charge their phones during screenings. A brilliant creation and for that I am eternally grateful! On the other hand, my wrap-up this year is officially not sponsored by Cricket, particularly the store on East 7th Street, which sold me a busted phone cord under the guise of it being, you know, a working phone cord, since, you know, it was in a package and cost 20 dollars, which added immense aggravation and sorrow to my early festival stress. For that, I will be eternally bitter and ungrateful!
Though my own filmmaking endeavors conspired to occupy a good bit of my time at this year's fest (a personal thank you to Janet Pierson and Jarod Neece and the whole SXSW team), now that the smoke has cleared, I can nonetheless safely say that I was able to catch up with a hearty batch of titles. If you haven't read Mike S. Ryan and Jesse Klein's excellent wrap-ups, do that now. And then read this report from my own humble viewing trenches….
MOVIES SEEN AND VERY MUCH DUG PRE-SXSW
(Check out my Sundance wrap-up for capsules of most of these fine, fine films)
Boyhood (Richard Linklater)
Dig (Toby Halbrooks)
Double Play: James Benning and Richard Linklater (Gabe Klinger)
Hellion (Kat Candler)
Joe (David Gordon Green)
Kumiko, The Treasure Hunter (David Zellner)
No No: A Dockumentary (Jeffrey Radice)
Person To Person (Dustin Guy Defa)
Rat Pack Rat (Todd Rohal)
MY NARRATIVE GRAND JURY PRIZE
Oh, to sit down in a theater for an 11am screening, feeling a bit groggy, and then, lo and behold, here comes the screen reaching out and, whammo, punching you in your wide-eyed, alert, supremely giddy face! John Magary's acerbic sibling dramedy is like Arnaud Desplechin's Margaret, a ballsy, sprawling, messy, grueling, go-for-broke experience that doesn't stop to breathe for 111 furious minutes. Music, slo-mos, zooms, elliptical editing… it's all here, and it's always alive. While it felt like the entire narrative competition was set in the confines of New York City, The Mend was the only movie that made me actually sort of miss living in NYC. Magary's film electrified me more than anything else I encountered at this year's fest. I can't wait to see it again.
MY DOCUMENTARY GRAND JURY PRIZE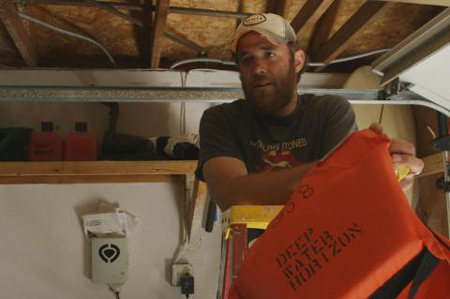 The Great Invisible (Margaret Brown, 92m)
Full disclosure: I watched a few cuts of (fuller disclosure) friend Margaret Brown's follow-up to The Order of Myths along the way, so my appreciation of her official Grand Jury Prize-winning film was perhaps heightened even more so because I grasped just how difficult—dare I say virtually impossible?—this movie was to craft in the edit (co-editors Tyler Hubby and Robin Schwartz deserve a special mention here). That's because Brown's approach in chronicling the days, months, and years after the BP oil spill was never intended to be a more generic soapbox condemnation of the evil corporate powers-that-be. But that in turn is what makes this scenario perhaps all the more disheartening. Yes, BP is evil and their handling of the situation is presented as the inhumane and callous non-action that it was—and still is—but the predicament is unfortunately much more complicated than that. At one point somewhat early in the film, tugboat captain Latham Smith says, while feasting on crawfish: "The idea that civilization can last three hours without oil is ridiculous at this stage." That Brown manages to make a movie with this quote as its unofficial thesis and yet doesn't drive viewers to commit mass suicide once the credits have rolled speaks to her thoughtful, tender, humane approach. But it can't be denied: The Great Invisible is some seriously heavy business.
BEST DIRECTOR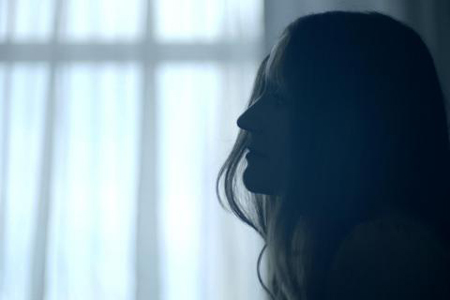 She's Lost Control (Anja Marquardt, 90m)
Marquardt's debut feature is a quiet wonder to behold, and a striking reminder that the world desperately needs more talented women directing films. On the surface, this story of a sex therapist in New York City is a straight drama, and yet, through assured camerawork and editing, Marquardt nonetheless makes it slowly wrench into a psycho-thriller. Brooke Bloom is phenomenal as a graduate student whose sense of stability is becoming frayed without her ever consciously realizing it—until it's too late. If you dig the intense worldview of Lodge Kerrigan, this movie was made for you (which is to say, it was certainly made for me).
COMPUTER RELATIONSHIPS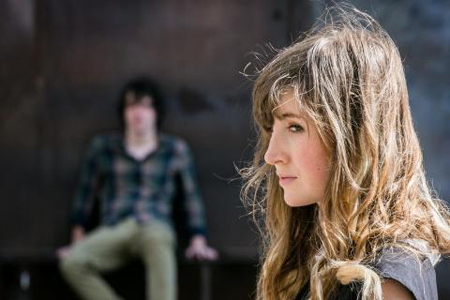 The Heart Machine (Zachary Wigon, 85m)
Another assured directorial debut, Wigon's feature—an extension of his HTN Short Film Contest-winning Someone Else's Heart—marks him as a serious talent to watch starting right now. John Gallagher Jr. carries much of the film on his shoulders, yet at the same time, the ubiquitous Kate Lyn Sheil delivers a performance that nonetheless feels like a full-on revelation. Though Wigon doesn't reveal character backgrounds and motivations in a way that might throw some viewers off, it's also a perhaps appropriate way to approach his film's firmly 21st century conceit. Nobody knows anyone anymore, especially not through a screen.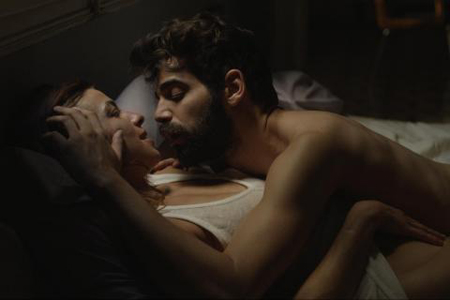 10,000KM (Long Distance) (Carlos Marques-Marcet, 99m)
I hate it when I—or anyone, for that matter—reacts to a movie by offering their own thoughts on what the filmmakers "should have done," but in this case, guilty as charged. That's because there's a moment in this narrative competition entry that felt like the perfect way to go out. And while the subsequent third act was as well acted and directed as the first two, I could never shake that nagging wish for the credits to have rolled when I wanted them to (that's as specific as I'm going to get). Removing that from the equation, Marques-Marcet's drama remains a unique variation on the concept of computer-enhanced long distance relationships, featuring the best opening shot of the fest, which lasts a staggering 20-plus minutes.
BEST LEGITIMATE BLAST FROM THE PAST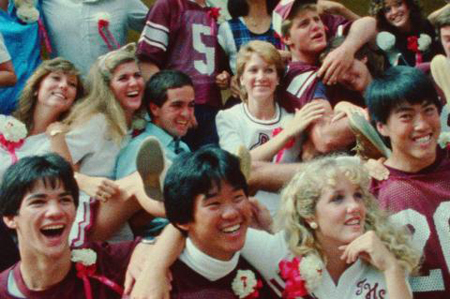 All American High: Revisited (Keva Rosenfeld, 85m)
Rosenfeld's classic underseen 1987 hour-long documentary about high school life in America is presented in full here, but it's the 30-years-later epilogue that takes it to a tear-jerking place. Before that, oh man, oh boy… oh the 1980s humanity… and, in turn, oh, the joy of celluloid-photographed documentaries. Those were the days.
STRIKING VISIONS IN DISTINCT WAYS
Potrykus's paint-black comedy has two sequences in it that have been stamped into my "Best Scenes of '14" list, so based on that alone, I'd say this is pretty much required viewing. And while some of the humor didn't land for me along the way, the performance of Joshua Burge kept this warped story consistently fascinating. Oscilloscope picked up Buzzard for distribution, and while it's inappropriate to compare it too directly to Bellflower, it nonetheless makes sense why the powers-that-be at Oscilloscope responded to it so strongly.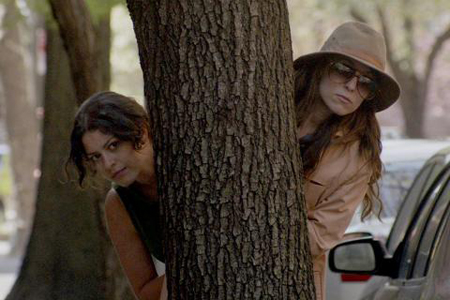 Wild Canaries (Lawrence Michael Levine, 98m)
Levine takes a turn into Brooklyn Murder Mystery land with this frisky comedy, which features excellent performances across the board (the most excellent being the hilariously intense Jason Ritter). Though they performed the exact same duties on my movie, I feel comfortable enough here acknowledging the standout contributions of Michael Montes (composer) and Teddy Blanks (opening titles), for pretty much everyone I talked to at the festival sang the praises of these wildly talented fellers. Sometimes, it's just nice to have fun watching a movie at a film festival, and on that note, Wild Canaries delivers.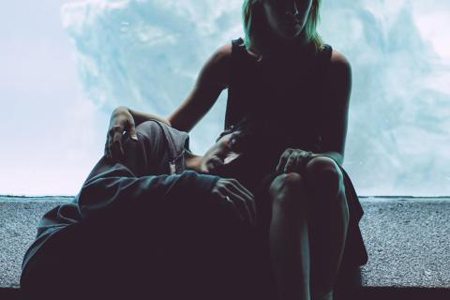 Animals (Collin Shiffli, 86m) — Though Shiffli's film doesn't bring anything groundbreakingly new to the "junky drama" table, it does feel authentic and honest in a way that feels commendable and refreshing.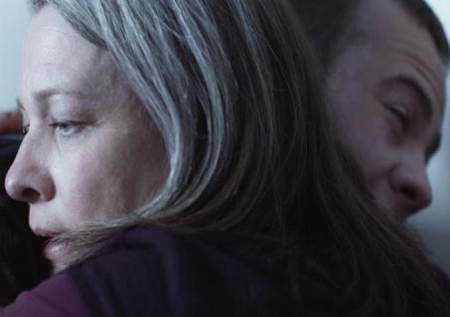 Patrick's Day (Terry McMahon, 101m) —McMahon delivers a dark Irish drama, thick like Guinness.
DOES THIS MEAN THERE'S A JIGSAW PUZZLE NEW WAVE?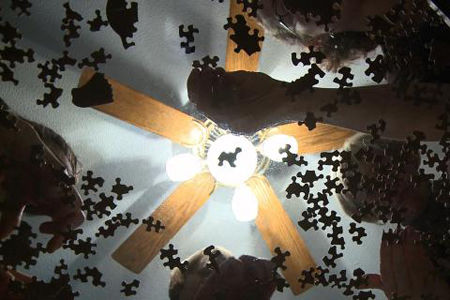 Wicker Kittens (Amy C. Elliott, 52m)
It's fun to imagine some pretentious filmmaker, whose "deep, important" movie was rejected by SXSW, sitting down to watch this 52-minute portrait of Midwestern jigsaw puzzle competitors and wondering ARE YOU F***ING KIDDING ME?!?!?! While I confess to being a jigsaw puzzle lover to this very day, I also think that director Elliott's approach to her material—embracing the goofiness without ever being condescending—makes it a breezy, worthwhile view. Wicker Kittens is like a lighthearted, real-life Christopher Guest movie.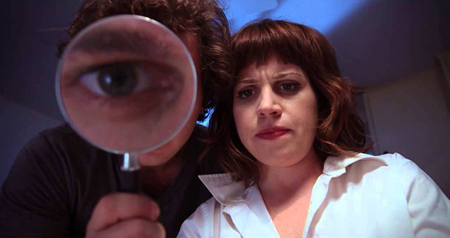 Arlo and Julie (Steve Mims, 76m)
Documentarian Mims delivers this wispy Austin-set narrative comedy that uses, ahem, a jigsaw puzzle as its premise. While the finished film itself is perhaps too thin to reverberate in any deep way, the performances of leads Alex Dobrenko and Ashley Spillers are compelling enough to make it linger. One hopes that we'll see more of these two actors—as well as co-stars Chris Doubek and Sam Eidson—in movies shot outside Austin's city limits. Cast these people, people!
NON-FICTIONAL ILLUMINATION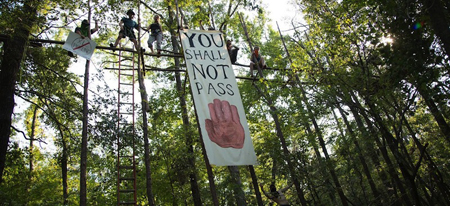 Above All Else (John Fiege, 94m)
At the world premiere of Fiege's deeply impressive chronicling of East Texas landowner David Daniel's attempt to keep the Keystone XL Pipeline from burrowing into his land, audiences were shouting at the screen in fury. And while I confess to suppressing my own state of rising frustration and fury as the story developed, I think it's important to acknowledge Fiege's comparatively tempered approach to his material. As with The Great Invisible, Above All Else was made by a director who clearly embraces the personal over the overtly political. By letting us get to know these humble Americans who are being steamrolled by corporate forces, Fiege has created a work that can speak to those on both sides of the divide, as opposed to merely preaching to the stubborn choir.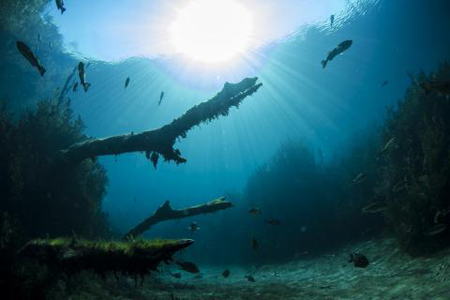 Yakona (Anlo Sepulveda and Paul Collins, 85m)
My first two days of this year's SXSW were by far the most draining and miserable I've ever had since first coming to Austin back in 2006 (long story short, my own personal mercury was retrograding to an outlandish degree, so there's no direct blame to place here on anyone or anything except the Almighty Cosmos). As the rain sheeted down on Saturday night, I escaped to the Marchesa to catch my first film of the festival: Collins and Sepulveda's Yakona. In light of my agitated state, I couldn't have been served a more perfect cine-tonic, a lovely, soothing experimental tone poem about the San Marcos River.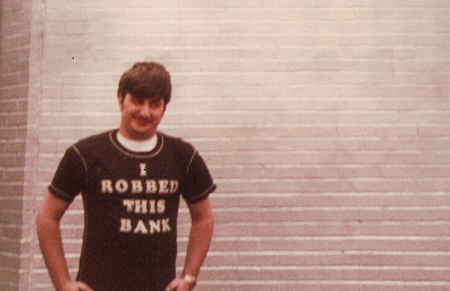 The Dog (Allison Berg and Frank Keraudren, 101m)
I finally got a chance to catch up with Berg and Keraudren's entertaining documentary about John Wojtowicz—i.e., the man who inspired Dog Day Afternoon—and while it's a heartbreaking story, it's also a laugh-out-loud romp. That's due to Wojtowicz himself, who is an old-school New York City character that we likely won't ever see again. The relationship between Wojtowicz and his mother provides the heart and soul of the film, and as the filmmakers spend more time with each of these individuals, things get downright touching.
Butterfly Girl (Cary Bell, 77m)
Bell's sobering documentary about Abbie Evans, a pretty teenager who has lived since birth with a crippling skin disease, has the feel of reality television as opposed to cinema, and yet Abbie's charm and determination give it a rich emotional power. If this movie doesn't make you feel ashamed of your previous few days of whining about whatever it is that's been bothering you, you should get some help.
File this one firmly in the docu-activism drawer, but with a topic as fiery as this one, that certainly isn't a bad thing. Whitten shines a light on the work that Dr. Rebecca Gomperts and her Women on Waves organization are doing to help troubled women maintain control over their own bodies.
UP MY ALLEY IN A MAJOR WAY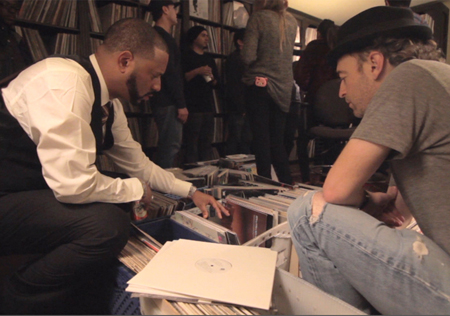 Our Vinyl Weighs A Ton (Jeff Broadway, 93m)
I have no idea if this documentary tribute to the one-and-only producer and label head Peanut Butter Wolf will be interesting to people who aren't fans of Stones Throw Records, but I am a big fan and, thusly, I dug the fugg out of this fun-ky thang.
Here's another instance where my own personal love of the subject matter—in this case, tennis!—likely clouded my opinion. But even factoring that into the equation, Jeremy Sisto, who has a story co-credit, is his usually stellar self here. More than anything, I would hereby like to take this opportunity to thank the filmmakers and actors for ACTUALLY UNDERSTANDING TENNIS AND ACTUALLY KNOWING HOW TO ACTUALLY PLAY TENNIS (yeah, I'm talking about you, Wimbledon). Actual sports playing in movies = grand slam winner every time.
(P.S. I should mention that I wasn't able to see the finished version of Leah Meyerhoff's I Believe In Unicorns, so I can't write about it yet, but I did see a rough cut last summer and was quite impressed with the creative ingenuity on display.)
— Michael Tully