SXSW '14: JESSE KLEIN'S WRAP-UP
There were a ton of wonderful films this year at SXSW. Here are a few that stood out.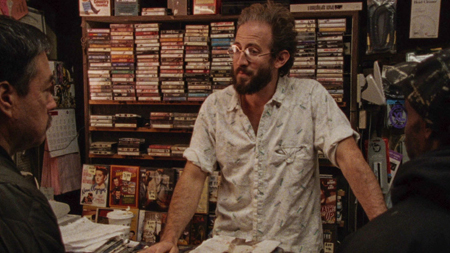 Person To Person (Dustin Guy Defa, 18m)
Winner of the DAAD Short Film Prize at the Berlin Film Festival and now special jury recognition at SXSW, Dustin Defa's Person to Person unspools a teeming world in a few short minutes. Benny (Bene Coopersmith) throws a party and the next morning finds Julia (Deragh Campbell) asleep on his living room floor. And the girl just won't leave. Benny coaxes, pleads, feeds, implores, turns down and finally kicks Julia out. These interactions are interspersed with his recounting the story to his buddies at his used record store. His incredulity at the situation is met by a similar feeling by his friends albeit for the opposite reason: why is he so quick to kick a beautiful girl out of his house?
What's most telling is that Benny himself does not seem to know his motivations—all he knows is that she's gotta go. Benny would rather talk about old 78s with strangers than meet a girl he might just end up liking; his face lights up when he puts on a record, not when he's with other people. For Benny, Julia is a girl who will wake up on a stranger's hardwood floor, with nothing to do the next day. For her, Benny might be some guy who let her crash, but he might be the love of her life. Campbell's subtle yet seductive performance gives away just enough to keep us guessing.
Once they hear the end, the record shop guys seem a little disappointed. They, much like the audience, root for something they know will never happen.
Trying to describe The Mend is a fruitless yet worthy endeavor. The film is insatiable, polyvalent yet singular; it soars and dives, stops and starts, runs around in circles until it falls down. Mat (Josh Lucas) and Alan (Stephen Plunkett) are brothers in their mid-30s; Mat wanders from city to city, bed to bed, while Alan is in a committed relationship, trying to give the impression of keeping it together. Mat's unexpected visit brings with it all the chaos that Alan can manage, and then much, much more.
Director John Magary refuses to adhere to any narrative or formal conventions. Key scenes stop and start, others meander for a half hour. Characters disappear only to come back at seemingly random moments. Mat is seeking some version of personal meaning, though it's unclear if he finds it or ever even wanted to: he seems most excited by the sound of a passing ice cream truck.
Mat and Alan bash through post-adolescent juvenilia into an all out narcissistic/nihilistic nightmare. The only constant is this fraternal relationship; everything else comes and goes, falls away. Mat and Alan's dynamic nearly kills them, but it's also what keeps them alive.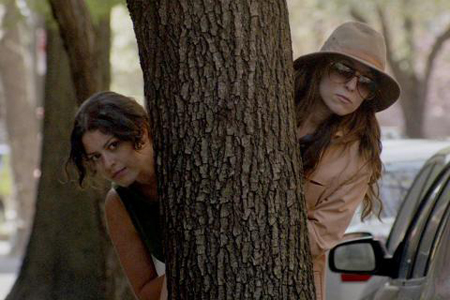 Wild Canaries (Lawrence Michael Levine, 98m)
A murder mystery wrapped up in a romance, a throwback action movie intertwined with slapstick, Wild Canaries flitters above the genres it flirts with, picking and choosing its references as it goes along. At the heart of it lies Noah (writer/director Lawrence Michael Levine) and Barri (producer Sophia Takal), a young Brooklyn couple who are on the precipice of marriage, with all the questions and baggage and fear and expectations that go along with it. A supposed murder mystery of an old lady unfolds around their personal problems, and Barri, alongside their roommate Jean (Alia Shawkat), who may or may not be in love with her, welcomes the distraction.
It might be the weirdo son (brilliantly portrayed by Kevin Corrigan), it might be the pothead artist landlord (the sleazy yet undeniable Jason Ritter). Corrigan brings an ambivalence, an opacity that genuinely confuses while Ritter crackles and pops, always on the verge of boiling over. While Barri falls deeper into her obsession, the gap between her and Noah widens; ex-girlfriends, future business plans, almost kisses all get in the way. It is to Levine and Takal's credit—in front and behind the camera—that we never stop hoping they'll work it out.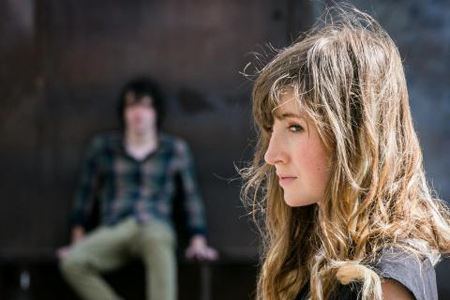 The Heart Machine (Zachary Wigon, 85m)
There is a never-ending array of apps/programs/websites with which to sort of get to know people and possibly have sex with them. Single young people use these platforms to sniff each other out, to decide that maybe they're worth an in-person meeting, that just maybe they're worth seeing naked, and then after that decide if an emotional connection is possible. The result of this newfangled quest for love is a story like The Heart Machine.
Cody (John Gallagher Jr.) and Virginia (Kate Lyn Sheil) live in New York and meet on OK Cupid. They seem to hit it off, but when asked where she lives, Virginia lies and says Berlin, a gut decision, but one she is unable to correct throughout their fake long-distance relationship. Cody suspects she may be lying and searches for her, following tiny clues he amasses from their Skype sessions. As he gets closer, both Cody and Virginia have meaningless sex with strangers, women insult men as a form of flirtation, men pressure women as if it's their right. No one seems too satisfied by any of this. Virginia tries to separate her physical desires from her emotional entanglements and soon realizes that the combination equals less than the sum of its parts. Isn't it romantic?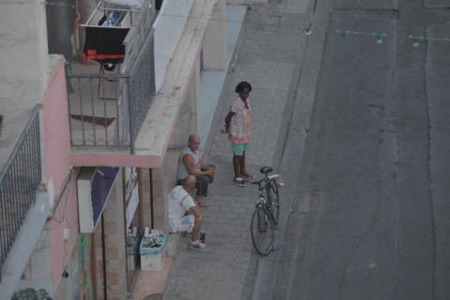 Evaporating Borders (Iva Radivojevic, 73m)
Ida Radivojedic's Evaporating Borders takes as its subject her adopted home since her youth, Cyprus, a country whose identity shifts, meaning different things to different peoples. When once Cyprus was seen as a haven for those who sought refuge, it is now politically split, a state divided and intolerant. Radivojedic films her Cyprus with an intimacy that brings us to its heart. Whether it showcases its natural beauty or some of its citizens' frustrated bigotry, either way, Radivojedic brings us so close that we cannot look away. More so, the voiceover—reminiscent of Chris Marker's masterful cine-essay Sans Soleil—seems both inside and outside the moment, an elegy and a prayer. Evaporating Borders shows a country torn apart, with all the reasons in the world to come together.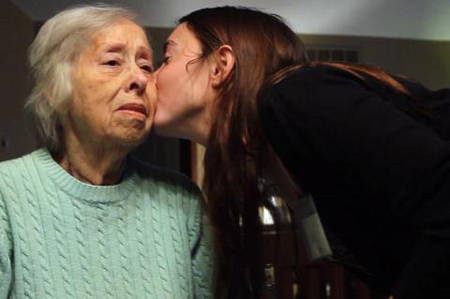 Beginning With The End (David Marshall, 63m)
In Rochester, NY a group of high school seniors sign up for a class called "Hospice". Some of these students had never before encountered death directly, and none are prepared to deal with sick strangers in their waning days. Yet, throughout the course of the film, each student opens up to those they care for, forging bonds, giving of themselves in ways they did not know was possible.
The film is utterly forthright; unassuming teens try to make sick people feel better, and then talk about their relationship to these people, to death. It is bold and brave in ways that are hard to detect. The connections here can't be faked; these kids are learning how to live with death, smiling at it, and then giving it a hug. Before our eyes, we see the students grow, and then reflect—their youthful yet hard-won wisdom shows a depth, a love of life, that inspires, and teaches us how to live.
— Jesse Klein