SUNDANCE 2010: Tully's Wrap-Up
From the moment one set foot in Park City for the 2010 Sundance Film Festival, it became quite clear that the powers-that-be were using the departure of longtime festival director Geoffrey Gilmore as a subconscious marketing tool. Though the ad campaign didn't directly reference the transition of power from Gilmore to John Cooper (a "Now that Gilmore's splashy 'Sundance sensibility' is gone, let's get back to the nitty gritty!" poster would have done the trick), the overdependence on words like "rebellion" and "roots" implied that Robert Redford and his team were speaking in some way, shape, or form to the way Gilmore had skied the fest down the slope.
Unfortunately, these proud declarations had an adverse affect. The first festival trailer I laid eyes on, before my very first film of the festival, was a satirical riff on a studio pitch session (studio execs don't even know how to spell Donnie Darko—doh!). Funny enough (not really). But when that led directly into Sam Taylor Wood's Nowhere Boy, an Oscar-ready biopic of John Lennon's early years that could have been one of the pitches in the preceding trailer ("It's An Education meets Backbeat, with a killer soundtrack!"), all of a sudden, the words "rebellion" and "roots" seemed downright silly. This was rebellion? These were roots?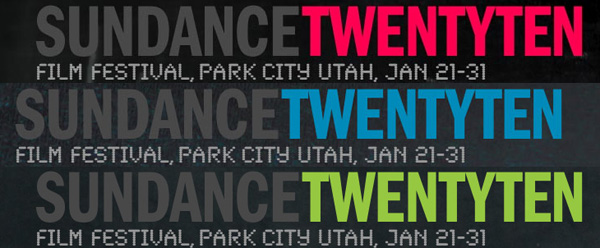 Don't get me wrong. I'm not here to knock you, Sundance. I'm simply here to tell you that you don't have to go out of your way to try to convince us you're something you're not. We know you who are and we like you. Your documentary program is consistently awesome (I mean that in the Biblical sense). You celebrate fringe, multimedia art with your New Frontier section. You showcase the most exciting work in new and recent world cinema. You aren't just about the celebrities and the parties. Anyone who loves movies and attends the festival knows that. My advice for next year: don't spend so much time telling us what you're not, and especially don't waste your breath incorrectly assuring us what you are. Just remind us that you're Sundance and get on with it.
Unfortunately, this ties into my other issue with this year's festival (there are only two, I promise). According to my eyes, the newly christened NEXT section was falsely advertised as well. In the official press release, NEXT was described as such:
"A new section composed of eight American films selected for their innovative and original work in low-and no-budget filmmaking."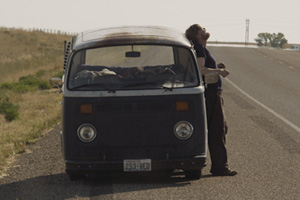 That sounds good—check that, sounds great—but now that I've seen (most of) the films in NEXT—with the further revelation that the budgetary constraints were $500,000 as opposed to $50,000—I have some serious reservations about this section. I'm not here to poop on the films that were selected for inclusion, but I don't know if the words "innovative" and "original" apply (even Linas Phillips's Bass Ackwards, which marches to its own refreshingly unique rhythm, has a description straight out of Sundance 101). Taken as a whole, the films in the inaugural NEXT are far more conventional than I had expected and—fuller confession—hoped for. Based on the official description, I had assumed the programmers were looking to discover voices that were using this small scale to their advantage, making films that couldn't have been made any other way. From this year's lineup—nothing of which I outwardly hated, mind you (especially not Katie Aselton's The Freebie and the Barnes Brothers' Homewrecker)—NEXT appears to be more of a Hollywood farm league rather than a stomping ground for TRUE CINEMATIC REBELLION. Again, my problem isn't with the films as much as with the way they were marketed to us. Based on the above description, it seems like Bryan Poyser's Lovers of Hate and Josh and Benny Safdie's Daddy Longlegs would have been more fitting choices (though I recognize the paradox in this situation—placing these films in more high profile sections pays them a seemingly higher compliment… or does it?). Next year, I'd love to see a new/different sidebar that would include work such as Aaron Katz's Cold Weather or Matthew Porterfield's Putty Hill. Or can we just forget about this NEXT business and get back to American Spectrum?
Okay, enough with the Monday morning quarterbacking. I hate Monday mornings. I hate quarterbacks.
While Sundance has always been known for having a stronger nonfiction pedigree than fiction, in 2010 those scales were severely imbalanced (at least from my seat in the Holiday Village). American narrative standouts for me included the aforementioned Daddy Longlegs (as I wrote earlier, this was easily the most ferociously heartfelt American narrative I encountered) and Lovers of Hate (or, as I like to call it, Sex, Lies & The Shining). I heard some murmuring that the Duplass Brothers didn't push Cyrus into uncomfortable enough directions, but that's what I liked about it (not to mention that that's not what they do). To see the Fox Searchlight logo appear, followed by the faces of John C. Reilly, Marisa Tomei, and Jonah Hill, was an almost surreal experience. Here were two young, talented writer/directors who had stuck to their guns and snuck through the cracks to arrive in Hollywood without sacrificing their scrappy, distinct vision. Hooray, Duplass Brothers!
The two most talked about films in the U.S. Dramatic Competition were Debra Granik's Grand Jury Prize winner Winter's Bone and Derek Cianfrance's Blue Valentine. I admired both of these films very much, but something kept me from loving them. Granik walks an incredibly dangerous tightrope with her Appalachian noir. Representing this type of community in a genre film is virtually impossible to do without devolving into cliché. Yet sharp writing, stellar performances, and a top-notch production preserved Winter's Bone's authenticity. It's no wonder that the jury loved it. One hopes that its journey into the real world will be more successful (Frozen River) than less (Ballast).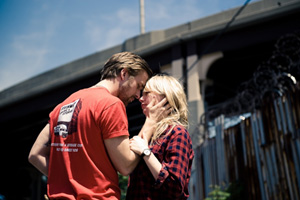 In Blue Valentine, Michelle Williams establishes herself as a full-blown American treasure with her flawless performance. As for the film itself, I'm not sure if the flashback structure itself is what kept me more in my head than my heart—even when it's done perfectly well, this literary technique almost always distracts me on screen—or if it was something as nitpicky as being bothered by Ryan Gosling's character saying, in a thick Brooklyn accent, that he was from Florida but now lived in Brooklyn (did he move at 2?). Not to mention the geographical confusion between Brooklyn and Pennsylvania. Whatever the case, as much as I knew I was in the hands of supremely talented craftsmen, I never gave all the way in. Having said that, I look forward to revisiting this film again when it's released theatrically, at which point I will see if my nagging concerns fade away and I can give in fully to the emotions of each naked moment, for that is where Blue Valentine soars.
With regards to non-American narratives, though I haven't seen Jacques Audiard's staggeringly great A Prophet since Toronto last year, it remains my top fiction feature of the festival. There was one Park City revelation that I can't get out of my head, however. Four Lions goes so hilariously far over the edge, while staying simultaneously grounded, that I still can't believe what I saw. Christopher Morris, his writing team, and especially his actors, must have steel testicles (or is that death wishes?), because this movie is going to piss a lot off people off. I'm tempted to call Four Lions this year's In the Loop, but that wouldn't do it justice. It's bolder, braver, and riskier than that. Laugh-out-loud funny and featuring some outrageously inappropriate physical comedy, Four Lions has no precedent that I can recall at the moment. The further away I get from it, the more desperately I want to watch it again.
Which brings us to the nonfiction program. Sundance always delivers on this front, but this year was especially loaded. I saw so many strong documentaries, in so many different styles, that I feel like I could make a Top 10 of 2010 I would be willing to stand behind eleven months from now. Here are many favorites: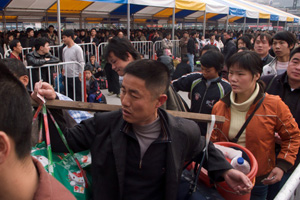 Last Train Home — Consider me the number one fan of the new Canadian-Chinese Nonfiction New Wave. An indirect companion piece to Yung Chang's Up the Yangtze, Lixin Fan's Last Train Home is another devastating marvel that personalizes the far-reaching impact of globalization by focusing on one Chinese family as they struggle to make ends meet. Its early scenes are shocking enough: thousands of factory workers amass at a train station to wait desperately to return to their far-reaching villages for Chinese New Year. But once home, the conflict within the family that Fan has chosen to document becomes even more intimate and volatile. With Last Train Home, Fan has accomplished something very major. It is a special, heartbreaking film.
Catfish — The less said about the plot of Ariel Schulman and Henry Joost's Catfish, the better. Which isn't to say that it only works if one watches it with innocent eyes. But part of its magic is how Schulman and Joost craft their film to feel as if we're discovering this mystery alongside them. And what a mystery it is. In a 21st century where everyone has a camera and fancy themselves a filmmaker, these actual filmmakers stumbled into their (presumably) major breakout by accident. As for the questions about Catfish's authenticity, anyone who's made a film, whether fiction or documentary, knows that manipulation is the name of the game. That question remains irrelevant here. By the end of Catfish, Schulman and Joost, with the help of Schulman's brother Nev, the film's "star," have revealed their true dignity and compassion. It's what turns Catfish from a gotta see into a must see.
GasLand — On my Jet Blue flight to Park City, I watched a snippet of the CNBC show Mad Money w/ Jim Cramer, on which gazillionaire T. Boone Pickens stated his case for natural gas drilling in America. In the long run, it was a cheaper, safer way to control our own resources without relying on other countries. He bet Cramer one hundred dollars that by spring, congress would pass a bill supporting his mission as well. It sounded good to me. Then I watched Josh Fox's volcanic documentary GasLand and my naïve support turned to informed fury. When his own Pennsylvania land became a potential home for this fracking (hydraulic fracturing) process, Fox grabbed his camera and went on a nationwide investigation. What he found is incomprehensible (you won't find a more disturbing image this year than an everyday citizen holding a match to the water streaming out of his kitchen faucet only to watch it go up in flames). With humor and inquisitiveness, Fox has delivered 2010's most alarming wake-up call.
The Red Chapel — Whatever one thinks of it, Mads Brugger's The Red Chapel stands as the most gleefully provocative work at this year's festival. Accompanied by two Danish-Koreans (one of whom is a clinical spastic/self-proclaimed spaz), Brugger somehow managed to talk his way into North Korea—under the guise of performing a comedy act for its citizens—in order to find out what's really going on behind those impenetrable walls. What he finds is shockingly funny and deeply unsettling. If Lars von Trier and Michael Moore had a bastard child that made a film, that child would be Brugger and that film would be The Red Chapel. Yet Brugger injects his work with a humane undercurrent that transcends the shock value to reveal something much, much richer.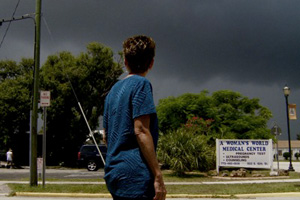 12th and Delaware — Rachel Grady and Heidi Ewing's work has always provided fodder for those on both sides of the political/religious/ethical divide. With 12th and Delaware, they have done it again. This time, the setting is Florida (of course it is), where in reaction to an abortion clinic, a group of pro-lifers have set up shop directly across the street in order to try to convince confused mothers-to-be that mothers is what they must be. For the first half of the film, we don't venture inside the abortion clinic, instead focusing on "Anne," the leader of the pro-life center (which isn't outwardly advertised as such to more easily recruit potential mothers). I'm not a psychic, but I'm not an idiot either. I would bet my own personal sperm count Anne's real problem is that she's unable to have children herself and hasn't come to terms with that situation. Instead, she's pouring all of her energy into this misguided cause. Which is 12th and Delaware's greatest personal tragedy. (If I'm wrong, write me, Anne, and I'll post a formal apology. Just be sure to attach a PDF of your medical reports.) Yet, ultimately, the film's real achievement is how Grady and Ewing somehow remain fair and balanced enough that viewers on both sides of the divide will deem 12th and Delaware to be speaking on their behalf.
Exit Through the Gift Shop — Is invisible street artist Banksy's debut feature an outright joke? Is it an actual profile of the Mr. Magoo-like Thierry Gutta (aka Mr. Brainwash), a video camera toting hanger on who spent years filming street artists only to become a known street artist himself? Does it condemn Gutta for his accidental success? Does it mock art aficionados for falling for Gutta's shtick? Is it a shtick? Who knows. I'd like to think Exit Through The Gift Shop is a carefully orchestrated satire of the modern art world—Andy Warhol, most directly—that brilliantly exposes the absurdity of attaching so much monetary value to work that most of us walk past on the street without even noticing. Oh yeah, and it's entertaining as sh*t.
The Tillman Story — It might sound like an insult to suggest that Amir Bar-Lev's feature-length documentary about NFL star-turned-fallen soldier Pat Tillman would be best served as a 30 For 30 documentary on ESPN, but that seems to be the place where it would have the most powerful impact. Removing the "football star" aspect of the equation, Tillman's death was still a tragic story, but as Bar-Lev gradually reveals, The Tillman Story isn't about one heroic family's loss. It's about our government's shamefully inappropriate handling of such a delicate situation. It's an infuriating betrayal, and if Bar-Lev doesn't break new ground in the telling of the tale—though cinematographer Sean Kirby (Zoo) injects it with style—he tells it very, very well.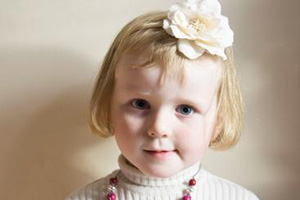 His & Hers — With His & Hers, Ken Wardrop has done the impossible. He's made cute Irish ladies… even cuter! It's an artful, experimental set-up, yet the result is utterly charming and wholly accessible: Wardrop interviews over sixty females from birth to near death as they share their thoughts on the men in their lives, as well as more mundane matters. At first, this is all as cringingly sweet as a fruity lollipop, but by the end, the collection of voices achieves a moving gravity. His & Hers is suffused with an all-encompassing love.
My Perestroika — It is perhaps unfair that Robin Hessman's My Perestroika found itself competing against so much more headline worthy fare in this year's U.S. Documentary Competition, because it accomplishes its mission with an impressive amount of unassuming grace. Unfortunately, unassuming grace rarely translates into awards. My Perestroika profiles several adults in present-day Moscow who were raised behind the Iron Curtain as children and are still coming to terms with their country's dramatic evolution. Hessman lets these individuals speak for themselves, while incorporating footage from the past, to present a nostalgic collage of personal/historical memory and reflection.
Life 2.0 — A double-feature of Jason Spingarn-Koff's Life 2.0 and Ariel Shulman and Henry Joost's Catfish would make for a seriously dirty excursion. For those of you who participate in the Second Life phenomenon, I am f**king scared of you. Spingarn-Koff isn't overtly obnoxious in his condemnation of the SL lifestyle, but he certainly went out of his way to find participants whose hobbies have become more than just time-sucking obsessions (or is there no such thing as a casual Second Lifer?). Particularly fascinating is watching one of these SL couples connect in real life, breaking up their families in the process, only to realize that their human manifestations are no match for their perfectly aligned avatars. Grody to the max.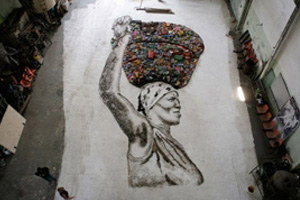 Waste Land — I missed Lucy Walker's other documentary at the festival (Countdown to Zero), but considering all the frights I received with my other nonfiction views, I'm glad I went for her comparatively happy, hopeful entry. Waste Land follows successful contemporary artist Vik Muniz as he returns to his native Brazil with a noble mission: turning detritus and destitution into art and inspiration. Muniz arrives at Jardim Gramacho, the world's most massive landfill, where he befriends several workers who spend their lives scavenging for recyclable materials. Gradually, his project reveals itself to him, causing Muniz to take several of these workers on a journey they'll never forget. To Walker's credit, Waste Land never collapses under the weight of its own sentimentalism, instead reminding viewers that, in special cases, art does indeed have the ability to transform.
Louis C.K.: Hilarious — I'm not passing judgment all the way on Louis C.K.'s hysterical stand-up concert (when you see it, you'll realize the title is sarcastic), for I missed the first fifteen minutes. Normally I wouldn't walk into a movie that late, but as I knew this was the type of material that could be enjoyed in small portions, I slipped into the theater anyway. I'm very glad I did. The comedian Louis C.K. most reminds me of is Bill Hicks, as both use an outwardly angry façade to mask an inner tenderness. With this film, I hope that Louis C.K. will finally transcend his "comedian's comedian" status and find a much wider audience. He deserves it.
I guess that's it for this year's Sundance Film Festival. As you can tell from my gushing, I saw some great stuff. Hopefully you too will get to see all this great stuff very soon.
— Michael Tully