THE PROFESSIONAL: A STEVIE BLATZ STORY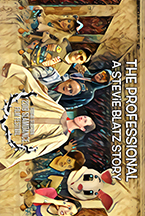 (The 2019 Slamdance Film Festival takes place January 25-31 in Park City Utah. Hammer to Nail guarantees more reviews from the fest than any other website around. That alone is worth $1.00 per month to help keep us going!) 
While at first there may not seem to be much that sets Stevie Blatz apart from his fellow twentysomethings – confused about romantic relationships, looking for meaning in his work, struggling to separate from the parental fold – by the end of director Daniel Labarbera's debut feature-length documentary The Professional: A Stevie Blatz Story, we have come to realize that Blatz is sui generis and a more-than-worthy subject for a film. A seeming jack of all trades (and master of some), Blatz runs his own business – Stevie Blatz Entertainment – through which he performs (as DJ, clown, magician, what have you) at parties, bar/bat mitzvahs, weddings and more, while also moonlighting as a snow-shoveler/plower, lawn-mower and just about anything. Determined to make his mark in the world – beyond his native Lehigh Valley, in Pennsylvania – Blatz is a manic go-getter. He also lives with his mom, in her basement, and has frequent screaming arguments with her, though she is his main financial backer and partner. It's a tough life, but someone's got to live it.
Labarbera is a friend of Blatz's, which explains his continued access to Blatz, even through the embarrassing moments. Then again – and fortunately for him – Blatz appears impervious to shame, soldiering on through scenes that would diminish someone susceptible to humiliation. He is nothing if not tenacious, and never loses hope. Given the fraught nature of the mother-son dynamic, it's a wonder he can function at all. Perhaps, however, it is that very trauma which gives him his strength: an armored imperviousness to mortification that shields him from the worst of it. All the while, Labarbera is there, with his camera, documenting Blatz's misadventures and occasional successes.
Indeed, it's not all defeat. We watch him gain and lose gigs in equal measure. We follow him to New York City's Times Square, where he performs his signature stunts of walking on broken glass and escaping from a straitjacket – an act which lands him a Skype interview with a British TV station – and makes some new friends. Though his ex-girlfriend, Liz (interviewed extensively, early on), paints a picture of a man with numerous personality issues (true, but who is counting?), by the end he may have found a new love. It's all part of the cycle, and Blatz never stops pedaling.
As fascinating as the documentary may be, Labarbera can occasionally be an intrusive director, asking – at one point quite forcefully, in an almost bullying manner – his subject to repeat actions on camera, which occasionally knocked me out of the moment. But I was never gone for long, as Blatz is such an engaging character that I had to come back for more. So will you, dear viewer, I am sure. Feel like moving to Pennsylvania to hire Blatz? Let's do it!
– Christopher Llewellyn Reed (@ChrisReedFilm)
Like what you see here on Hammer to Nail? Why not pay just $1.00 per month via Patreon to help keep us going?