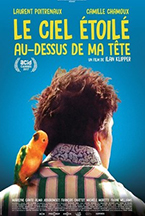 (The 24th Annual Slamdance Film Festival ran January 19-25 in Park City, UT. Hammer to Nail has you covered and guarantees more coverage than any other site. Watch us work it!)
Helmed by Ilan Klipper, The Starry Sky Above Me kicked off its U.S. premiere this week at the 2018 Slamdance Film Festival. A universal take on the trials and tribulations of the struggling artist, The Starry Sky Above Me follows Bruno (Laurent Poitrenaux) a porcine novelist who is all too happy wallowing in the shit of his bohemian lifestyle. Klipper purposefully makes it difficult to recognize fact from fiction, but it surely seems that Bruno is perpetually buzzed and on a never-ending quest for sex. It is certainly no quirk that IMDB lists some of the primary plot keywords for this film as "male in underwear" and "bare chested male." Bruno seems to spend more time in his skivvies and/or bathrobes than fully clothed. For all intents and purposes, Bruno is living the life of Riley, at least in his own mind. He might not be rolling in the dough, but he seems remarkably satisfied with his carefree (albeit unproductive) existence. Acquiring new layers of meaning since the #metoo movement began, Bruno has absolutely no qualms at all with sexualizing women. As Bruno sees it, sex is a creative inspiration for him; women are essentially his muse.
Klipper purposefully takes a while to establish a narrative rhythm, showcasing random time lapses and/or jumps that reflect the skittish memories of Bruno's intoxicated mind. In a way, these early scenes of The Starry Sky Above Me play out like a surrealist dream. And, again, some of what we may witness could be purely the fantasies of Bruno's deranged mind – we need to remain keenly aware that The Starry Sky Above Me is told from Bruno's perspective. His flirty flat mate with a penchant for orgies and prancing around their flat scantily clothed no matter who is around? That is most likely fiction. And when Bruno gets a surprise visit that could either be a setup or intervention, he becomes increasingly uncomfortable. People are invading his space (his bachelor pad) and questioning his life choices, but he is (of course) achingly attracted to one of the invaders.
Showcasing Bruno's inherent knack for rambling, ranting, and philosophizing, The Starry Sky Above Me is a comedic take on paranoia and intervention. Speaking of which, the party scene towards the end of the film is kind of reminiscent of mother! – you know, in a good way! Chaos and randomness in cinema are always welcome. Despite all his rage, Bruno is a still just a rat in a cage.
Don Simpson (@thatdonsimpson)