(Sonita is a documentary film about Sonita Alizadeh, an Afghan rapper and refugee. The film was directed by Rokhsareh Ghaemmaghami and premiered at the 2016 Sundance Film Festival, where it won the festival's World Documentary Grand Jury Prize and Audience Award. Our Chris Reed caught up with the film at the Middleburg Film Festival and submits this review.)
Young Sonita Alizadeh, the titular human subject of this inspiring new documentary from Iranian director ), just wants to pursue her dream of becoming a rapper. Inspired by both American and Iranian pop stars, she is in the process of developing her own distinctive voice. She thinks a lot about women's issues in her part of the world, and how to forge a path towards personal agency in a culture that regards women as tools to be used in service of familial needs. They're not quite property – witness the relative liberty with which the film's female director operates – but they're not exactly free agents, either. Adding to Sonita's difficulties is that she is an illegal Afghan immigrant in Iran, which makes her situation doubly precarious.
When we first meet her, Sonita is a janitor at a local refugee center (she can't officially enroll in courses there because of her illegal status), where she audits drama classes designed to help the students process the trauma of their pasts. We quickly grasp her remarkable self-possession, so it's no surprise when her first rap video goes viral. As much as Iranians look askance at women performers of any kind (it's much worse in Afghanistan), it nevertheless appears as if Sonita is on her way to at least an underground career, if not mainstream success. But that's when the family decides that enough is enough.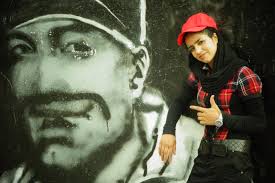 Sonita's brother, it seems, wants to marry, and in order to be able to afford the bride price, he needs Sonita to marry first, so that the money paid for her marriage can then be reapplied to his own. Sonita is now 16, and this, we learn, has come up before, when she was even younger, but now her mother insists that Sonita honor her duty. Things don't look good.
Which is when the director ceases to be a passive observer and becomes actively involved in altering the circumstances of Sonita's life. As a result the film metamorphoses from a moving and intimate profile of an exceptional young woman into a cinematic treatise on the role of the filmmaker in nonfiction filmmaking. We have come to champion the notion of the "fly on the wall" camera in documentaries, and not just for cinéma vérité. We like to believe that what we are seeing on the screen is unaffected by the presence of the director. That's often the appeal of a documentary: it's real. But what if that director is witness to an injustice and knows that she can make a difference? Such is the question posed by this profound movie. See it and decide for yourself what you would have done.
– Christopher Llewellyn Reed (@ChrisReedFilm)