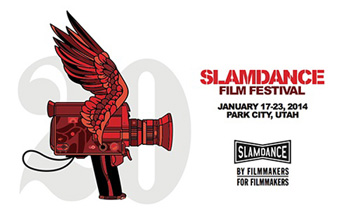 (Slamdance 2014 runs from January 17th-23rd in Park City, Utah. Visit the festival's official website for more information. FULL DISCLOSURE: Paul Sbrizzi is a features programmer for Slamdance, but wears his film-lover vestments for the purpose of this piece.)
In its 20th year, Slamdance will once again run concurrently with Sundance, with narrative and documentary feature competitions featuring the work of first-time filmmakers with budgets under a million dollars. There's also a showcase of films by independent directors working beyond their debut features, entitled, appropriately, "Beyond." Special screenings will include the documentary La Bare, the directorial debut from True Blood's Joe Manganiello about the notorious Dallas male strip club, as well as the North American Premiere of Bill Plympton's Cheatin'. In addition to the customary shorts blocks there will be programs dedicated to animation and experimental shorts, as well as the brain-melting underground shorts of the Anarchy program. Here are just a few personal favorites amongst the many exceptional films set to screen.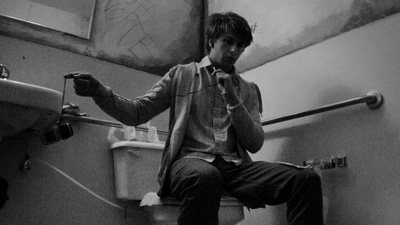 The expression "new voices" gets thrown around a lot, but Jay Alvarez is the real deal, bringing a fresh and idiosyncratic writing style to his insightful feature I Play With The Phrase Each Other. Alvarez plays Sean, a charismatic and manipulative character—he's determined to get his friend Jake to come live with him: "I don't wanna see you ferment in our home town, while just eight hours away people are catching drug light-rail trains and witnessing insomniac tragedies in neon dream towns." Jake is dealing with the break-up of his relationship with a woman he had long been able to dominate. All the conversations in the film happens over cell phones—a story device that works surprisingly well, creating a sense of characters swimming around in their own heads more than actually relating to each other. Alvarez also gives Sean a fascinating relationship to the new economy, embracing poverty as a glittering aspect of a poetic life.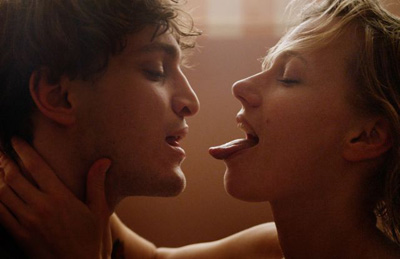 Jacob Lass's Love Steaks similarly takes place in the shadows of the one percent, specifically in a German luxury hotel. 20-something Lana works in the kitchen; she drinks too much and has a hard time controlling her temper. Franz, also in his 20s, does massage; he's sweet and introverted, with very little self-confidence. A thorny but playful romance of sorts develops between them, in wedges of free time away from their stressful and often humiliating work. Lana Schmelzing and Clemens Pollozek give exceptionally sensitive, nuanced, and emotionally compelling performances; their characters are charmingly rudderless, improvising a kind of dance around and into intimacy, as Lana's rebelliousness and binge drinking increasingly put her job at risk.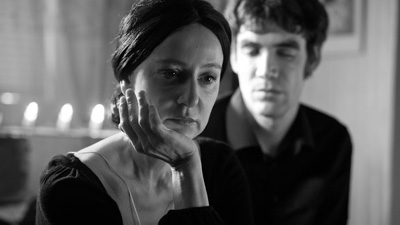 Peter Brunner's My Blind Heart is a portrait of Kurt, a young Vienna man with the congenital condition of Marfan Syndrome, which is characterized by a variety of physical abnormalities, including strangely beautiful, elongated fingers. Kurt runs away from a smothering relationship with his mother and then from a care home, ending up in a cold and cavernous squat; he's joined by Conny, a bossy and bratty adolescent runaway who turns out to be a bit of a kindred spirit, and joins him in his expressions of rage. Cinematographer Franz Dude captures Kurt's unique physicality in expressionistic, high-contrast black and white, finding brutal, dramatic compositions that eloquently convey the struggles of a soul railing against its demons and against socialization, trying to find a bit of warmth in the forgotten corners of a freezing city.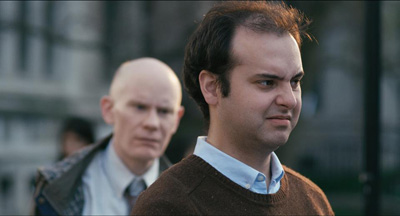 Jerzy Rose's Crimes Against Humanity takes place in an absurd yet recognizable post-moral world; it finds perverse comedy in a war of wills between depressed, born-to-be-victimized Brownie and her aggressively condescending boyfriend Lewis, a university dean's assistant. Brownie attracts a series of calamities, and along the way jumps in bed with a seemingly kindhearted stranger, but that that too soon goes sour and she ends up alone and miserable in the hospital. Lewis blithely abandons her there, enraptured with his juicy investigation of sexual misconduct in the university's ethnomusicology department, and has an affair himself. Rose and co-writer Halle Butler are masters of wry humor, delighting in their characters' self-pity, casual dishonesty and cruelty. Mike Lopez and Lyra Hill are beyond perfect in the lead roles, generating spark showers of subtextual resentment in their scenes together.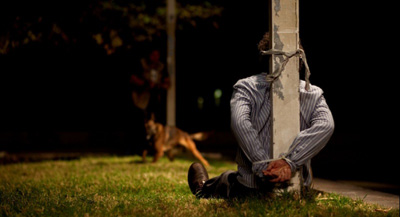 There's dark comedy and then there's Oren Carmi's Goldberg & Eisenberg. Goldberg is a lowly, dissatisfied computer programmer trying to find a woman willing to date him. He somehow catches the eye of Eisenberg—a large and not-quite-sane bully who's determined to be his friend or perhaps something more. What starts as absurdist comedy gradually escalates to disturbing levels of terror and violence: the more Goldberg tries to avoid him, the more Eisenberg raises the stakes. Carmi's directing has a swagger and a unique visual style, alternating elegant blocking and camera movement with unadorned single-shot scenes, and contrasting halo-effect night shots with crisp daylight sequences. Yitzhak Laor is excellent as Goldberg, and Yahav Gal's brutish and oddly charming Eisenberg is unforgettable—an unstoppable embodiment of hungry id. This is a daring and profound film, with a clarity of vision so intense it can hurt you.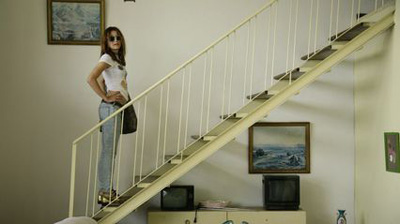 In Rezeta by Fernando Frias De La Parra, a gorgeous model from Kosovo living in Mexico City befriends a sensitive young janitor named Alex. She has a couple of affairs with other men that don't go beyond sex; when she does, eventually, turn her attentions to Alex, he rightly senses he's the one with everything to lose and tries his best to hold himself back. Rezeta Veliu, in the title role, creates a fresh, believable and non-stereotypical character—a woman who has an opportunity to use her looks to make a living, but is far from superficial. Roger Mendoza as Alex is the beating heart of the film, absolutely compelling in his doomed attempts to stay away from danger. De La Parra beautifully captures the raw moments of discovery and vulnerability inherent in falling in love, as well as the pebble-sized incidents that trigger avalanches of mistrust, and the subtle but inexorable forces that work to pull two people from different walks of life away from each other.
Wizard's Way, directed by the UK team known as Metal Man, starts out as a wonderfully specific satire of online gamer culture. A pair of young reality TV producers track down a living legend within the subculture of Wizard's Way, a fantasy video game nearing the end of its life cycle. The guy is known as Windows and he lives in a tiny flat with his roommate Barry, who sleeps in the bathtub. The film gradually digs beneath the comical nerdiness of the gamers and finds an unassuming, childlike quality in them. Metal Man's sympathies are with Windows and Barry, as the TV producers become increasingly ruthless, trying to exploit them by interfering in the most private and personal areas of their lives and exposing them to ridicule. Kristian Scott as Windows nicely conveys the integrity of an unusual character, and heads up a fantastic cast.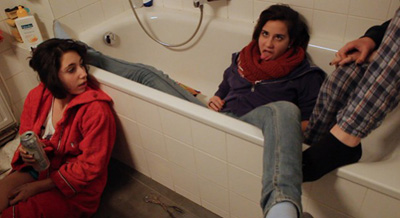 In the documentary Forever Not Alone, directors Monja Art and Caroline Bobek take a fly-on-the-wall look at a uniquely bonded group of Austrian adolescent girls. It's hard to imagine how the filmmakers were able to so thoroughly gain their trust and get so close, but there's something exceptional about these girls: an easy confidence and sense of self that's rare to find at any age, and a childlike ability to be exposed and open to the present moment. This seems to allow them to have a kind of closeness that's like nothing I've witnessed, let alone experienced: a loving 6-way friendship that spans from kissing and cuddling to roughhousing and talking about boys and collectively experiencing their individual steps into dating and other aspects of adulthood. Also remarkable is that there seems to be no clear-cut hierarchy of leaders and followers within the group. The film has an inherent poignancy: one of the girls is about to move to Germany with her family, ripping a swatch from the collective fabric and likely putting an end to this idyllic phase of the girls' lives.
The documentary feature competition includes Sometimes I Dream I'm Flying by Aneta Popiel-Machnicka, who skillfully alternates gorgeous ballet sequences with gritty behind-the-scenes footage of the tough realities faced by a talented young Polish dancer named Weronika, as she battles disappointments and injuries in her determination to rise to the top. Glena by Allan Luebke follows a single mother in her mid-30s who decides to take up mixed martial arts; the film goes deep into the messy conflicts and challenges faced by Glena as she risks her home, her closest relationships, and even custody of her daughter in order to go all-out and pursue her dream. Perhaps Slamdance's most emotionally intense doc is Kidnapped for Christ, in which director Kate S. Logan travels to the Dominican Republic to make a film about a home for wayward American teens, and happens upon evidence of inexcusable abuses of power. She meets and bonds with a high school honors student who was sent there by his parents after he revealed to them that he was gay, and gets involved in smuggling out a clandestine letter in an effort to get him set free.
In the narrative shorts category, there's a little gem called Beat by Aneil Karia that follows a young, possibly schizophrenic man who's in the habit of walking rough city streets and suddenly bursting into uncontrolled, jerky dances; people's reactions range from hesitant approval to outright violence, but we can hear the beat in his head, so we get a whole different perspective on his actions. Not Funny by Carlos Violadé Guerrero seems to be a sweet comedy about a Spanish couple that enjoy playing practical jokes on each other—until suddenly things get very serious and character is revealed. The Voice Thief by Adan Jodorowski is one of the most spectacular things I've seen in some time. Adan as you might suspect is Alejandro Jodorowsky's son, and the film has his dad's imprint all over it: it's based on one of his stories, about a man who steals women's voices so that his wife can sing again, but the character of each woman in turn gets transferred into his wife along with her voice. The film stars Jodorowsky's other son Cristobal and Asia Argento; its lavish production design has to be seen to be believed.
The animated shorts program includes a charming piece called Salmon Deadly Sins, crafted one cell at a time on 3×5 index cards, featuring mermaids, salmons, and other maritime images continually morphing into each other. It incorporates animated anagrams, a bit of an obsession for director/artist Steven Vander Meer. U U, directed by the almost eponymous Yu Yu, is a brutally childlike pencil drawing animation that brings up philosophical issues about physicality and the self in a funny and unpretentious style. Lord I: The Records Keeper by Lori Damiano has a more refined, but still childlike aesthetic; it's a dense piece, incorporating an insane amount of sub-animation in the form of faces, gestures and objects that float in the characters' auras, manifestations of their cluttered psyches. Damiano brings it all together with a light touch and a fantastic sense of color, composition and character design, layering in some nicely surreal humor.
In the experimental/Anarchy end of things there's Steve Girard's Wawd Ahp, a pleasantly extreme film about decapitation and throat-gash sex, all done with full commitment and in good fun. Kind of. In Real Ethereal, Evan Mann creates a series of fantastical worlds, culminating with a bizarre image of an army of upside-down mouths and chins muttering to themselves in formation. In Those People of the South, director Ashley Leach creates a triptych of self-portraits of sorts, first as the absent intended recipient of long, intrusive voicemails from his dad, then moving into a disturbing/inspired post-drag performance featuring Leach himself, before floating away from any obvious narrative, to a certain evocative, story-level abstraction.
— Paul Sbrizzi