(The 2013 Slamdance Film Festival runs from January 18th-24th. Visit the festival's official website for more information. FULL DISCLOSURE: Paul Sbrizzi is a features programmer for Slamdance, but he put on his film lover/reviewer pyjamas to write this post.)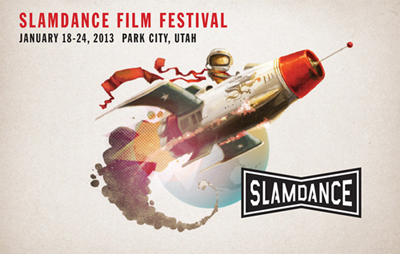 Still drawing its program from blind submissions after all these years, Slamdance has had a mini-makeover for 2013, with expanded narrative and doc feature programs (for first-time directors), and a new "Beyond" section for films by directors who are just "beyond" their first feature. Here are just a few of the festival's highlights:
Fynbos, by Harry Patramanis, seems to grow organically out of its physical environment—a glass house in South Africa, out in the middle of a dry terrain covered with boulders, with ancient tribal paintings inscribed on one of the rock formations. A real estate developer desperately needs to sell the house, but has to cover up his wife's sudden, unexplained disappearance when a prospective buyer comes to visit the property. It's a beautifully realized film, the gripping central storyline shrouded in layers of meaning and mystery—like a visionary dream about the state of the human spirit.
I'll go out on a limb and guess that Matthew Johnson is pretty much playing his slightly younger self in The Dirties, which he wrote and directed. His character, Matt, is a film-obsessed high school outsider with tons of manic energy and a brain that fires off daring and hilarious movie ideas as fast as he can articulate them. With the help of his best friend Owen (Owen Williams) he's making a movie for his film class—an over-the-top revenge fantasy about a group of bullies he calls "The Dirties." What starts out as sharp and brainy comedy goes boldly and believably to increasingly dark places, turning into a frightening character study, as the constant humiliations Matt suffers at school start to blur his ability to distinguish between his own thoughts and reality.
Could the austere, 28-page-script-for-a-90-minute-running-time fashion be losing its steely charm? Is American indie film ready to step out of its long, cold shower? Nadia Szold's Joy de V., a baroque cornucopia of rich characters and imagery and hearable/quotable dialogue, feels like a zeitgeist taking form. Evan Louison is a firework as a con-man who goes on an odyssey through New York City to find his missing pregnant wife, careening between hope and despair. Joy de V. has the pace and clever playfulness of a French New Wave film, but it brings modern-day New York to life in burnished, 1940s colors and moody lighting. With Claudia Cardinale (!) in a supporting role.
In Ghost Team One by Scott Rutherford and Ben Peyser, roommates Brad (J.R. Villareal)—a lusty player with an unstable sometimes-girlfriend, and Sergio (Carlos Santos)—a jumpy, irascible type in the midst of a long romantic dry spell, both set their sights on hot/crazy Fernanda (Fernanda Romero), who's really only interested in their house—because she thinks it's haunted. A third roommate, Chuck (Tony Cavalero), is precariously holding on to his sobriety when a Black Dahlia-type murdered prostitute-demon-ghost comes out to play. This is inspired, dirty, smart/stupid comedy, with plenty of the kind of surreal flourishes you see in great improv. Its madcap narrative is rooted in a sense of place and specific, fully fleshed-out characters. Possibly the first film to use pho as a horror device.
He's Way More Famous Than You elevates Hollywood insider humor to a glittering galaxy of its own, with co-creator Halley Feiffer playing a terrifying/adorable macaw-voiced actor-monster, a cross between Elle Woods and Jerri Blank, going to demented lengths to get famouser. She blithely fucks over everyone in her life in her determination to make her own movie and get into the "Sand Dunes Film Festival," and even tries to replace her brother (with Ralph Macchio) halfway through a sex scene—in which he plays her lover. Feiffer must have hit her Rolodex hard—she gets straight-man cameos from Ben Stiller and Jesse Eisenberg, and a great performance from Natasha Lyonne as the salty voice-of-reason. Co-star and co-writer Ryan Spahn is a worthy foil for Feiffer, and the film is directed by Michael Urie of Ugly Betty, who also plays a supporting role.
The Court of Shards is one of the most ambitious and unusual films in the festival. German director Jan Eilhardt casts people with disabilities in the lead roles and boldly experiments with style and technique, using dubbed dialog and a free, intuitive approach to camera movement. Nora (Caroline Fricke) is a child-like woman who's the only source of strength for her severely depressed brother, even though she struggles with mental illness herself. Her best friend Isabel (Silvia Giehle, in a particularly memorable, raw and human performance), despite being severely handicapped and disfigured, is the one who takes charge when Nora's immigrant boyfriend Amadou (Baba Oury Barry) is about to be deported.
In Domestic, with a series of locked-down-camera, single-take scenes, director Adrian Sitaru creates an ingenious and super-funny look at the internal contradictions and small-scale madness of middle-class Romanians. The story revolves around a group of neighbors in an apartment building and their relationship to the animals that they eat or keep as pets—or both. From the opening scene—an extended negotiation between a husband, wife and young daughter about who will kill the live chicken daddy brought home (spoiler alert: the daughter does it)—Sitaru brilliantly illustrates the weaknesses and hypocrisies of his adult characters, with children as their beleaguered, contemptuous witnesses.
Sonja Kinski—playing Charlie, a free radical weaving through the pain and possibilities of a couple's relationship-in-crisis—is a star-in-the-making in writer/director J.R. Hughto's Diamond on Vinyl. It's a conceptually meaty yet organic story about Henry (Brian McGuire), a man who's become obsessed with recording and recordings, and the provenance of an old vinyl record of random conversation. His girlfriend Beth (Nina Millin) walks out on him when she discovers a device that has captured them having sex, as well as a rehearsed monologue in which he expresses ambivalent feelings toward her. In the midst of the emotional turmoil that ensues, Henry has free rein to indulge his interest/madness; Charlie eagerly jumps in to help, but finds herself drawn to Beth as well.
Without Shepherds is one of the most visually impressive and insightful docs in recent memory. It's a film tapestry of modern-day Pakistan that follows six characters from different walks of life—people trying to create positive change in a society that's going through tumultuous changes, with powerful opposing forces trying to pull it backward toward religious fundamentalism. The scope of the film is amazing, drawing from a trove of footage shot by separate film crews over the course of two years. It includes chaotic political rallies with teeming crowds pushing to shake the hand of a former-cricket-star-turned-politician; backstage drama at a fashion show put on by an ambitious businesswoman, and the quietly horrific recollections of a sensitive former mujahid radical. The film simply and effectively shatters stereotypes about Pakistan, revealing diversity of thought and hope for the future.
There is some truly terrifying footage in the doc My Name Is Faith: interviews with small children, under ten years old, who speak with wide-eyed earnestness about their desire to kill. These kids have gone through intense emotional trauma and have huge stores of internalized rage. They're ticking time bombs, but incredibly there are people willing to parent them and guide them through a type of therapy that actually seems to work. The film takes us deep into this world, focusing on a little girl named Faith and her adoptive parents, and the harrowing undertaking of walking her through the complex and frustrating process of learning to trust and emotionally connect with others.
Terms and Conditions May Apply is a shocking and disturbing investigation into the basic civil rights we surrender when we click the ubiquitous little boxes that allow us to do all the many things we do online. It demonstrates how simple it is for anyone (and especially the government) to slip past the privacy protections we assume to exist in our cell phones, computers and other electronics. It's an important film that will hopefully help to raise awareness of how our right to privacy is being quietly eroded: it makes its point dramatically when the filmmakers ambush Mark Zuckerberg outside his home.
Horror is represented in the festival by a couple of stylish and atmospheric offerings. Musgo by Gami Orbegoso, gorgeously shot in the Pyrenees for virtually no money, is a languidly paced story of deliciously mounting evil being wrought on a young woman—after her father dies—by her ruthless stepmother (the charming and terrifying Mercé Espelleta). Jug Head by Chad Kinkle is a thick and fragrant Southern Gothic about a community that sacrifices its own to a hungry pit every time the man out in the woods makes a jug with the intended victim's face on it. Sean Young is vulgar and terrifying as the tyrant/mom of a young woman (Lauren Ashley Carter, with her amazing, Keane-size brown eyes) who tries to escape her fate. The film digs way deeper than typical depictions of Southern white trash, achieving a timeless, fable quality.
Standouts amongst the shorts include Felix Schaffert's The Robber, which reveals a beautifully realized, menacing inner fantasy world of marbles and levitation that a Swiss girl escapes to, away from her cold, bourgeois family. Kris Avedisian's Donald Cried has a familiar premise—a man, returning to his hometown, is forced to confront by his past in the form of a schoolmate he once victimized—but the performances go to impressively dark and deeply uncomfortable places. Avedisian himself, as Donald, plays a brilliantly layered character—an over-friendly, uncool, smalltown nobody who plays his cards with determination, to force his old schoolmate to have a genuine interaction with him. Among the far-outest selections in the Anarchy Shorts program is Shepherds Have You Seen My Love by Benji Kast, in which a man who checks into a motel becomes aware of humanoids living inside the walls who tap into his mind and transport his consciousness into a fully decked-out 17th Century costume drama.
Stellar pieces in the animation program include the irresistibly cute and technically wow-factoring Tap to Retry by Neta Cohen and Noodlefish by KIM Jin Man. Drifters by Ethan Clarke nails the funny/dark/sweet/weird Americana tone of a Twin Peaks episode, reinventing the TV cartoon esthetic with inspired character design and a spectacular range of 2D techniques (including "multi-camera" split-screen!). Meejin Hong's Sugarcoat is a wildly ambitious piece, overflowing with inventive visuals; it starts out creating mysterious dimensions with beams of shadow and light, and explodes into dreamy/nightmarish visions—memorably, a pair of severed hands massaging a teddy bear—with a violently gorgeous color palette.
— Paul Sbrizzi